Recently, ACADIA's (NASDAQ:ACAD) investors received some interesting news from the company after it reported a 100% patient enrollment on Sep 05th: ACADIA Pharmaceuticals Announces Completion of Enrollment in Phase III Pimavanserin Trial in Parkinson's Disease Psychosis Top-Line Data Expected in November 2012.
After the PR, traders expected a "Sell the News" effect and a drop back in price to the $1.44 support line. Despite the light pull back (which we predicted) it spiked up again. The reason: the major catalyst is the -020 Phase-III results coming in less than three months, at the end of November, according to the company PR.
The Company
ACADIA is a biopharmaceutical company focused on innovative treatments that address unmet medical needs in neurological and related central nervous system disorders. ACADIA has a pipeline of product candidates led by pimavanserin, which is in Phase III development as a potential first-in-class treatment for Parkinson's disease psychosis. ACADIA also has clinical-stage programs for chronic pain and glaucoma in collaboration with Allergan, Inc. and two preclinical programs directed at Parkinson's disease and other neurological disorders. All of ACADIA's product candidates are small molecules that emanate from discoveries made using its proprietary drug discovery platform.
The History
In September 2009, ACADIA announced top-line results from an initial Phase III trial with pimavanserin in patients with Parkinson's disease psychosis, referred to as the -012 Study. While the -012 Study was impacted by a larger than expected placebo response and did not meet its primary endpoint, signals of antipsychotic efficacy were consistently observed in the pimavanserin 40 mg study arm.
These signals were most prominent in the United States portion of the study, which comprised nearly one-half of the patients in the study. The -012 Study met the key secondary endpoint of motoric tolerability and pimavanserin was generally safe and well tolerated in the study. On the basis of data from the -012 Study, during 2010 ACADIA concluded a second Phase III trial, referred to as the -014 Study, early and analyzed this study in order to use the findings to support ACADIA design of the -020 Study. In the -014 Study, the 20 mg pimavanserin arm showed a signal of antipsychotic efficacy on the primary assessment scale and a statistically significant difference from placebo on a secondary outcome measure. The -014 Study met the key secondary endpoint of motoric tolerability and pimavanserin was generally safe and well tolerated in the study.
I found the report By Jason Napodano, CFA an analyst with Zacks Investment Research, very informative and telling the real story behind the failed study in Eastern Europe:
Upon detailed analysis of the failed -012 trial, management noticed some key factors that lead to the high placebo response in the control group. Mainly, this high response was seen in treatment centers outside the U.S, specifically in Eastern Europe (Bulgaria, Russia, and the Ukraine) and India where standards of care were below that of the U.S. and Western Europe (France and the UK). The hypothesis is that patients enrolled into the -012 study saw a dramatic step-up in care once enrolled in the -012 program. Though only on placebo, signs and symptoms of Parkinson's disease psychosis [PDP] were reduced as a result of increased physician visits and increased quality of care standardized by the trial protocol. Management also hypothesized that patients outside the U.S. might not have had as severe PDP as the patients in the U.S.
From this analysis alone, management made the following changes for the Study-020 trial:

1) Study-020 will take place only in the U.S.

2) Study-020 will test only the 40mg pimavanserin dose in a 1:1 randomization vs. placebo.

3) The treatment protocol will be standardized to conduct fewer patient visits to assess pimavanserin in a more traditional "real world" setting for the patient.
4) Study-020 has a two-week structured social lead-in period prior to randomization in order to pull initial placebo response prior to actual drug testing.
The Potential
Pimavanserin is a new chemical entity [NCE concept that is well known to Amarin (NASDAQ:AMRN) investors] that ACADIA discovered and have advanced to Phase III development as a potential first-in-class treatment for Parkinson's disease psychosis. Pimavanserin is a small molecule that can be taken orally as a tablet once-a-day. Pimavanserin selectively blocks the activity of the 5-HT2A receptor, a drug target that plays an important role in psychosis. ACADIA holds worldwide rights to pimavanserin and has established a patent portfolio, which includes numerous issued patents covering pimavanserin in the United States, Europe and several additional countries.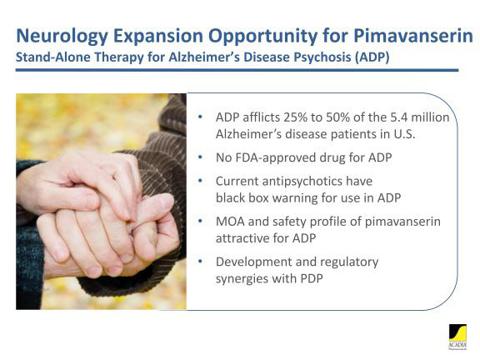 Despite substantial limitations, currently marketed antipsychotic drugs are used off-label to treat patients with PDP. Because antipsychotic drugs block dopamine receptors, and thereby may counteract the dopamine replacement therapy, these drugs often worsen motor symptoms in patients with Parkinson's disease when used at doses required to achieve antipsychotic effects. Current antipsychotic drugs also are associated with a number of side effects, which can be problematic for elderly patients with Parkinson's disease. In addition, all current antipsychotic drugs have a black box warning for use in elderly patients with dementia-related psychosis due to increased mortality and morbidity. ACADIA believes pimavanserin has the potential to be the first safe and effective drug that will treat PDP without compromising motor control, thereby significantly improving the quality of life for patients with Parkinson's disease. As a result, if ACADIA received good results that will lead to FDA approval, pimavanserin will offer significant advantages relative to current antipsychotics used off-label for the treatment of PDP.
The Phase III trial, referred to as the -020 Study, is a multi-center, double-blind, placebo-controlled study designed to evaluate the efficacy, tolerability and safety of pimavanserin as a treatment for patients with PDP. The -020 Study incorporates several design enhancements that were guided by previous data in ACADIA's PDP program. A total of 198 patients have been enrolled in the study and were randomized on a one-to-one basis to receive either 40 mg of pimavanserin or placebo once-daily for six weeks. The primary endpoint of the -020 Study is antipsychotic efficacy as measured using nine items from the hallucinations and delusions domains of the Scale for the Assessment of Positive Symptoms, or SAPS. An independent group of centralized raters is used to assess the primary endpoint in the study. Motoric tolerability is a key secondary endpoint in the study and is measured using Parts II and III of the Unified Parkinson's Disease Rating Scale
If the ongoing pimavanserin PDP pivotal trial is successful, the market should consider the potential of the drug not only in PDP, but also in other indications such as Alzheimer's disease psychosis [ADP], co-administration with antipsychotics in schizophrenia and others. the odds of success in the ongoing -020 study considering the location of the study just in the US, is very high, that will turn the investor attention to the ACADIA as we get closer to the release of the data in late November 2012, or as called by traders, the "Catalyst."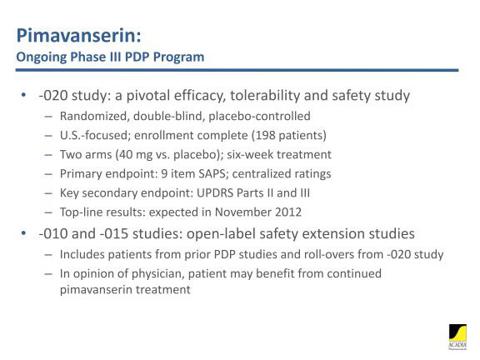 Financials
From the latest financial report ACADIA reported a net loss of $5.4 million, or $0.10 per common share, for the second quarter of 2012 compared to a net loss of $6.6 million, or $0.12 per common share, for the second quarter of 2011. For the six months ended June 30, 2012, ACADIA reported a net loss of $11.6 million, or $0.22 per common share, compared to a net loss of $12.4 million, or $0.24 per common share, for the comparable period of 2011 - Aug. 8, 2012,
At June 30, 2012, ACADIA's cash, cash equivalents and investment securities totaled $21.3 million. ACADIA continues to expect that its current cash resources and anticipated payments from its existing collaborations will be sufficient to fund its operations at least into the second quarter of 2013.
If we look deeper, we can see that the cash burn rate declines, burning only $5.4 million in the Q2 compared to $6.58 million in the 2Q of 2012, and the burn will decline even more, once the -020 study completed.
We have to keep in mind that In March 2012, the Company entered into an At-The-Market Issuance Sales Agreement "ATM" with MLV & Co. LLC, pursuant to which the Company may elect to issue and sell registered shares of its common stock having an aggregate offering price of up to $20 million from time to time over a three-year period. The Company is not obligated to make any sales of common stock under the ATM Agreement and, as of June 30, 2012, no shares had been sold pursuant to the ATM Agreement.
Technical Analysis
The price breakout on the downtrend line [upper line of the triangle] was just around $1.80 with high volume for a confirmation of the new trend. After it closed above the line, we then saw a pull back to retest the trend line that had become a new support. On Friday we saw a long green candle bouncing from the line, creating a very bullish pattern called the "Bullish Engulfing Candlestick" that completely eclipses or "engulfs" the previous day's candlestick. This action shows that the bulls have taken control of a security's price movement from the bears. However, as usual in candlestick analysis, the trader must take the following days' prices into account before making any decisions about whether to buy or sell.
Meanwhile, the price closed at the high of the day ($1.92) with heavy volume (more than 3 times the average volume), well above the $1.88 resistance line (dark Gray). This line should be used as a support line in the future, followed by another 3 white long candles, showing the bulls full control.
Even if we see more correction, the direction upward is inevitable. The first resistance point will be the 52 week high at $2.30. The highest point at $3.30 from April 2011 should be no problem to reach if positive Top-Line results are published during late Nov. 2012.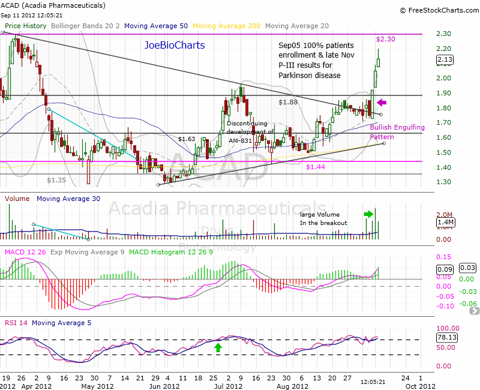 Conclusion:
ACADIA with market cap of 101.82M is undervalued, with a real and legitimate catalyst, 100% patients enrollment, and Phase-III results due in less than three months. Shares held by Institutions is 62.10%, leaving only 34M shares in the float and 6.4% short of the float. With positive results, we could see a real spike in the price, even double, if ACADIA can quickly find a partner. Management believes that Pimavanserin is a pipeline product, and ADP and schizophrenia are as important to the future potential of the drug as the current plans in PDP.
On the other hand, do your own DD and know the risk with events like ACADIA's coming results, in case the trial fails to meet the endpoint, which would affect the price share dramatically.
Disclaimer: Material presented here is for informational purposes only. Nothing in this article should be taken as a solicitation to purchase or sell securities. Before buying or selling any stock you should do your own research and reach your own conclusion. Further, these are m opinions and I may be wrong. I may have positions in securities mentioned in this article. You should take this into consideration before acting on any advice given in this article. If this makes you uncomfortable, then do not listen to my thoughts and opinions. The contents of this article do not take into consideration your individual investment objectives so consult with your own financial adviser before making an investment decision. Investing includes certain risks including loss of principal
Disclosure: I am long ACAD. I wrote this article myself, and it expresses my own opinions. I am not receiving compensation for it (other than from Seeking Alpha). I have no business relationship with any company whose stock is mentioned in this article.