We are bullish on Duke Energy Corporation (NYSE:DUK) because of its high dividend yield of 4.7%, low beta of 0.33, expected future synergies from the recent merger, cheap valuations, and long-term adjusted EPS growth of 4%-6%.
It operates in a regulated and low-growth industry. It has recently completed a merger with Progress Energy, and the synergies from the merger are expected to improve Duke's operational efficiency and bottom line. We recommend a buy for the stock as it offers a decent risk adjusted return.
Duke is an electric utility which, with its subsidiaries, operates in the U.S. and Latin America. The company has three segments, namely U.S. Franchised Electric and Gas (USFE&G), Commercial Power, and International Energy.
USFE&G generates, transmits, distributes, and sells electricity. The other two segments, Commercial Power and International Energy, own and operate diverse power generation assets. USFE&G is the company's primary segment, which contributed 75% to total revenues followed by Commercial Power with 14% and International Energy with 11% in 2Q2012.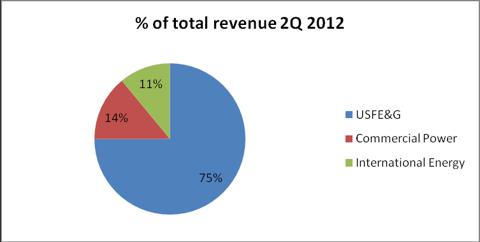 Source: yahoo.brand.edgar-online.com
In the recent past, there has been a shift in input usage for production of electricity in the U.S. from coal to gas. The dependence on coal for electricity production is falling due to a fall in natural gas prices in recent years; coal prices have become more volatile. The chart below shows how Duke energy too is using more gas for electricity production.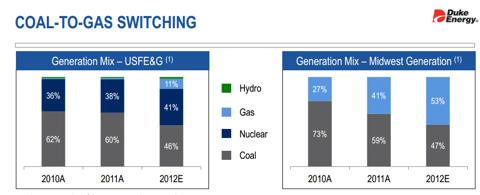 Source: duke-energy.com
Duke's operating revenue for 2Q2012 was $3,577 million, up by 1.21% YoY. Adjusted earnings per share for the recent second quarter were $1.02, up by 3%; the company showed an earnings surprise of 5%.
USFE&G's income for 2Q2012 was $337 million, up by $0.09 as compared to 2Q2011. An improvement in the segment's income was due to improved revised rates in Carolinas and lower storm restoration costs in the U.S. The International Energy segment's income was down by 17% YoY, mainly because of lower pricing in Central America and unfavorable exchange rate movement. The Commercial Power segment's income for 2Q2012 was $32 million, in line with last year's corresponding period income. The company is on track to achieve adjusted earnings per share of $4.2-$4.55 for the current fiscal year.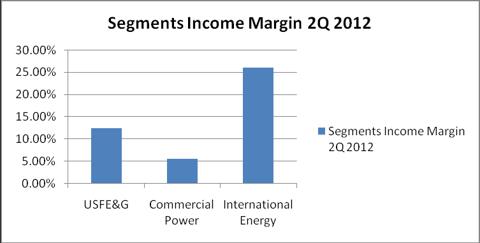 Source: duke-energy.com
In the recently ended second quarter, Duke completed its merger with Progress Energy, valued at $32 billion, forming the nation's largest electric company. Duke and Progress started to operate as one on July 2, 2012. Savings from the merger are expected to fall into two categories; non fuel O&M savings, and fuel and joint dispatch savings. Savings are targeted to be in a range of 5%-7% of total nonfuel O&M, which are expected to be achieved by 2014. Almost 1,100 employees have agreed to a Voluntary Severance Program, out of which half of these employees will leave the company by the end of the current fiscal year, and the remaining within the next 15 months. Under the joint dispatch and through fuel savings, it is guaranteed to achieve $650 million in the first year since the close of the merger. The fuel savings are planned to be achieved by low natural gas prices and through coal blending and purchasing efficiencies, which will be attained by enhanced buying power and lowering transportation costs.
| | | | |
| --- | --- | --- | --- |
| | Cash flow from operations (million) | Dividends Paid (million) | Dividend coverage |
| 2011 | $3672 | $1329 | 2.75x |
| 2010 | $4511 | $1284 | 3.5x |
| 2009 | $3603 | $1222 | 3x |
| 2008 | $3328 | $1143 | 2.9x |
Source: Bloomberg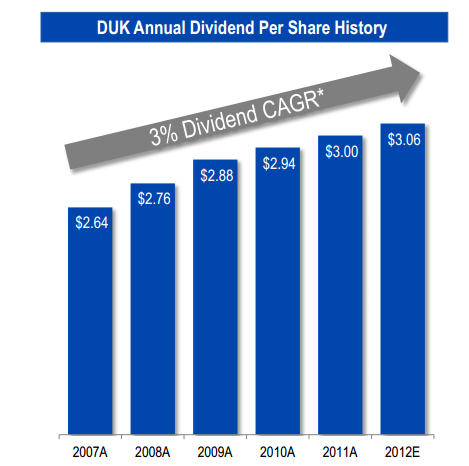 Source: duke-energy.com
Duke's current dividend yield of 4.7% is above its competitors and industry average. Dividends have been increasing at 3% per annum in the last five years, and are supported by a strong regulated earnings base. Duke has a 86-year history of quarterly cash dividends, so it is highly unlikely that it will be missing on dividends in the future as well. Duke has long term debt-to-equity of 95%. Its interest coverage of 5.4x is above the industry average of 2.4x.
| | | | | |
| --- | --- | --- | --- | --- |
| | P/E forward | P/B | Dividend yield | Beta |
| | | | | |
| DUK | 14.6x | 1.3x | 4.7% | 0.33 |
| Southern Company (NYSE:SO) | 16.2x | 2.2x | 4.3% | 0.26 |
| Edison International (NYSE:EIX) | 17.6x | 1.45x | 2.9% | 0.58 |
| Average | 16.5x | 1.9x | 3.4% | 0.39 |
Source: Yahoofinance
It currently trades at 14.6x its forward earnings, below its industry average of 16.5x. Based on the industry average forward P/E multiple and mean estimate of EPS ($4.423) for the year ending 2013, we calculate a price target of $73. This provide an upside potential of 13% for investors.
Disclosure: I have no positions in any stocks mentioned, and no plans to initiate any positions within the next 72 hours.
Business relationship disclosure: The article has been written by Qineqt's Utilities Analyst. Qineqt is not receiving compensation for it (other than from Seeking Alpha). Qineqt has no business relationship with any company whose stock is mentioned in this article.