By Sabina Bhatia
We want to re-iterate our thoughts on McDonald's (NYSE:MCD). On August 6, 2012, we wrote "McDonald's: Are You My Favorite?" There are no near-term catalysts to be a mover and shaker for the stock, but we still think that MCD can be long-term safe haven for those who want to invest in the Quick Service Restaurant (NYSE:QSR) space. Keeping our thesis in mind, we want to provide an update after today's announcement of same-store sales results.
Same-Store sales numbers are in: In August, we discussed how MCD stock has been a leader and survivor of tough economic environments. The SSS numbers reported today are a clear reflection of the company's continued progress. August global comps came in at 3.7% versus July of flat comps and consensus of 3.5%. SSS for the U.S. came in at 3% versus July of flat comps and consensus of 3.1%. The higher demand for the breakfast/value menu helped drive the upside in August. SSS for Europe came in at 3.1% versus a 0.6% drop in July and consensus of 3.3%. The positive contributors were comps in Russia, France, and the U.K., offset by weak comps in Germany/Southern Europe. Lastly, for APMEA, SSS came in as 5.7%, way ahead of consensus of 4%. The timing of Ramadan, and the positive comps out of China and Australia were the big contributors. Let's not forget the "Favorites under 400" platform introduced for the Olympics, a campaign where MCD emphasized some of its healthier menu items. This high-profile promotion also likely helped to bolster sales.
Stock valuation: Historically, MCD stock has had a stellar performance since it started focusing on better, not just bigger. In 2008, MCD was one of only two names within the Dow 30 to appreciate. Given the tough macro environment in 2008, McDonald's performance is noteworthy. Currently, the stock is trading 17x versus its 3-year range of 13-18x, and the average of 15.5x. Its peer group consists of Starbucks (NASDAQ:SBUX) and Yum! Brands (NYSE:YUM), which are trading at 28x and 20x, respectively. For a buy and hold investor, a 3% dividend yield on the stock is an add-on incentive. McDonald's stock is a 2013 play where a possibly healthier economy could mean the stock trading in the $95-$100 range, or 16-17x the 2013 consensus EPS of $5.96.
Risks: A drop in consumer spending in both the U.S. and in Europe could have a negative impact on SSS going forward. If consumers decide to dine at home instead of spending the extra cash at QSRs, we could also see the impact on MCD's top line growth.
Conclusion: Here we have a value-oriented QSR, and a leader capable of weathering the macro storm.
(click image to enlarge)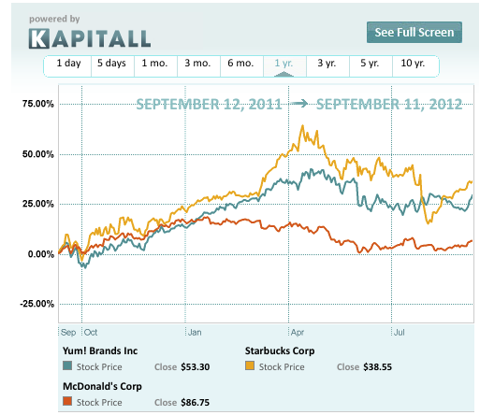 Disclosure: I have no positions in any stocks mentioned, and no plans to initiate any positions within the next 72 hours. I wrote this article myself, and it expresses my own opinions. I am not receiving compensation for it. I have no business relationship with any company whose stock is mentioned in this article.