Market Recap
The market made a nice comeback today after faltering on Monday amid some worries over the coming weekly announcements, but with ECB's bond-buying program taking on its first test with German courts, it should be a very exciting day tomorrow. Additionally, tomorrow is the big announcement of a potential iPhone 5 for Apple (NASDAQ:AAPL). Both events will be heavily scrutinized and lead us right into a Thursday QE3 potential day from the Fed. If Germany approves the ESM, the market will soar tomorrow most likely. Apple faltered today, but that is typical of the stock. Today's strength, though, was mostly on speculation, so a reversal is not out of the question. Look for a big day tomorrow.
Here are some stocks we like moving into the rest of the week and beyond:
Stocks To Trade
Today, we are looking at an earnings trade in Oracle (NASDAQ:ORCL), longs in CA Tech (NASDAQ:CA) and SPDR Energy (NYSEARCA:XLE), and shorts in Deckers Outdoor (NASDAQ:DECK) and Alpha Natural Resources (ANR).
For an earnings trade, we like the looks of Oracle. We have Buy-rated Oracle all year long with a year end $36 price target, and that target looks pretty obtainable at this point. We are looking forward to the company's coming quarterly report this month. It should show around 10% growth in EPS YOY, as well as continued acceleration of the company's cloud network operations. The company's last report was very strong, and we believe that trend will continue up into earnings. We like going long on the stock on this recent breakout above $31 resistance and selling a very safe December '12 put to hedge ourselves at the $26 level.
Trade: Long, ORCL and Dec12, $26 Put, Sold
Max Gain: 10% on Stock, 12% on Sold Put
(click images to enlarge)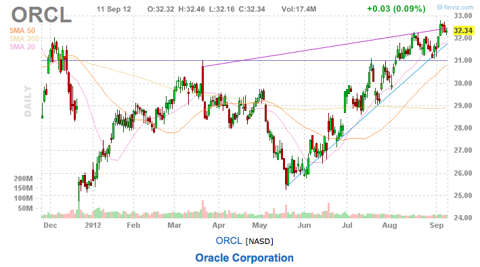 Click to enlarge
For longs, we like the looks of CA Tech and SPDR Energy. CA is on the breakout right now and should be bought. We have a $32 PT for the stock for 2012, and we believe that it is headed up again. CA is one of the best values in the cloud sector, and for those individuals looking for exposure to that high growth area, CA is a great choice. Right now, the company has a PE ratio at 13, which is very cheap. CA has completely rebounded since its last earnings report, broke over key resistance at 27 today, and should head higher from here.
For options, we like XLE. We believe energy has a lot of support right now with the potential QE. Even if we do not get QE3, we will get potential QE3, which is enough to keep a solid floor on energy. We foresee ECB/Euro strength on Wednesday, which should power energy even higher. Right now, you can sell the 72/71 bull put spread for Sep22 for nearly 20% potential gain, and that level is below the 20-day MA, which has been holding since June and gives good support.
Stock Trade: Long, CA
Breakout Point: Above Tuesday's high of the day.
Options Trade: XLE, Sep22, 72/71 Bull Put Spread
Max Gain: 18%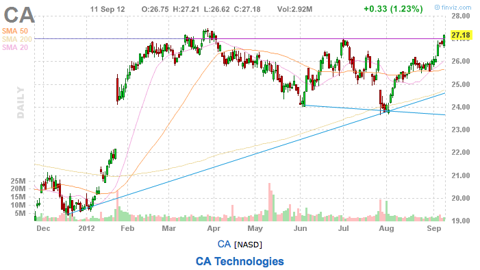 Click to enlarge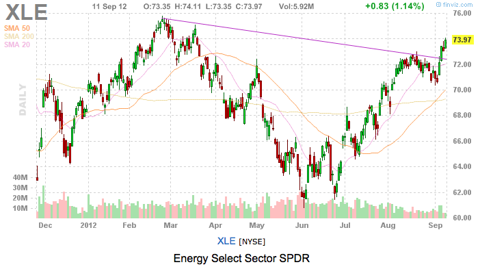 Click to enlarge
For shorts, we like the looks of Deckers Outdoor and Alpha Natural Resources. Both of these stocks have fundamental weakness. DECK is a Sell-rated stock at The Oxen Group with a sub-$40 price target. For us, the company's best days are behind it, as Uggs have lost their appeal and are no longer a fad. Without strong diversification of brand revenue, we believe it will continue to be weak. Additionally, the stock has been underperforming despite recent strength, and its break of the 50-day MA today was a very weak sign. We believe more downside is on the way.
Option bears may like the looks of a bear call spread potential on ANR. Alpha stock has taken a major hit over the year due to weak earnings and a 600% decline in EPS YOY. The stock has lost its allure and now has a lot of upside resistance. The company recently sprung up in a three-day rally to breakout of a downward channel and 50-day MA. The stock may lose its upside here if the market does not move higher this week. If there is disappointment in the market over Europe or the Fed, stocks like ANR that have high volatility and fundamental weakness will see large drops in price. Right now, we can do a fairly low risk 8/9 bear call spread for Oct20 into the big announcements. That spread is offering 35% right now.
Stock Trade: DECK, Short
Breakout point: Broke 50-day MA
Options Trade: ANR, Oct20, 8/9 Bear Call Spread
Max Gain: 35%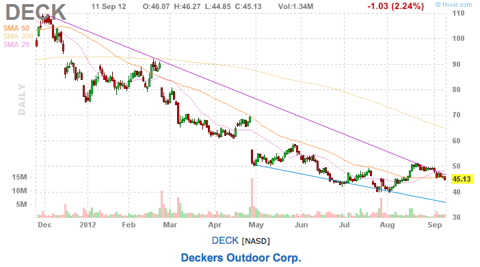 Click to enlarge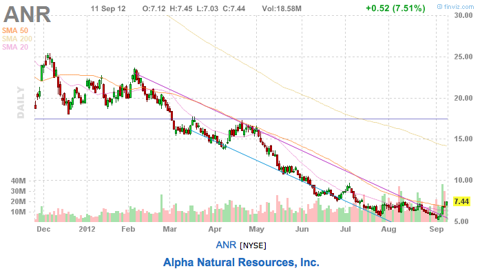 Click to enlarge
Tomorrow's Outlook:
The market has a lot on its plate for tomorrow. The German High Court decision will start us off on either a very good or bad note, and then it turns to Apple. If we start out bad, we could see some reversal if the Apple meeting is very positive. If the both are bad, we could be facing a very severe correction. If both good, the markets may be ready, set, go for an easy triple digit rally. There is some data tomorrow, but it will not have much impact with these two announcements. Crude Inventories, Import/Export Prices, and Wholesale Inventories are due out tomorrow. None of those will be able to move the market with the announcements due out.
Our Moves/Holdings:
We had a great day in the market. We closed a long in Thor (NYSE:THO) from our Earnings Portfolio for 3.5% and 4.5% gain today. We closed 1/3 of a long-term Finish Line (NASDAQ:FINL) position we had for a 20% gain. We also closed out a long in Cliffs (NYSE:CLF) for 2.75% gain from our Goldman Portfolio. We were stopped out at our entry for Home Depot (NYSE:HD) and took a 1.5% loss on a short in Advanced Micro (NYSE:AMD). We added a long in Watson Pharamceutical (WPI) and short in Cardinal Health (NYSE:CAH) to our Short-Term Equity Portfolio today.
We have the following positions:
In our Short-Term Equity Portfolio we are long Watson Pharma, Polo Ralph Lauren (NYSE:RL), and IBM (NYSE:IBM). We are short Baidu (NASDAQ:BIDU) and Cardinal Health.
In our Options Portfolio, we are long Visa (NYSE:V), SPDR Energy, Whole Foods Market (NASDAQ:WFM), Priceline.com (NASDAQ:PCLN), Google (NASDAQ:GOOG), and Starbucks (NASDAQ:SBUX).
In our Earnings Alpha Portfolio, we are long Polaris (NYSE:PII), Crocs (NASDAQ:CROX), Discover Financial (NYSE:DFS), Lennar (NYSE:LEN), and Francesca's (NASDAQ:FRAN). We are short RedHat (NYSE:RHT). We have a reverse iron condor in Abercrombie & Fitch (NYSE:ANF).
In our Goldman Sachs Up/Down Paper Portfolio, we are long Wells Fargo (NYSE:WFC), Manitowoc (NYSE:MTW) and Fiserv (NASDAQ:FISV).
Chart courtesy of finviz.com.
Disclosure: I have no positions in any stocks mentioned, and no plans to initiate any positions within the next 72 hours.
Business relationship disclosure: The Oxen Group is a team of analysts. This article was written by Giorgio Ferrero, one of our writers. We did not receive compensation for this article (other than from Seeking Alpha), and we have no business relationship with any company whose stock is mentioned in this article.