The latest EIA's release of natural gas production statistics once again highlighted the surprising resilience of the U.S. gas supply. Despite the dramatic reduction in drilling activity, the Lower 48 production stayed essentially unchanged in May and June. Among notable details, the report shows that Louisiana natural gas production increased in June by 0.25 Bcf/d or 3.0% as new wells came on line and production resumed from some shut-in wells. This follows a 2.0% increase in May, based on the revised data.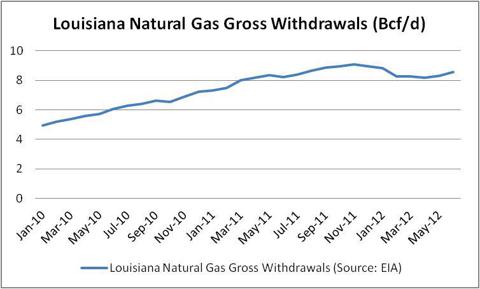 The Louisiana data is important as it is dominated by volumes from the Haynesville shale (in my estimate, the field accounts for over two thirds of total Louisiana gas production). While the increase is minor on the U.S. scale, it is nonetheless notable, for two reasons.
Arguably, the Haynesville is the economically marginal field in the U.S. natural gas supply "merit order" and its volume dynamics can be viewed as a barometer of the aggregate gas supply direction. Indeed, if production from a very large economically marginal field (that accounts for close to 9% of total Lower 48 production) is not showing signs of decline, it is difficult to expect volume contraction from more economic fields. In this regard, the EIA report indicates that as of June, the inflection point in the U.S. natural gas fundamentals was yet to be achieved. The report yields no empirical evidence in favor of an imminent price recovery thesis. In June, the market continued to be very well supplied, and therefore the sub-economic price remained necessary to incentivize supply contraction. EIA's data comes with a two-month lag. However, given the large storage surplus combined with a massive backlog of shut-in production and wells waiting on completion or tie-in, two months would not have been sufficient to turn the situation around. In my opinion, the report supports the view that weak natural gas price environment may persist, most likely through the end of the year.
The Haynesville production data also manifests a striking breakdown in the relationship between production volumes and active rig count that traditionally has been an important leading indicator in natural gas supply models. The Haynesville volumes have remained mostly immune to the dramatic reduction in drilling activity. The field's rig count peaked two years ago at around 186 rigs and currently stands at 30 horizontal rigs, according to Baker Hughes' latest (September 7) report. By some estimates, the rig count may in fact be even lower. EXCO Resources (NYSE:XCO) estimated the number of active rigs at 25 as of August, and at least one scout report put the rig count at 23 as of last week.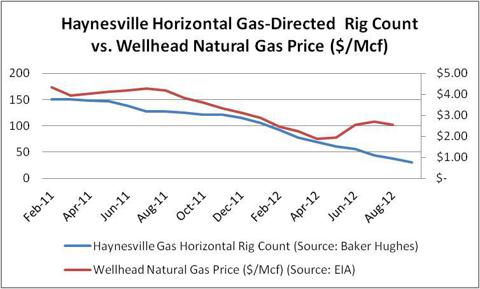 Given the steep hyperbolic decline typical of shale wells, one would expect the sharp cut backs in drilling to have already caused the field's production to roll over. Surprisingly, this has not been the case. The Haynesville volumes did contract by approximately 0.6 Bcf/d during the months of January and February, mostly as a result of massive production shut-ins by Chesapeake Energy (NYSE:CHK) and EnCana Corporation (NYSE:ECA), two very significant operators in the field. However, by June half of the lost output appears to have been restored. Additional production volumes are likely to return online during the second half of the year.
Based on my analysis of several operators' field development economics in the Haynesville, including EnCana, QEP Resources (NYSE:QEP) and EXCO Resources, it appears that a NYMEX price of $3.0-$3.25 per MMBtu is currently the cost-of-capital breakeven range at the well level within the field's core. While development economics are improving due to declining service costs in the area and possible proliferation of the longer lateral wells, a higher natural gas price is clearly required to revive drilling activity in the field. In my analysis, development economics become compelling above $4.00 per MMBtu in the field's best areas.
There is little doubt that with the field's rig count below 25, and falling, the Haynesville production will soon start showing signs of decline. However the decline is likely to be much slower and shallower than is often portrayed by Wall Street research. I discuss in detail the factors contributing to this phenomenon in Part II of this note.
This discussion of natural gas fundamentals bears relevance to natural gas producer stocks. My natural gas producer index includes: Chesapeake Energy, EnCana Corporation, Devon Energy (NYSE:DVN), Southwestern Energy (NYSE:SWN), Ultra Petroleum (UPL), EXCO Resources, WPX Energy (NYSE:WPX), Cabot Oil & Gas (NYSE:COG), Range Resources (NYSE:RRC), QEP Resources, Quicksilver Resources (NYSE:KWK), and Forest Oil (NYSE:FST).
Disclosure: I have no positions in any stocks mentioned, and no plans to initiate any positions within the next 72 hours. I wrote this article myself, and it expresses my own opinions. I am not receiving compensation for it (other than from Seeking Alpha). I have no business relationship with any company whose stock is mentioned in this article.