This continues discussion of the Haynesville Shale production outlook. Part I of this article highlighted the stability of the field's aggregate production volumes despite the dramatic decline in the active rig count.
The reversal of the production curtailments as well as new wells being brought on line from the backlog partially explain the stability of the Haynesville recent production volumes ("rigless supply"). In my estimate, these two factors alone could offset up to one third of Haynesville's base production decline during the next six months (the backlog of wells waiting on completion or tie-in remains significant, with over 200 "inventory" wells in North Louisiana alone).
The third, perhaps most overlooked factor is the significant progress that operators have made in improving well performance. Better completions, optimized production regimes (restricted production, "slow-backs"), and, most importantly, drilling in the most prolific sweet spots of the play that yield better wells has lead to a significant increase in average well productivity and improving base production decline rate for the field as a whole. The trend can be illustrated by well statistics shared by BG Group (OTCQX:BRGYY) in its February presentation (the graph below).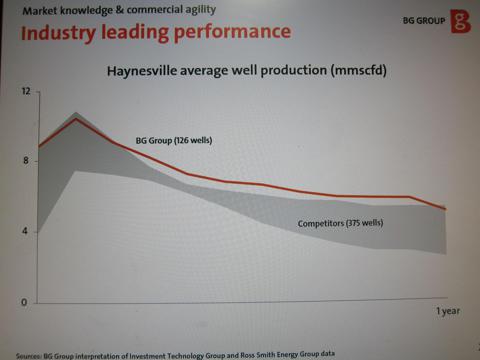 Click to enlarge
BG is a 50%/50% joint venture partner with EXCO Resources (NYSE:XCO) (the operator) in North Louisiana and East Texas where the JV owns 123,000 net acres with Haynessville/Bossier potential (approximately 1.2 Bcf/d of gross operated shale production in Q2). A significant portion of the acreage is located in the highly productive sweet spots of the play in Desoto and Caddo parishes of North Louisiana and Nacogdoches and St. Augustine counties of Texas.
BG presented summary historical data for 126 operated wells (of the total 346 operated wells drilled through 6/30/2012). The graph surprises by exceptionally strong 365-day average production rate and low, by the shale standards, decline rate during the first year. Judging by the graph, a typical well in the sample peaks at around 10.5 MMcf/d following the "clean-up" and declines gradually to about 6.0 MMcf/d at the end of the first year. The graph implies effective first-year decline rate in the 50% range, much lower than the 70%-80% first year declines observed during the early years of the Haynesville development. During the first year, production averages approximately 7 MMcf/d and produces cumulatively over 2.5 Bcf. This production profile is particularly impressive as it is based on a broad sample of wells with over 1 Tcf of combined reserves. While BG did not provide an EUR range for the wells in the sample, in my estimate the graph suggests EURs above 8 Bcf per well on average.
BG's data is confirmed by reports from other Haynesville operators. QEP Resources has provided the following slide in their analyst presentation in November last year: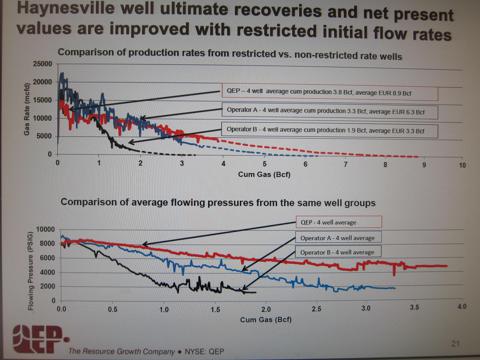 Click to enlarge
Similar to BG's slide, the graph shows that a group of four wells in QEP's example produces at an average 365-day rate of approximately 7-8 MMcf/d, Cumulatively production is approximately 2.5 Bcf during the first year and 3.8 Bcf during the first two years. QEP assigned a 8.9 Bcf average EUR to these four wells. One should note that the vast majority of QEP's wells are brought on production on a restricted choke while the wells in BG's sample appear to be mostly unrestricted. The restricted production method has little impact on the conclusions of this analysis as the majority of restricted wells resume their "normal" hyperbolic declines after the first six to twelve months.
This is QEP management's characterization of a typical Haynesville well profile:
"…All [our] wells are choked…They all start out on… roughly a 12/64 choke. And they all exhibit a plateau period, and that plateau period probably averages six months, some a little shorter, some have been plateaued for a year or so. And part of that… depends on exactly where the well was located in our acreage. And when they come off [the plateau], …we let them decline "normally," we're not changing the choke size. And so what you'll see is that the decline, post plateau, is 55% or so on average in the first year."

…There is zero horsepower of compression in the Haynesville. …Contrast that with the Marcellus, where most of the wells …need compression after the first 60 days to 120 days, maybe even sooner, depending on where you are in the play. ...Average flowing pressure on our wells is probably 5,000 or 6,000 pounds. Very few of the wells are even close to line pressure yet. So there's… a lot of reservoir energy to help - and… that's what makes the cash costs so low in this play. And I think people miss that, but it's a very important point.

Now when you move out of the sweet spot, when you move out of the core area, the wells exhibit a completely different behavior. The rates decline and flowing pressures decline very rapidly, and they hit line pressure very early in their lives. But this is the sort of hallmark of the core of the Haynesville play. And it's a relatively limited footprint when you think about it."
These operating trends have several potentially significant implications for the future production estimates from the field:
Well productivity within the Haynesville sweet spots may be underappreciated. The 6-8 Bcf EUR range that has been most frequently quoted by operators for the core of the play may prove to be conservative. Assuming sweet spot EURs in the 8-10 Bcf range and taking into account the benefits of the over-pressuring (i.e., delayed compression, quick depletion), development wells within those sweet spots may in fact be economically competitive in a low gas price environment.
In reality, the Haynesville may be just as marginal as any other major field (such as the Marcellus, Fayetteville, or Pinedale). Each field has its sweet spots that "work" even at low prices, whereas less productive parts of the same field are uneconomical. Those sweet spots, while a very small percentage of each play, can provide sufficient drilling inventory to offset the field-wide production decline for the next several years.
The natural gas supply "merit curve" is in fact very flat, with economically competitive sweet spots existing across various resource plays and in many operators' portfolios. Add in the "zero cost" associated gas production, and this explains the resilience of the low natural gas prices.
Current base decline rate in the Haynesville may be lower than broadly perceived. I estimate that the Haynesville will experience base production decline of no more than 30% during 2013.
One modern rig operating in the Haynesville's sweet spot can add as much as 50-70 MMcf/d of new production in one year, in my analysis. 40 rigs drilling within the sweet spots of the play can add a staggering 2.0-2.8 Bcf/d, more than offsetting the base production decline. Admittedly, it is unlikely that all the rigs in the field will be equally productive and will be drilling solely in the sweet spots. Therefore, once drilling activity in the Haynesville resumes, the rig count of 40 to 50 rigs will likely be the "inflection rig count" separating production growth from contraction.
This discussion of natural gas fundamentals bears relevance to natural gas producer stocks. My natural gas producer index includes: Chesapeake Energy (NYSE:CHK), EnCana Corporation (NYSE:ECA), Devon Energy (NYSE:DVN), Southwestern Energy (NYSE:SWN), Ultra Petroleum (UPL), EXCO Resources, WPX Energy (NYSE:WPX), Cabot Oil & Gas (NYSE:COG), Range Resources (NYSE:RRC), QEP Resources, Quicksilver Resources (NYSE:KWK), and Forest Oil (NYSE:FST).
Disclosure: I have no positions in any stocks mentioned, and no plans to initiate any positions within the next 72 hours. I wrote this article myself, and it expresses my own opinions. I am not receiving compensation for it (other than from Seeking Alpha). I have no business relationship with any company whose stock is mentioned in this article.