We are bullish on Vivendi (OTCPK:VIVEF), as the company seems to be recovering from competitive pressures posed by low-cost mobile operator Lliad. This recovery has reflected well in its mobile and broadband internet subscriber base. The recently announced cost structure adjustment plan for the company's telecom arm, SFR, which is expected to create cost savings in excess of 500 million euros, has been perceived by the market as a wise step and can bring price appreciation for its stock. VIVEF is down 8% on a YTD basis. The stock remains attractive from a dividend perspective, currently yielding 6.4%, which is well backed by its high operating cash flow yield of 15%.
Vivendi (OTCPK:VIVEF) is a French-based multinational media and telecommunication company, with its headquarters in Paris. Currently, it has operations in music, television, telecom, internet and video games, through its various subsidiaries in various parts of the world. It is worth 20 billion euros, with its shares currently trading near $20. The stock offers a dividend yield of 6.4%. In 2011, the company generated revenues of 28.8 billion euros on earnings of 2.9 billion euros, and had approximately 58,000 employees by the financial year ended 2011.
As mentioned previously, the company operates globally through its various subsidiaries.
Activision Blizzard, a 60%-owned pure play online and console gaming company.
Universal Music group, a 100%-owned music company.
SFR, a 100%-owned telecom operator.
Maroc telecom Group, a 53%-owned telecom company.
GVT, a 100%-owned telecom carrier in Brazil, and
Groupe canal, a 100%-owned television and distributor company.
The company recently announced its first half results, adversely impacted by the drop in revenues from its French-based telecom subsidiary, SFR, which generates the majority of revenues for the company. Overall revenues generated in the first six months were 14.1 billion euros, a slight deterioration from 1H2011. Net income also dropped by a significant 17% to 1.53 billion euros.
As mentioned previously, SFR is the major source of cash for the company, adding almost 40% to the company's revenue stream in the second quarter. SFR has been under a lot of pressure from the new mobile operator in France, Lliad, and is proving to be a headache for most of the telecom operators in the region. According to the company, its free mobile service has been able to grab more than 5% of the French mobile market in less than six months, enticing almost 3.5 million customers since its launch at the start of the year.
What Lliad has done is basically start off a price war with its various plans, one of which provides mobile services for a mere 2 euros per month. Now companies like France Telecom (FTE) and Vivendi are being forced to rethink their pricing strategies in order to compete with Lliad, and not lose customers. Lliad's impressive market share gain has reflected negatively for SFR, as it reported a 6% decline in revenues, largely due to price cuts in reaction to Lliad's low-cost deals.
However, there were also some positives for the telecom carrier, despite the drop in revenues. In the second quarter, the company's mobile customer base returned to growth with 122,000 additions, as compared to 274,000 losses in the first quarter. Moreover, it has now increased its smartphone penetration to almost 45%, a significant increase from the first half of the previous year (34%). The broadband subscriber base also expanded after total additions of 22,000 customers as compared to customer losses in the first quarter.
VIVEF's online and console gaming business did well in the first half, as it had the top three selling games in both North America and Europe. According to its latest report, the recently launched Diablo 3 sold more than 3.5 million copies within 24 hours of its launch, setting a new record. Despite the quarterly growth in revenues, however, the company's revenues declined on a half yearly basis largely due to accounting principles that required the company to defer revenues from its sales over the customer service period.
Even though the summer months always tend to be slower in terms of sales for the gaming industry, Diablo 3 has still managed to do well as a top seller. Vivendi's operations in Brazil through GVT showed an improvement with total revenues reaching 853 million euros, showing a 30% increase from the first half of 2011. EBITDA also improved significantly with a 21% increase in the first half, led by an improved customer base and an increase in service lines.
Key Developments
The company has recently announced its cost structure adjustment plan, aiming to achieve cost savings of approximately 500 million euros over the next two-and-a-half years, in addition to variable cost savings. It is planning to do all this through limiting its advertising spending as well as reducing the store network. In addition, the company also expects cost savings to come from redundancies. The recent cost cut plan has been taken up positively by the market, and analysts believe it could lead to a 10% improvement in the EPS forecast for 2014.
Risks
There has been a lot of speculation regarding a possible breakup of the company. However, the company's management has dismissed the rumors of a possible media and telecom business split, by saying that such a move would not be feasible for its bondholders. VIVEF's management, moreover, didn't make any comment on its possible sale of stake in the video game unit, Activision Blizzard. All this speculation has largely been due to the slump in the company's shares, which have lost almost half their value over the last five years, as well as the departure of its CEO, Jean Bernard Levy.
Financial Position
Despite increased competitive pressures and operations in debt-stricken Europe, the company has been able to consistently bring about growth in revenues, which have grown at a 4-year CAGR of over 7%. Gross margins have remained steady around 50%; however operating margins have generally been on an upward incline.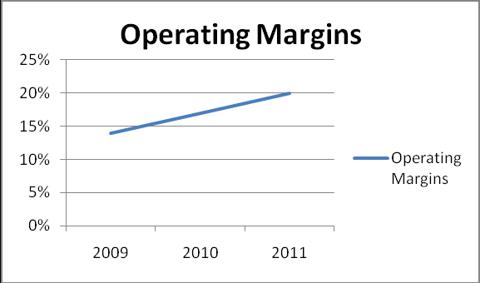 The company has a relatively higher debt-to-equity ratio of 88% as of the most recent quarter, and an interest coverage ratio of 22x.
Dividends
VIVEF paid dividends of 1.2 billion euros in the first half of the year, while generating cash flows from operations of 3 billion euros. The stock yields 6.4%, which is well supported by its 15% operating cash flow yield.
On a P/S basis, the stock looks cheap with P/S of 0.71x as compared to the industry multiple of 0.9x. VIVEF, however, is trading at a 15% premium to the P/S multiple of France Telecom.
Disclosure: I have no positions in any stocks mentioned, and no plans to initiate any positions within the next 72 hours.
Business relationship disclosure: The article has been written by Qineqt's Telecom Analyst. Qineqt is not receiving compensation for it (other than from Seeking Alpha). Qineqt has no business relationship with any company whose stock is mentioned in this article.