Sealed Air (NYSE:SEE) is a global leader in food safety, facility hygiene and product protection. The company is home to many highly recognizable and inventive brands, such as the iconic Bubble Wrap and the more recently developed Fill-Air package protection applications of plastic, as well as the Cryovac brand food packaging system. The company has been under pressure over the last 12 months, but have begun to rise in September. See a recent performance chart of SEE: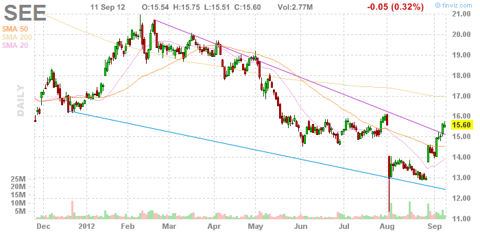 In 2011, Sealed Air acquired Diversey and its cleaning and hygiene solutions business for $2.9 billion, but also acquired Diversey debt that would increase the cost of the deal to $4.3 billion. The purchase was Sealed Air's biggest takeover since its $4.8 billion acquisition of the Cryovac food-packaging business from W.R. Grace & Co. (NYSE:GRA) in 1998.
Shares of SEE have been under pressure since announcing the deal, both because SEE may have overpaid for Diversey and also due to the unclear synergies to be realized through the acquisition. Diversey is a maker of cleaning and sanitizing detergents, gels and foam, as well as electronic dispensers and cleaning machines, for use in the food-service, healthcare and lodging industries. While there is not much apparent overlap in the businesses, there should be some significant overlap among the customer base, which may facilitate scale advantages in distribution.
Sealed Air has since segmented its business into four large and somewhat diverse segments (Food Packaging, Food Solutions, Protective Packaging, and Cleaning and Hygiene) plus a small catch all "other" segment that accounts for about five percent of net sales. Sealed Air's business is globally diversified with about 36% of its business coming from North America, 37% coming from Europe, the Middle East and Africa, 17% coming from Asia and 10% coming from Latin America.
The largest segment based on net sales is Cleaning and Hygiene, making up 40% of net sales, and which is essentially the newly acquired Diversey brand. The second largest segment is Food Packaging, which makes up 25% of Sealed Air's net sales. Food Packaging is largely composed of its Cryovac business that is used to vacuum seal food in order to extended the shelf life of perishable fresh, smoked or processed meats and dairy products, as well as to prevent contamination during distribution and storage.
Sealed Air maintains another segment for Food Solutions, which is the smallest of SEE's four main segments, making up about 13% of net sales. Unlike Food Packaging, Food Solutions mostly involves convenience-oriented meal solutions for retail consumers. Examples of products that would be included in the Food Solutions business include machines and plastic to wrap frozen pizzas, foam trays upon which supermarkets usually sell raw meat and all sorts of pouches and packaging systems.
The Protective Packaging segment, which includes the Bubble Wrap brand for which Sealed Air is best known, only makes up 17% of the net sales at Sealed Air. Other growing businesses within this segment would include the larger Fill Air pillows that have become common packaging additions, as well as a multitude of foams and other packaging products.
Sealed Air shares declined about 45% between its announcing the deal to buy Diversey in June of 2011 and bottoming out in late August of 2012. The company has appreciated nearly 20% over the last two weeks, but still has a market capitalization of approximately $3 billion, or roughly the price it paid to acquire Diversey. A decent part of SEE's recent strength came after the company announced that CEO William Hickey will retire in March of 2013, naming Dow Chemical Company (NYSE:DOW) executive Jerome Peribere as Hickey's successor.
While it is unclear if such advantages from the Diversey acquisition will ever materialize, Hickey's retirement appears at least partially related to the market reaction to the combination, and a perception that Sealed Air overpaid for Diversey and may have now become a takeover target. Some companies that may be interested in all or part of Sealed Air would include DuPont (NYSE:DD), 3M (NYSE:MMM) and Dow, the incoming CEO's prior employer. At Dow, Mr. Peribere led the integration of the Rohm and Haas acquisition, so the selection does appear designed at improving SEE's integration of Diversey and not designed to further cultivate a relationship with Dow.
In any event, each of these large chemical conglomerates could see value in SEE's many branded applications for plastics and chemical solutions. Some smaller companies that compete more directly with SEE may also be interested in acquiring parts of SEE's business, such as Bemis (NYSE:BMS), Sonoco Products (CON) or Ecolab (NYSE:ECL). Since Sealed Air merged with Diversey, SEE's shares have underperformed all of these abovementioned competitors and larger chemical conglomerates.
Given that Sealed Air, Sonoco Products and Bemis are all of comparable size, it would appear unlikely that either of these competitors is capable acquiring SEE in its entirety, presuming they would want to. Ecolab and the large cap chemical conglomerates such as Dow, DuPont or 3M would be able to more easily absorb Sealed Air whole. These companies could also conceivably entertain such an acquisition and possibly subsequently attempt to spin off some segments.
Sealed Air's recent strength appears to indicate that investors are returning to the company. After bottoming out in August, shares of SEE have subsequently rebounded on decent volume. Moreover, analysts are starting to take notice of the turn-around. For example, on September 10, JPMorgan Chase initiated coverage of SEE with an overweight weighting and a $19.00 price target. All in all, it appears SEE shares are undergoing a continuing turnaround, and that they may recognize further appreciation in the near term.
Disclosure: I am long SEE. I wrote this article myself, and it expresses my own opinions. I am not receiving compensation for it (other than from Seeking Alpha). I have no business relationship with any company whose stock is mentioned in this article.