Stamps.com (NASDAQ:STMP) is scheduled to report Q208 results after the market closes on July 23. Based on our analysis, we at eChristianInvesting are expecting STMP's to report disappointing results that miss the Street's consensus expectations.
We are forecasting revenues of $20M versus analyst consensus of $21M. This would represent a 7% drop in revenues from last year's $21.4M in the same period.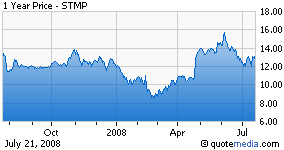 In particular, we are very disturbed by the apparent drop in traffic levels to the company's flagship website. In addition, aggressive sales & marketing offers late in the quarter also provide an indication of lagging sales and represent desperate moves to try and steady the ship.
Stamps' shares have been one of the few bright spots in the Internet sector this year. To date, the shares have appreciated over 9% versus a 14% drop in the broader market indexes. Much of the boost in the stock price has come this month as traders hope that STMP's business model proves resilient in the face of deteriorating economic conditions.
Shares are now trading at 19x consensus 2009 EPS estimates. This represents a slight discount to their peer group. Our believe is that there is no compelling reason to own these shares until we can see either real improvement in economic conditions or until they can adequately demonstrate their ability to grow their business even in difficult economic environments.
Disclosure: None