Edited by Marianna Avilkina
Microsoft (NASDAQ:MSFT) is the world's largest software company. Founded in 1975, Microsoft has been at the forefront of software development since the inception of DOS and Windows operating systems. Its market includes the gaming industry (e.g., Xbox), digital services (e.g., MSN), mobile phones (e.g., Windows Phone OS), internet search (e.g., Bing) and of course, computer operating systems (e.g., Windows).
After venturing into the gaming industry with the introduction of Xbox in 2001, Microsoft has set its sights on the tablet and cell phone markets. In collaboration with Nokia (NYSE:NOK), Microsoft introduced Windows Phone in February 2010. Most recently, Microsoft announced its new venture into the tablet market with its Surface tablet. Additionally, the company has continued to enhance its market dominance by acquiring Skype Technologies in 2011 for $8.6 billion - the company's most expensive acquisition to date.
As of the time of writing, MSFT stock was trading at $30.72, with a 52-week range of $23.61 - 32.52. It has a market cap of $257.1 billion. Trailing twelve-month P/E ratio is 15.36, and forward P/E ratio is 9.2. P/B, P/S, and P/CF ratios stand at 3.9, 3.5, and 8.3, respectively. Operating margin is 29.5%, whereas net profit margin is 23.0%. The company has minimal debt issues as a debt/equity ratio of only 0.2 is well below the market average.
Microsoft pays solid dividends - trailing yield of 2.60% is the same as the forward one. However, I expect a dividend raise this year. For the year 2012, Microsoft has been providing a steady quarterly dividend of $0.20, amounting to a $0.80 annual dividend. Five-year dividend history suggests that MSFT is a nifty, yet safe, dividend payer.
MSFT has a 4-star rating from Morningstar. Out of nine analysts covering the company, six have a "buy" rating, one "outperform," and two "hold." This is good reason to suppose that Wall Street holds diverse opinions about the company's future. The average five-year annualized growth forecast estimate is 8.2%. What is the fair value of MSFT given the forecast estimates? We can determine Microsoft's fair value using the discounted earnings plus equity model as follows.
Discounted Earnings Plus Equity Model
This model is primary used for estimating the returns from long-term projects. It is also frequently used to price fair-valued IPOs. The methodology is based on discounting the present value of the future earnings to the current period:
V = E0 + E1 /(1+r) + E2 /(1+r)2 + E3/(1+r)3 + E4/(1+r)4 + E5/(1+r)5 + Disposal Value
V = E0 + E0 (1+g)/(1+r) + E0(1+g)2/(1+r)2 + … + E0(1+g)5/(1+r)5 + E0(1+g)5/[r(1+r)5]
The earnings after the last period act as a perpetuity that creates regular earnings:
Disposal Value = D = E0(1+g)5/[r(1+r)5] = E5 / r
While this formula might look scary for many of us, it easily calculates the fair value of a stock. All we need is the current-period earnings, earnings growth estimate, and the discount rate. To be as objective as possible, I use Morningstar data for my growth estimates. You can set these parameters as you wish, according to your own diligence.
Valuation
Historically, the average return of the DJI has been around 11% (including dividends). Therefore, I will use 11% as my discount rate. In order to smooth the results, I will also take the average of ttm EPS along with the mean EPS estimate for the next year.
E0 = EPS = ($2.00 + $3.31) / 2 = $2.66
Wall Street holds diversified opinions on the company's future. While analysts tend to impose subjective opinions on their estimates, the average analyst estimate is a good starting point. Average five-year growth forecast is 8.2%. Book value per share is $7.92. The rest is as follows:
Fair Value Estimator

V (t=0)

E0

$2.66

V (t=1)

E0 (1+g)/(1+r)

$2.59

V (t=2)

E0((1+g)/(1+r))2

$2.52

V (t=3)

E0((1+g)/(1+r))3

$2.46

V (t=4)

E0((1+g)/(1+r))4

$2.40

V (t=5)

E0((1+g)/(1+r))5

$2.34

Disposal Value

E0(1+g)5/[r(1+r)5]

$21.24

Book Value

BV

$7.92

Fair Value Range

Lower Boundary

$36.20

Upper Boundary

$44.12

Minimum Potential

17.84%

Maximum Potential

43.62%
(You can download FED+ Fair Value Estimator, here.)
I decided to add the book value per share so that we can distinguish between a low-debt and debt-loaded company. The lower boundary does not include the book value. According to my 5-year discounted-earnings-plus-book-value model, the fair-value range for MSFT is between $36.20 and $44.12 per share. At a price of $30.72, Microsoft is trading at a significant discount. The stock has at least 18% upside potential to reach its fair value.
Peer Performance
In 2011, Microsoft Corporation revamped its filing with the SEC and named Apple (NASDAQ:AAPL) and Google (NASDAQ:GOOG) as its potential competitors. It previously had considered Linux, Mozilla and Opera to be its competitors. Since Apple, Google and Microsoft now compete with each other in smartphones and tablets as well, the change seems appropriate.
The figure below shows Microsoft's performance against its main competitors over the last five years: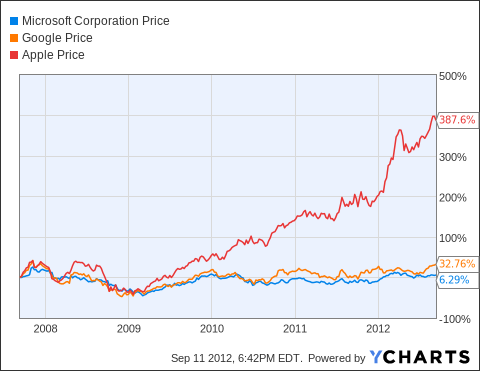 Fierce competition has led the three technological giants to be engaged in fierce battles on multiple fronts, including the courtroom. In relation to stock quote price, Microsoft has been easily beaten by Apple over the last three years, and has being outperformed by Google during the last year. However, Microsoft continues to refine its relationship with Nokia for a better mobile experience, and it is also entering the tablet market with its Microsoft Surface. This holds great potential for the future, given how Apple enjoyed its stratospheric returns with massive sales numbers for iPhones and iPads.
Dividend History
Microsoft remains a solid dividend payer. The dividends are consistent; the company has managed to improve its dividends by 38% over the last 5 years. Since 2007, the company has been managing to improve its quarterly dividends by 100%, from 10 cents to 20 cents. The next quarterly dividend payment will be also 20 cents. These facts suggest that Microsoft is a nifty, yet safe, dividend payer. I think MSFT will keep increasing dividends as the company keeps generating substantial cash flows.
Summary
As Microsoft continues to increase its revenues and product offerings, it faces difficulty in the form of piracy and stepping into unchartered territory - with its introduction of Microsoft Surface. While much of its revenue generation is ensured due to its cash cow products, i.e. Microsoft Office and Windows, a lot depends on how the new products fare over the next year. As Microsoft looks to compete with Apple and Google in the smartphones and tablets market, it must ensure that it has the perseverance to endure retaliation by cut-throat market leaders.
Nevertheless, based on historical valuation metrics, Microsoft stock is significantly undervalued. That is why investors have an exclusive opportunity to obtain MSFT stock at a solid discount while the stock has at least 18% upside potential to reach its fair value. While achieving performance levels equivalent to that of Apple may be some way off, we expect Microsoft to have a larger market presence in mobile and tablet market for the coming years.
Disclosure: I have no positions in any stocks mentioned, and no plans to initiate any positions within the next 72 hours. I wrote this article myself, and it expresses my own opinions. I am not receiving compensation for it (other than from Seeking Alpha). I have no business relationship with any company whose stock is mentioned in this article.