Introduction
Since my last analysis of Xerox (NYSE:XRX) at the end April of 2012, its stock performance is down about 2.5%. This is about 5% worse than the performance of the DJ Global Total Stock Market index, which was up 2.5% during the same period. However, compared to its two peers we discussed in April, Xerox is doing fine as Hewlett-Packard (NYSE:HPQ) and Canon (NYSE:CAJ) are down by nearly 30% each (see graph). Even two other pure play printer manufacturers, Lexmark (NYSE:LXK) and Ricoh (JP:7752), experienced declines of about 28% and 13%, respectively, over the same period.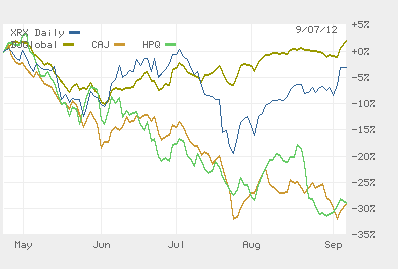 While there are reasons to be concerned about printing companies, I think there are three reasons to stay optimistic about Xerox. First, the company has a below average valuation with an above average growth rate in its services business. Second, it is a strong cash generator and is deploying this cash wisely, which should benefit shareholders in the longer term. And finally, a spin-off of the technology (printing) business from the services business could also increase the value of Xerox shares.
Valuation
Xerox has a price to book value ratio of 0.8 compared to price to book value ratios of 1.1, 1.2, and 1.1 for Hewlett-Packard, Canon, and Lexmark, respectively. All of these companies are undergoing significant changes and operate in an industry that is also changing, so a price to book value ratio is a good measurement of the company's worth. The reason is that past performance may not be repeated and their future is uncertain.
According to data provided by Reuters, Xerox has had the strongest sales growth in the past five years at 7.3% per year, compared to 6.8%, -3.1%, and -3.9% for HP, Canon, and Lexmark. Similar to Xerox, HP offers services and grows via acquisitions, which is the reason for its relatively strong sales growth. Similarly, on a price to earnings to growth rate ratio, Xerox is trading at 0.8 compared to 1.2 for HP and Lexmark. It does not come as a surprise when Xerox CEO affirmed, in a recent investor conference, that Xerox shares are tremendously undervalued.
An area of concern might be Xerox's valuation based on enterprise value to earnings before interest, tax, depreciation, and amortization (EBITDA) of about 5.8. This is overvalued compared to HP, Canon, and Lexmark's enterprise value to EBITDA ratios of 3.8, 3.4, and 2. HP has had a number of leadership and operational problems in the past few years. And Canon and Lexmark are pure manufacturers and sellers of hardware and lower valuation ratios are warranted. In fact, if we look at IBM's (NYSE:IBM) and Oracle's (NASDAQ:ORCL) enterprise value to EBITDA (Xerox is starting to look more like them) of 9.4 and 8.9, Xerox is in fact undervalued.
Strong Cash Generator
In its most recent quarter, Xerox reported total cash flow from operations in the amount of $228 million. The company also confirmed its expectations to generate between $2 billion to $2.3 billion in cash from operating activities despite slightly lowering its full-year 2012 earnings estimate due to weak technology segment. The reason for the unchanged cash flow figure is that most technology sales are financed, so there is little impact on cash. In addition, recent legislation will allow the company to save unplanned about $50 million of cash expense related to its pension funding.
Xerox is actively using its cash and it expects to repurchase between $900 million to $1.1 billion of its own shares in 2012. During the first half of 2012, it has purchased about $356 million worth of shares and the majority of the repurchases will be done in the second half of the year. While the share count is increasing by contributions to Xerox stock incentive compensation and pension plans, the share repurchase will have a noticeable net impact on per share results in 2013 and beyond.
The second largest use for Xerox's cash is acquiring other companies. The company expects to spend about $300 million to $400 million in acquisitions in 2012. It has been successful with integrating distributors into its Global Imaging Systems subsidiary. Most recently, Xerox acquired an Illinois based leading provider of office technology and software solutions. And on the service side, the company recently acquired Dallas based Lateral Data and UK based WDS. These acquisitions provide Xerox with additional breadth and depth of technology and service offerings while at the same time presenting significant operational synergies.
Finally, Xerox spends about $250 million per year to pay dividends. Currently, the stock pays a $0.0425 per share for an annualized yield of slightly more than 2%. Management has indicated that it intends to increase the dividend payout in the future. However, due to the attractive valuation of Xerox common stock and a need to expand its products and services, the largest portion of Xerox's cash will continue to be spent on share repurchases followed by acquisitions. Even at current levels and given the low yield of treasuries, this tax-advantaged dividend is attractive.
Corporate Restructuring
There are no specific plans for corporate restructuring at Xerox. The company has hinted a few times that it might sell its highly profitable financing business if a buyer shows it can run it more efficiently. Selling the technology segment together with its financing arm could make more sense. A number of companies have benefited from splitting their growth businesses from the rest of the company. Most recently, McGraw-Hill announced a spin-off of its educational business from its faster growing financial business and IBM successfully bet on focusing on its service business when it sold its PC business to Lenovo.
To make things simple, let's assume that Xerox sells the technology business for $3 billion (at about 0.3 times its 2011 sales, a valuation slightly lower than that of Lexmark of 0.38). This gives a value of $2.30 per share. The sale should not be a problem as the company has Charles Prince on its board of directors, who has proven talent in the investment banking field.
Xerox is left with a services business that is growing revenues at about 10% to 12% a year based on 2011 performance and has a margin of about 12%. Under these assumptions, the service business would generate about $12 billion revenue in 2012 and about $1.35 of EBITDA per share in 2012 (EBITDA per share is the current EBITDA of $3.5 billion divided by two to account for the business separation and then divided by 1.3 billion shares outstanding). Multiplying this by an enterprise value to EBITDA ratio of 9, which is in line with that of IBM and Oracle or with more service oriented companies, Xerox shares will be worth about $12.15 per share (assuming "new" Xerox will have no debt as most of the debt is related to the technology financing business). The total fair value per share for Xerox is $12.15 + $2.30 or $14.45, a premium of over 90% from recent price levels.
Conclusion
Xerox could benefit from selling or spinning-off its technology business. Even without this restructuring, its common stock appears undervalued. Further, the company's ability to generate and deploy cash effectively should benefit shareholders in the longer-term. Despite its recent slump, investors should still feel confident in the future of Xerox.
Disclosure: I have no positions in any stocks mentioned, and no plans to initiate any positions within the next 72 hours. I wrote this article myself, and it expresses my own opinions. I am not receiving compensation for it (other than from Seeking Alpha). I have no business relationship with any company whose stock is mentioned in this article.