We love analyzing and evaluating the rural telecom sector because these companies have high yields with regards to dividends and free cash flows. We are aware that these companies are not growth engines but we appreciate the efforts of Frontier Communication (NYSE:FTR), CenturyLink (NYSE:CTL), FairPoint Communications (NASDAQ:FRP) and Windstream (NASDAQ:WIN) to mitigate the wireline revenue declines with growth in strategic communications such as Internet, Cable TV, Satellite TV and even cloud computing services. Last week we analyzed and evaluated CenturyLink versus FairPoint and while we were surprised that FairPoint enjoyed a higher Internet subscriber growth than CenturyLink, CenturyLink has a narrower wireline decline, a higher credit rating, the cloud computing infrastructure business (Savvis) and an authorized reseller agreement with Verizon Wireless (NYSE:VZ). In this report, we will compare Frontier against CenturyLink. Our thesis is that while Frontier is off its $3.06 lows previously achieved in May and while Frontier's shares have only declined by 3.34% YTD according to Morningstar, we believe that Frontier's 8.6% Dividend Yield is not enough to take into account the fact that it spent $8.7B in cash and stock to acquire wireline properties from Verizon that are seeing unabated revenue declines. These pro forma revenue and profit declines have forced Frontier to slash its quarterly per share dividend twice since it closed the Verizon Wireline purchase in July 2010.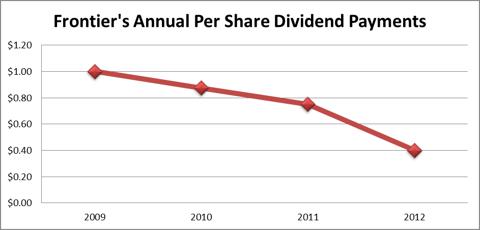 Click to enlarge
Source: Frontier's Investor Relations Website
We had previously written upon the dealings between Verizon Communications and smaller historically rural local exchange carriers such as Frontier Communications and CenturyLink. We like reevaluating this because we see that with the exception of CenturyLink, every company that strikes a strategic deal with Verizon ends up regretting it. We remembered that there was much buzz a few years ago when Verizon announced the sale of its old rural local wireline operations in 14 states to Frontier for $8.7B in cash and shares of Frontier common stock in a Reverse Morris Trust. With the exception of Verizon West Virginia, Inc, the wireline properties that Frontier acquired from Verizon were legacy GTE properties Verizon assumed in its blockbuster 2000 acquisition of GTE. Under the Reverse Morris Trust plan, the cash portion of the deal ($3.5B) went to Verizon Communications and $5.2B worth of shares issued by Frontier went to Verizon's shareholders. This transaction nearly tripled Frontier's customer base and made Frontier the 5th largest wireline telephone company in the US by revenues. The price to do all this was steep and forced Frontier to assume $3.5B in debt from Verizon's wireline operations as well as increase its share count from 311M in Q2 2010 to nearly 1B in Q3 2010. Unfortunately for FTR shareholders, FTR's share count has edged upwards due to equity-based compensation programs for Frontier's employees.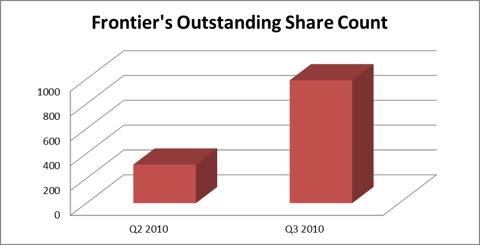 Click to enlarge
Source: Morningstar Direct
We can see that Frontier's acquisition of Verizon's rural wireline operations has given Frontier's stakeholders a bad case of acquisition indigestion. Frontier shareholders can take solace in that its revenue declines have been less severe in 2012 versus in 2010 and 2011. However, we believe that it is because wireline telephone service revenues (which are the biggest source of FTR's revenue declines) have seen their proportion of Frontier's revenue steadily decline since the middle of the last decade and it is not like it can really get much worse. While Frontier's stakeholders can make the claim that the combined company is projected to generate over $750M in free cash flows for 2012, we point out that Frontier paid $8.7B to acquire Verizon's rural wireline operations and that legacy Frontier generated $488M in free cash flows in 2009. This means that the $8.7B in new capital utilized by Frontier to acquire Verizon's rural operations only generated incremental cash flows of $262M in the two plus years that this merger was consummated. We can see that the 3% incremental cash flow return on the merger related capital failed to meet Frontier's 8.2% cost of debt capital. Even if we add in the incremental after tax interest that Frontier has paid from the increased debt assumed from Verizon of $180M (based on variance between 2011 Interest Expense and 2009 Interest Expense Tax Adjusted at 40% Tax Rate), we can see that the adjusted incremental cash flow return on the Verizon deal was 5%, which is still less than Frontier's 8.2% cost of debt capital.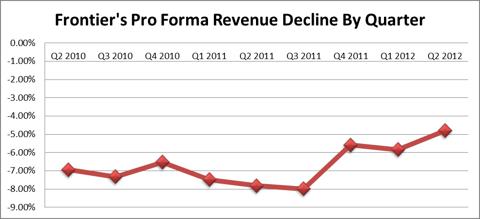 Click to enlarge
Source: Frontier's last 9 Earnings Releases
CenturyLink (formerly CenturyTel) and its predecessor Qwest Communications have had dealings with Verizon too. In 2002, CenturyTel acquired Verizon's wireline operations in Alabama and Missouri which it inherited from legacy GTE. These deals cost CenturyTel $2.25B but generated ~$200M in incremental operating income and free cash flows annually according to Morningstar and helped provide scale for CenturyLink to acquire Embarq in 2009, Qwest in April 2011 and Savvis in July 2011. CenturyTel also sold its wireless operations to Alltel in 2002 and Alltel was acquired by Verizon Wireless in 2009. Qwest partnered up with Verizon Wireless in a 5 year deal in 2008, in which Qwest shut down its Qwest Wireless MVNO and agreed to market Verizon Wireless devices through its sales and service channels and gave those customers the choice of being billed directly by Verizon Wireless or as part of their Qwest Communications bundle. When CenturyLink announced in 2010 its agreement to acquire Qwest, it agreed to a wireless reseller deal with Verizon Wireless.
We can see that the deals between Qwest/CenturyLink and Verizon were much better than the deal that Verizon made with Frontier. While CenturyLink increased its access lines served by 40% with the acquisition of Verizon's Alabama and Missouri operations, it was a far cry in relation to Frontier tripling its footprint with the purchase of Verizon's remaining rural telecom properties. While we are displeased that CenturyLink sold its wireless operations to Verizon by way of Alltel (legacy CenturyTel) and Qwest Mobile (legacy Qwest), we are pleased that CenturyLink has a reseller agreement with Verizon Wireless. This enables CTL to partially offset declines in its wireline business by participating in the steady customer growth that Verizon Wireless has enjoyed since its 2000 merger of Bell Atlantic Mobile, GTE Mobile and Vodafone's US operations. Plus unlike Frontier, CTL did not have to issue over $5B worth of stock to acquire its legacy Verizon rural properties.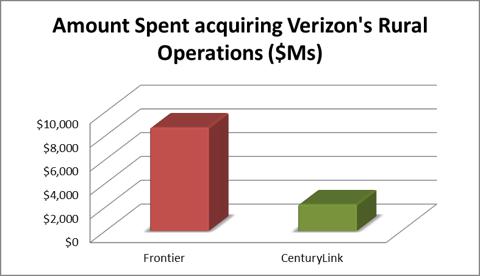 Click to enlarge
Source: Frontier's 2010 Annual Report and CenturyLink's 2002 Annual Report
In our August report evaluating Frontier versus CenturyLink, we previously elaborated on how CenturyLink has faster growth than Frontier in Internet services and narrower wireline declines. Although Frontier has enjoyed a 20% total return since its Q2 2012 earnings release, we believe that yield hungry investors should take into account the fact that Frontier has cut its dividend twice since it announced its purchase of the legacy Verizon rural operations. In comparison, CenturyLink's dividend has been kept stable since 2008, with the exception of a $.10 annualized dividend boost in 2010. While we don't expect CenturyLink or Frontier to generate much in the way of dividend growth, we see both companies generating free cash flows to service the implicit dividend obligations to shareholders and using free cash flows in excess of dividend distributions to pay down debt obligations. Frontier's dividend yield is 8.6%, which is 1.7% higher than CenturyLink's 6.9% yield. Based on the fact that Frontier has cut its dividend twice in the last couple of years and based on the fact that Frontier's dividend yield is only 1.7% higher than CenturyLink's, we believe that CenturyLink is more suitable for dividend hunting investors than Frontier.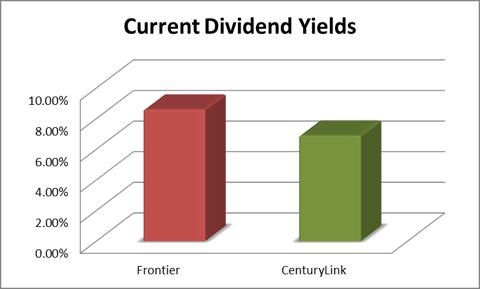 Click to enlarge
Source: Morningstar Direct
In conclusion, we are intrigued by Frontier's annualized cash flow/market cap ratio of 17.2% and dividend yield of 8.6%. However, we were disappointed that Frontier's free cash flows for H1 2012 declined by nearly 13% even with the aid of cash transferred from escrow accounts. We believe that CenturyLink offers a better risk-adjusted return for yield-hungry investors than Frontier, and we have proved our earlier thesis about CenturyLink's deals with Verizon working out better for it than Frontier's. We like CenturyLink better than FairPoint due to the following factors:
CenturyLink's Authorized Wireless reseller agreement with Verizon Wireless is underway while Frontier's reseller agreement with AT&T has not begun service yet.
CenturyLink's partnership with DirecTV and its PRISMTV IPTV service.
CenturyLink's slightly lower decline in wireline rates
CenturyLink is working to bolster its investment-grade credit rating while FTR is a below-investment-grade credit issuer
CenturyLink's cost of debt is less than 6% while Frontier's is 8.2%
CenturyLink derives a smaller percentage of its revenue from wireline telecom services (which have been seen strong declines as people cut the wireline cord) than Frontier.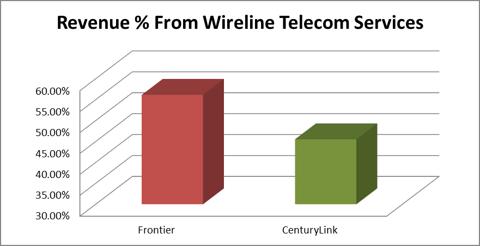 Click to enlarge
Sources: Frontier and CenturyLink's Most Recent Earnings Releases
Disclosure: I am long CTL. I wrote this article myself, and it expresses my own opinions. I am not receiving compensation for it (other than from Seeking Alpha). I have no business relationship with any company whose stock is mentioned in this article.
Additional disclosure: This article was written by an analyst at Saibus Research. Saibus Research has not received compensation directly or indirectly for expressing the recommendation in this article. We have no business relationship with any company whose stock is mentioned in this article. Under no circumstances must this report be considered an offer to buy, sell, subscribe for or trade securities or other instruments.