As much as I detest social media stocks (and continue to believe the sector is in a bubble), I will admit Groupon (NASDAQ:GRPN) trading under $5 caught my interest. Groupon has now dropped 80%+ since its November IPO, and appears to have reached a more normalized valuation at 12.2x forward earnings.
But for detailed reasons hidden in its Q2 report, Groupon still appears to be an excellent short candidate.
Growth Has Peaked
Much like its peer Zynga (NASDAQ:ZNGA), Groupon is starting to see growth decline much faster than anticipated.
| | | | | |
| --- | --- | --- | --- | --- |
| Quarter | Revenue (millions) | Q/Q Growth | Subscribers (millions) | Q/Q Growth |
| Q2 2011 | $393 | - | 23 | - |
| Q3 2011 | $430 | 9.4% | 28.9 | 25.7% |
| Q4 2011 | $492 | 14.4% | 33.7 | 16.6% |
| Q1 2012 | $559 | 13.6% | 36.9 | 9.5% |
| Q2 2012 | $568 | 1.6% | 38 | 3.0% |
| Q3 2012 (estimates) | $595 | 4.8% | - | - |
After taking a closer look at Q2 growth when compared to prior quarters, it's clear why shares have been hit so hard. Groupon experienced a major slowdown in overall growth in Q2, mostly because of weakness internationally.
International revenue accounts for about 54% of Groupon's total sales (as of Q2). For the first time since going public, international revenue actually fell Q/Q. Groupon originally blamed this on European softness, which seems a tad ironic to me.
If anything, weakness in the European economy should have increased the relevance of Groupon's Daily Deals. It's only natural to see consumers shift towards more spending conscious habits in times of economic weakness. We saw proof of this in 08/09 when Americans started going to McDonald's (NYSE:MCD) and Wal-Mart (NYSE:WMT) because of the recession.
Costs Still Rising Faster Than Sales
Cost of revenue grew 146% in Q2, while total revenue grew just 39%. Despite rapidly rising costs, Groupon has still been able to keep operating income rising by cutting marketing expenses.
Ironically, Groupon repeatedly brags about this in its investor presentations.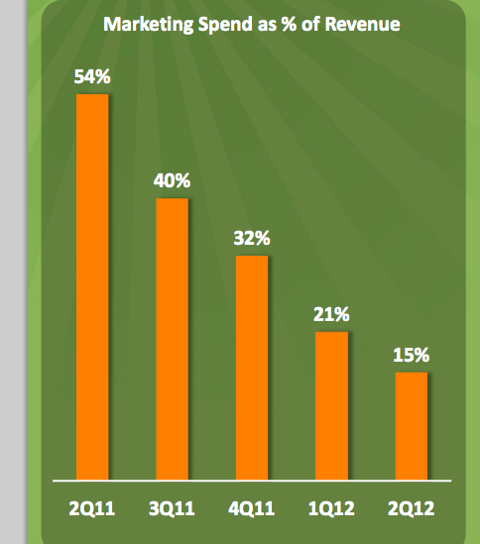 Is it just me, or could a massive slowdown in revenue growth be somewhat correlated to a massive slowdown in marketing expenses?
I believe so, and unfortunately for Groupon, this game is going to have to end soon. In 2010, Groupon grew sales 2,060% - by far Groupon's fastest growing year ever. In Q4 2010 (the biggest quarter of that year), Groupon's marketing expenses were $201 million vs. $172 million in revenue.
In Q2 2012, marketing expenses totaled just $88 million. I don't see how Groupon will be able to drop these much further without continuing to negatively impact sales. But even if Groupon did choose to drop its marketing expenses another 90%, it wouldn't matter. Cost of revenue climbed $80 million from Q2 2011 to Q2 2012, and is on pace to climb another $197 million (reaching $332 total (~40% of revenue) per quarter) by Q2 2013.
Groupon will not be able to drop marketing expenses fast enough to outpace the rising cost of revenue by the end of 2012.
This leads to another (and actually even bigger) problem.
Operating Income Doomed To Turn Negative
Groupon's Q3 outlook now calls for $15-35 million in operating income, which would be feasible if Groupon were able to hit analysts' $595 million Q3 revenue estimate (an increase of $27 million from Q2). But I doubt that's going to happen.
Groupon only increased revenue by $9 million in Q2 (1/3 of which will be needed next quarter) and Q3 has been a seasonally weak quarter for growth.
That, combined with continually depressed marketing expenses, makes a turnaround for growth unlikely. Additionally, Q2 was Groupon's first quarter in over 2 years which saw gross billings decline Q/Q.
Gross billings are the invoices Groupon sends to its clients, and thus a leading indicator of revenue. This first Q/Q decline emphasizes the frailness of Groupon's business model. Right now, Groupon has the #1 market share in 37 of the 48 countries it operates in. As competition continues to heat up, and the 'Daily Deals' market matures into a period of saturation, Groupon's hockey-stick growth pattern is history.
As Groupon struggles to maintain its prior growth rate (45% Y/Y revenue appreciation), exponential cost increases will reverse its trend of rising margins. This has serious negative impacts on both future EPS projections and future operating income.
Estimates Will Continue To Fall
In the past 90 days, earnings estimates for 2013 have almost been cut in half ($0.70 to $0.37). Analysts have already started to note potential margin erosion from rising costs and a bottoming in marketing expenditures.
This will continue as Groupon struggles to maintain any sort of meaningful revenue growth. Despite lowered consensus estimates, Groupon is still projected to see a large sales increase in the back half of 2012. With declining international sales, and an increasingly saturated market, those targets will have a hard time being met. For this reason, estimates are poised to fall further.
What Groupon Bulls Say
Groupon bulls like to highlight 2 key aspects that make the stock an attractive investment at these historically cheap levels.
It's trading at 1.5x sales
This may be the cheapest price/sales multiple in the social media space, but other than that it doesn't mean much. Even if Groupon is able to fully execute its business model, margins are razor thin. Essentially, Groupon's model is to cut into retail profits by referring brick and mortar stores new customers. Most of these retail store margins are already low, and Groupon can only hope to capture a small portion of them. Thus, it's logical to conclude Groupon will trade at a lower P/S multiple than its social media peers.
$1.2 billion in cash
This does represent ~35% of Groupon's current market cap. But the only chance of this cash adding any value is through strategic acquisitions - I doubt Groupon would pay a dividend or initiate a buyback so soon after an IPO. Groupon has already showed a willingness to acquire start-ups, but has had little success. Zynga has also tried the growth via acquisition strategy, and had limited success. The bottom line is that in its current state, Groupon will start bleeding cash before it can use its equity to add shareholder value.
Conclusion
As growth peaks and costs continue to skyrocket, Groupon still appears to be an attractive short candidate.
Even with lowered estimates, Groupon's expectations remain too high. In the next several quarters, Groupon will need to demonstrate a huge turnaround in revenue growth or investors will be disappointed yet again. I do not see any catalyst for this revenue growth, especially after such a weak Q2 report, and increasing downward pressure on marketing expenditures.
Disclosure: I have no positions in any stocks mentioned, and no plans to initiate any positions within the next 72 hours. I wrote this article myself, and it expresses my own opinions. I am not receiving compensation for it (other than from Seeking Alpha). I have no business relationship with any company whose stock is mentioned in this article.