For most of 2012, the PowerShares QQQ (NASDAQ:QQQ) fund has been outperforming the market as compared to the SPDR S&P 500 (NYSEARCA:SPY). It's important to find market-beating investments in an effort to achieve better than average returns. Although highly diversified, SPY has diluted returns since its performance is spread over 500 stocks. PowerShares QQQ is comprised of about 100 stocks.
Technology companies dominate QQQ, making up 66.21% of the fund. This is followed by consumer discretionary which makes up 15.66%, healthcare with 10.65% of the pie, consumer staples with 4.57%, Industrials at 1.64%, telecommunications at 0.81%, and materials at 0.46%.
Here are the top 5 holdings of QQQ along with some key statistics:
Apple (NASDAQ:AAPL)

Microsoft (NASDAQ:MSFT)

Google (NASDAQ:GOOG)

Oracle Corp.

(NASDAQ:ORCL)

Intel

(NASDAQ:INTC)

% of QQQ

19.82%

8.1%

5.72%

5.05%

3.79%

Dividend

1.6%

2.6%

None

0.70%

3.7%

Forward PE

Ratio

12.93

10.18

14.29

11.16

10.08

PEG Ratio

0.69

1.35

1.06

1.05

0.89

Operating

Cash Flow

$52.15B

$29.89B

$15.82B

$13.74B

$20.69B

Current

Ratio

1.57

2.94

3.84

2.6

2.45

5-Yr. Expected

Annual Earnings Growth

22.52%

8.76%

15.71%

11.64%

11.86%
We can see that Apple's high weighting in the fund makes QQQ significantly dependent upon the company's performance. Investors of QQQ can be thankful for Apple this year as the company's stock rose from about $400 to $680, for a gain of 70%. With a run-up like that, you would think that Apple is overvalued, but with a PEG ratio of only 0.69 is still remains undervalued.
Microsoft had a good run in the first few months of the year, gaining approximately 19%. Google's move was less dramatic, but still good at about 9%. Oracle had a good run as it gained about 25%. Intel experienced the smallest move at about 4% for the year.
Some of the products driving the QQQ are sales of iPhones, iPads, X-Box, Android, online advertising, Oracle software, and semiconductor chips. The next five top holdings in QQQ include: Amazon (NASDAQ:AMZN), QUALCOMM Inc. (NASDAQ:QCOM), Cisco Systems (NASDAQ:CSCO), Kraft Foods (KFT), and Comcast Corp. (NASDAQ:CMCSA). Sales from online retailing, wireless chips, IP networking products, various foods, TV, and internet service further contribute to the success of the QQQ fund.
I think that ownership of QQQ shares provides investors with a less expensive way to own Apple as the company comprises almost 20% of the fund. QQQ also provides some diversification among a large group of stocks. Although QQQ is heavily invested in tech companies, 34% of the fund is non-tech, providing some exposure to other sectors.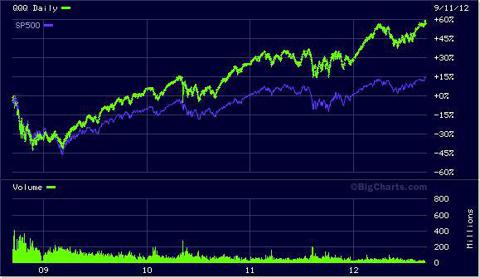 Click to enlarge
Overall, QQQ provides good exposure to tech, with strong leading companies. Today's QQQ is not the inflated QQQ of the dot-com days. The average trailing PE ratio of the fund is 15, a bit higher than the PE ratio of the S&P 500 at 13. The PE ratio of 15 is in line with the historical market average and much lower than the average PE ratios in the 40s during the dot-com craze of the late 1990s.
PowerShares QQQ should be considered for those interested in tech exposure, and for those who don't want to commit to a specific company. The fund should continue to beat the market as most of the top holdings are growing revenue and earnings at better than average rates.
Disclosure: I am long AAPL. I wrote this article myself, and it expresses my own opinions. I am not receiving compensation for it (other than from Seeking Alpha). I have no business relationship with any company whose stock is mentioned in this article.