Shares of Seagate (NASDAQ:STX), one of the two major players in the hard disk storage space, have performed exceptionally well year-to-date, rising a staggering 83.6%. However, after Intel (NASDAQ:INTC), Dell (NASDAQ:DELL), and HP (NYSE:HPQ) confirmed that PC sales in the second half of the year are not expected to recover as had previously been thought, everything in the PC sector got hit pretty badly. Seagate was a casualty of war here, but should investors take this opportunity to get in?
Shareholder Friendliness
When considering a long term investment, it is critical to consider the shareholder friendliness of the company, especially if the business is mature. Seagate pays a dividend of $1.28/share on an annualized basis or a 4.25% yield as of the most recent closing price of $30.11.
In addition to this generous dividend, Seagate has been aggressively buying back shares. In 2008, there were roughly 530M shares outstanding. Today the share count has been reduced to 425M.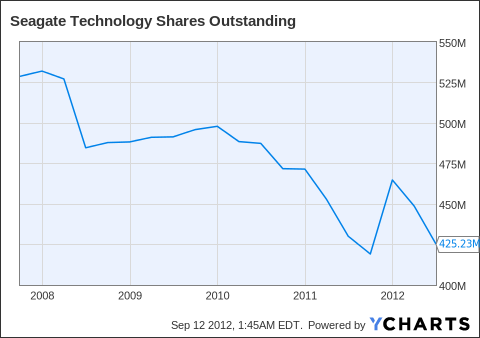 STX Shares Outstanding data by YCharts
Seagate is definitely shareholder friendly.
Valuation
Seagate is one of the most absurdly cheap technology stocks on the market. Despite an 83% year-to-date run in the stock price, the company is still trading at 4.67x trailing earnings and 4.5x forward earnings. Return on assets is a healthy 20.27% and return on equity is staggeringly high at 96.04%.
The company has $2.12B in cash and $2.86B in long term debt, but the debt could be very easily repaid given the firm's healthy profitability and cash flow (the firm generated $1.61B in free cash flow in the trailing twelve months).
Compared to its nearest competitor, things get a little more interesting. Western Digital (NYSE:WDC) trades at 6.42x past earnings and 5.09x projected earnings and doesn't pay a dividend. But Western Digital's balance sheet is stronger with $3.12B in cash and only $2.18B in debt. In addition, Western Digital's price to book ratio comes in at 1.32 against Seagate's 3.38. Operating margin for the former is less attractive at 12.92% against the latter's 19.16%.
In terms of reducing share count, it seems Seagate has been much more aggressive: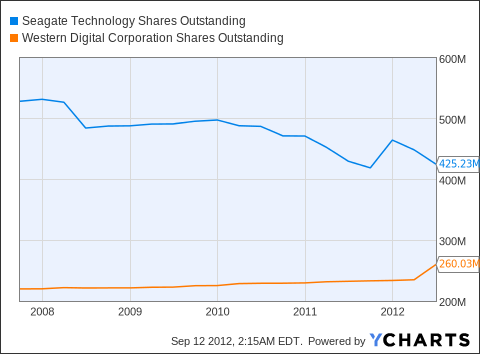 STX Shares Outstanding data by YCharts
While both companies are essentially cash flow machines, I lean towards Seagate for the much better return of cash to shareholders.
It's Not Just About PCs
While hard disk makers are very intimately tied to the consumer PC industry, especially given that hard disk drives have no place in smartphones and tablets, it is important to not lose sight of the fact that the "cloud" that enables these portable devices to get away with only having 8-64GB of storage. The cloud will, of course, consist of a whole bunch of hard disk drives.
Solid state drives are great and are seeing increasing adoption in the data center/cloud as caching solutions. NAND flash is still too expensive to replace traditional hard disk drives for massive storage and likely will be for the foreseeable future. The nice thing about using caching systems is that you get most of the performance of the fast, small flash solutions while being able to have the massive storage space of traditional hard disk drives.
How does this tie into the Intel warning? Well, the company did say that the data center sales were proceeding as expected, which should bode well for both Seagate and Western Digital.
Conclusion
The hard disk drive makers are both incredibly cheap and operate in a duopoly. Seagate, in particular, with its strong return of cash to shareholders via buybacks and dividends, is a really attractive stock to own at these levels.
Disclosure: I am long INTC. I wrote this article myself, and it expresses my own opinions. I am not receiving compensation for it (other than from Seeking Alpha). I have no business relationship with any company whose stock is mentioned in this article.
Additional disclosure: I may initiate a long position in STX over the next 72 hours.