Edited by Kate Boehme
Several important data points were released in the past week. Boosted by the optimism on a coordinated rescue action plan by European central banks, most stocks closed the week with substantial returns. Stoxx Europe 600 Index has finally rebounded from fifteen days of losses. Asian stocks have also reversed losses. Basic material companies were the top performers, followed by financials, and industrial stocks. This turnaround is not to be overlooked, as it provides an important chance for investors.
Amidst this investing atmosphere, several stocks made it to new highs in the past few weeks. A stock is usually considered overbought when the relative strength index reaches above 70. That does not mean that these stocks are expensive stocks. I would rather consider them momentum stocks, supported by short-term catalysts. Nevertheless, overbought stocks signal a red flag for contrarian investors. Based on the Relative Strength Index [RSI] indicator, I noticed 4 stocks that are hovering around the overbought territory. Let's see, what is driving these stocks, and whether they are still worth to consider after making significant gains recently.
McDonald's Corp. (MCD)
McDonald's' recent upside constitutes a bounce-back, as it double-bottomed recently. The stock is trading a little below $89 a share, and analysts are pretty optimistic as they point to a target price of nearly $100. However, McDonald's has already come too near to the overbought zone with a Relative Strength Index of 61 percent. While this level should not cause excessive worry, it could mean that McDonald's near-term growth could easily be decelerated.
click to enlarge images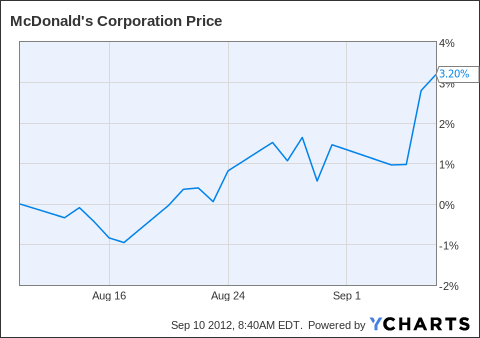 On the other hand, the company is taking steps to ensure its future growth. McDonald's is planning to open its first restaurant in Siberia. I think the company has a lot of potential in ex-SSSR states. I have personally observed a very long waiting line in front of McDonald's in Moscow, Kiev, and also Minsk.
With a Beta value of 0.42, McDonald's is the third-least volatile stock among a field of 52 competitors. Revenues, assets and cash flow are fattening year by year. The company is a reliable dividend payer, as it already has shown an excellent dividend history since February 2008. McDonald's continues to innovate in order to meet the changing needs of its customers. This is particularly represented by the company's addition of new products such as last year's Fruit and Maple Oatmeal, as well as the Angus Snack Wrap of 2012. By adding such products, the company not only improves revenues, but also increases customer attraction as it offers a wider freedom of choice. With such a record, I see considerable value in McDonald's for the medium and long terms. The stock currently has an O-Metrix score of 3.74.
Walgreen Co. (WAG)
Walgreen took the upper hand against the big boys in flu shot sales. It achieved an early jump by attracting customers with promotions along with a new customer loyalty program in Arizona. Unsurprisingly, the company's high performance resulted in higher RSI levels as well. Walgreen stock is currently trading at a tremendous price-to earnings ratio of 12.3, the lowest in its industry. The drug store returned around 20 percent in the last three months.
Walgreen's debt-to-equity ratio is 0.2, outrunning the industry average of 1.0. Meanwhile, assets, dividends and cash flow all seem to be stable. Furthermore, Walgreen is getting optimal results from nearly every challenge it encounters. For example, the company dominates its competitors for nearly every technical indicator. While the return of equity for the stock is 17.2 percent, the industry average is only 11.5 percent.
Walgreen provides a solid environment in which it is possible to make money with its relatively low debt levels, significant return on equity, good cash flows from operations, a higher than average liquidity, and impressive dividends. I therefore see no reason why Walgreen should be prevented from rising even further. Walgreen has an O-Metrix score of 5.28.
General Mills (GIS)
General Mills ought to have no worries in relation to its Relative Strength Index; at present, GIS is at only 60.12 percent and shows no signs of a possible slowdown. The stock recently crossed above the 200-day moving average, indicating a promising near-term trend. Despite a recent pullback, General Mills returned about 2.6 percent in ten days. The stock is enjoying its recent acquisition of Yoplait yogurt, which gave a noticeable push to the food maker's sales.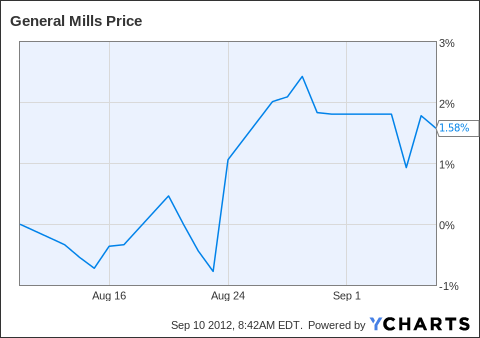 Throughout its entire history, General Mills has maintained an excellent dividend record. Both its revenue and cash flow also seem quite stable. Furthermore, General Mills is the second-least volatile among its peers, with an impressive Beta value of 0.16. The stock is attracting sizeable institutional interest with an institutional ownership of 70.09 percent.
General Mills has proven itself for years through its ability to generate strong cash flows in even the most depressed economic periods. This is largely due to its strictly disciplined management. The company will therefore most likely continue to offer reputable profits over the long-term, despite intense market competition. General Mills has an O-Metrix score of 3.62.
American Electric Power (AEP)
Despite the volatility of its arena, American Electric Power is one of the few companies that offer significant value. Some analysts have upgraded their call on this stock due to the receipt of an indent about the company's Electric Security Plan from the Ohio Public Utilities Commission. American Electric Power has consequently been enjoying upside momentum since May 17, 2012. The stock has returned nearly 15 percent since that time.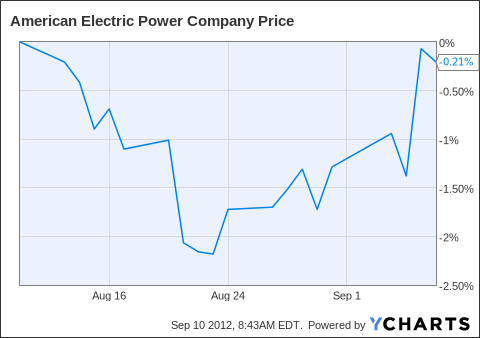 American Electric Power has risen within the past years, still maintaining good upside potential. However, there are likely some uncertainty ahead. Management hopes that Ormet (OTC:ORMT) will maintain operations at the Hannibal Aluminum Reduction Plant in order to prevent massive employee terminations. Three power plants are to be shut down because they do fail to meet US Environmental Protection Agency standards. What's more, the company will have to deal with more dissatisfied customers when they see their electric bills this month.
Nevertheless, American Electric Power has a long history of success and profitability and the balance sheet still looks quite strong. The price-to-earnings ratio is 10.5, which is a major advantage over its competitors, since the industry average is 16.9. I firmly believe that this company is a robust profit generator for those seeking decent money in utilities. Based on its numbers, the stock has an O-Metrix score of 3.70.
Disclosure: I have no positions in any stocks mentioned, and no plans to initiate any positions within the next 72 hours. I wrote this article myself, and it expresses my own opinions. I am not receiving compensation for it (other than from Seeking Alpha). I have no business relationship with any company whose stock is mentioned in this article.