It looks like Apple (NASDAQ:AAPL) is getting ready to announce the iPhone 5 and perhaps the mini-iPad on Wednesday (9/12/12). Once a year since 2007 Apple has dazzled the crowd with a "newish" phone and it is that time to do it again. So as traders where does that leave us?
Let's take a quick look at the past announcements:
iPhone (Jan 9, 2007) Opened at 86.45 and in a couple of days ran to 97.8
iPhone 3G (June 9, 2008) Opened at 184.93 and in a couple of days dropped to 165.31
iPhone 3Gs (June 8, 2009) Opened at 143.82 and in a couple of days dropped to 134.89
iPhone 4 (June 7, 2010) Opened at 258.29 and in a couple of days dropped to 242.49
iPhone 4s (Oct. 4, 2011) Opened at 374.57 and in a couple of days ran to 426.70
iPhone 5 (Sept. 12, 2012)
Just by looking at the historical prices we can take notice of several key factors. First there is no clear direction in Apple announcements. Out of the last 5 announcements 3 had negative reactions. The reaction on the day of the announcement is usually very mute. Most of the real moves happen within a week.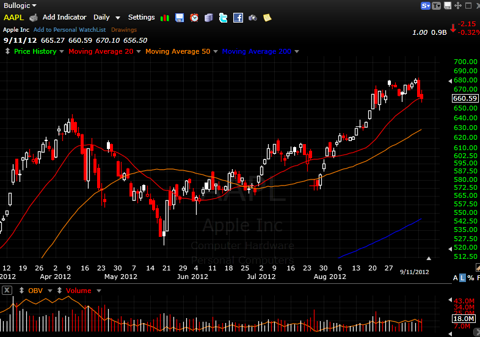 Click to enlarge
Right now Apple is sitting right at $660 after some mild profit taking into the announcement. We have a good support base sitting on the 20 day moving average.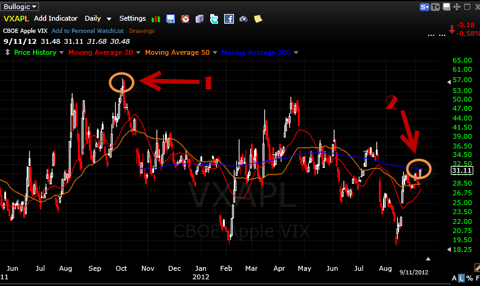 Click to enlarge
What is even more interesting is the VXAPL or the volatility of Apple. The '1' on the chart marks the last Apple announcement for the iPhone 4s. As you notice it is the high of the chart. Volatility in Apple spiked to a high of 57.70. The '2' on the chart marks our current volatility at 31. Which is the average for Apple on a normal basis. As you can see we are a bit shy from our last announcement. This lets us know that volatility is a bit cheap for this announcement.
So we need to buy volatility and buy a price move. The way we like to do that is with a long straddle. This will allow us to get long volatility, long gamma, and delta neutral.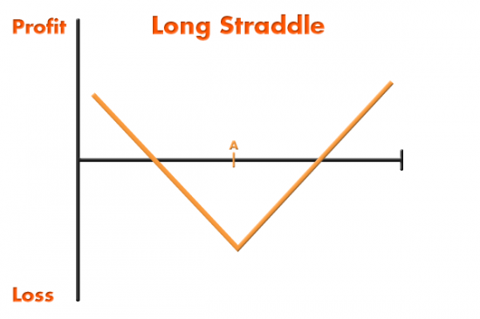 Click to enlarge
The long straddle we like is the ATM 660 straddle. This will allow us to take no bias in direction. Next we need to decide on expiration. The top two choices is the weekly options expiring on September 14th and the ones expiring September 21st.
The 660 ATM straddle expiring September 14th is going for 18.85 debit. That puts the break evens at 641.15 and 678.85 or a 2.8% move. This is going to get us long the gamma for a big push but it will expire in 3 days.

Click to enlarge
We also have the 660 ATM straddle expiring September 21st which is a 26.18 debit. This will move our break evens out to 633.82 and 678.85 a 4.3% move. This is going to drop our gamma a bit but raise our vega to take advantage of a move in volatility. This will also give us 10 days till expiration.

Click to enlarge
Due to the lackluster 1 day performance in Apple at its announcement we are more prone to go for the straddle expiring September 21st. Looking at the previous moves over a couple of days we notice the smallest move has been a drop of 6.2% with the iPhone 4. The biggest move has been 13.91% when it unveiled the iPhone 4s.
As you can see a move of 4.3% in our straddle is very manageable.
Disclosure: I have no positions in any stocks mentioned, but may initiate a long position in AAPL over the next 72 hours. I wrote this article myself, and it expresses my own opinions. I am not receiving compensation for it. I have no business relationship with any company whose stock is mentioned in this article.