Downstream energy companies have put the rest of the market to shame this summer. Since the lows of June, many of these refiners have rallied well over 30%, crushing most sectors during this period. Several stunning outperformers in the downstream energy sector include: Valero Energy Corp. (NYSE:VLO), Marathon Petroleum Corp. (NYSE:MPC), HollyFrontier Corp. (NYSE:HFC), Tesoro Corp. (NYSE:TSO), Phillips 66 (NYSE:PSX). Here is a three month chart using the S&P 500 Index (NYSEARCA:SPY) as a baseline.
click to enlarge image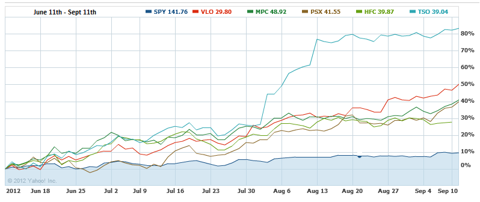 Which of these will continue their monster run? Let's compare some basic fundamentals and developments of these companies:
| | | | | | |
| --- | --- | --- | --- | --- | --- |
| Stock | VLO | MPC | PSX | HFC | TSO |
| P/Book | 1.07 | 1.72 | 1.47 | 1.5 | 1.36 |
| P/Sales | .13 | .24 | .16 | .4 | .18 |
| Trailing P/E ttm | 11.12x | 7.62x | 5.86 | 5.66 | 8.62 |
| Forward P/E (fye Dec 31, 2013) | 7.36x | 7.36x | 8.52 | 8.02 | 8.24 |
| Dividend | 2.2% | 2.7% | 1.8% | 1.5% | 1.2% |
| Revenue Growth YTD Vs same Period 2011 | 21.3% | 12.1% | -5% | 83.9% | 10% |
| # of Refineries/Plants | 26 | 6 | 15 | 5 | 7 |
Recent Developments:
VLO:
Management will pursue a separation of the company's retail business. They are presumed to be reviewing several potential separation transactions including a cash-efficient distribution to shareholders. The company said, "Investors and analysts have treated Valero mainly as a refiner, ignoring higher potential value of retail segment."This event should no doubt unlock shareholder value.
MPC:
On July 3, 2012 MPLX LP (NYSE:MPLX), a wholly owned subsidiary of MPC, announced that it will be reorganized into a more advantageous entity, presumably an MLP. Judging from management's successful reputation of restructuring its businesses, I trust this will only benefit shareholders going forward.
PSX:
PSX, a spinoff of COP, recently put shareholders at ease by announcing an advantageous dividend policy: "Phillips 66 has a clear strategy to improve returns and to deliver a strong, competitive dividend program to our investors," said Chairman and CEO Greg C. Garland. "We are convinced that returns, growth and distributions create value." In addition, Warren Buffet recently disclosed a stake in PSX, which may perhaps give investors confidence in this newly formed company.
HFC:
Mike Jennings, CEO and President of HollyFrontier, has earned a reputation of rewarding shareholders with numerous special dividends in the past year. In fact, shareholders were paid a special dividend of $.50/share as recently as June 5th. These unscheduled payouts make the true yield of this company much higher than advertised; a hidden value many investors are unaware of.
TSO:
Considered by Barron's as the "deal of the year", TSO recently announced an acquisition of a large California refinery from BP Plc, (NYSE:BP) for $1.175 billion. By TSO's calculations, it paid virtually nothing for the refinery, when considering other assets included in the deal, such as pipelines, other energy infrastructure and gas stations. Did BP rashly sell this asset because of looming fines it must pay, or is the deal not so advantageous to TSO as some think? It seems to me this deal fell in TSO's favor.
Summary:
These downstream energy companies have done very well since the pullback in May. Despite this huge move, the stocks still seem to be valued fairly. In addition, there are some reasonable catalysts in development in each of these companies. Events such as favorable dividend policies, spin-offs, and acquisitions should continue to carry these top performers to new 52 week highs through September.
Disclosure: I have no positions in any stocks mentioned, and no plans to initiate any positions within the next 72 hours. I wrote this article myself, and it expresses my own opinions. I am not receiving compensation for it (other than from Seeking Alpha). I have no business relationship with any company whose stock is mentioned in this article.