Panera Bread Company (NASDAQ:PNRA) has a very impressive history of delivering positive earnings surprises, having beaten the Zacks Consensus Estimate since the third quarter of fiscal 2007, except for two breakeven quarters. With an increased full-year 2012 guidance and strong earnings momentum, this Zacks #1 Rank (Strong Buy) fast casual dining chain looks like a solid aggressive growth pick.
Sturdy Second Quarter
On July 24, Panera Bread reported strong second quarter results with earnings of $1.50 per share, which surpassed the Zacks Consensus Estimate of $1.39 by 7.91% and the year-ago earnings of $1.18 by 21.3%. The better-than-expected results were driven by solid top-line growth.
Total revenue advanced 18% year over year to $530.6 million, beating the Zacks Consensus Estimate of $518.0 million.
System-wide comparable net bakery-cafe sales expanded 5.9%. The company-owned comparable net bakery-cafe sales increased 7.1%, driven by transaction growth of 0.9% and average check growth of 6.2%. A pricing action of approximately 3.0% and a positive mix impact of approximately 3.2% drove the average check growth. Franchise-operated comparable net bakery-cafe sales also grew 4.8%.
The company's operating margin improved 90 basis points, backed by better bakery-cafe margins.
Impressive Outlook
For 2012, Panera Bread raised its earnings per share guidance to between $5.72 and $5.78 from the previous outlook of $5.58-$5.63, reflecting year-over-year earnings growth of 26% - 27%. This is the second time that management raised its guidance for the year.
Company-owned comparable net bakery-cafe sales growth is expected in the range of 5.5% to 6.5%, up from the previous outlook of 4.5% to 5.5%.
Enhancing Shareholder Value
On August 23, Panera Bread announced a new three-year share repurchase program to buy back up to $600 million worth of its common stock. This share repurchase authorization program replaces the previous $600 million buyback program approved in November 2009, of which $352.4 million remained.
Earnings Estimates on the Rise
Over the past 60 days, the Zacks Consensus Estimate for 2012 increased 5.5% to $5.78, implying year-over-year growth of 24.3%. For 2013, the Zacks Consensus Estimate is $6.85, reflecting an upswing of 4.6% and suggesting year-over-year improvement of about 18.5%.
Premium Valuation, Yet Lucrative
Panera Bread's valuation looks expensive compared with its peers by most metrics. Its trailing twelve months P/E of 30.16x is well above the peer group average of 19.76x. Moreover, the stock is currently trading at a forward P/E of 27.60x, higher than the peer group average of 19.09x. The price-to-book ratio of 6.36 is almost double the peer group average of 3.34. The P/S ratio of the company stands at 2.39, a 174.7% premium to the peer group average of 0.87.
However, the stock looks appealing with regard to its trailing 12-month ROE of 22.9%, which is above the peer group average of 18.2%. The company's long-term estimated earnings per share growth rate also remains strong at 18.9%. Thus, a healthy earnings growth prospect warrants the premium valuation of the company.
Chart Echoing Strength
After the announcement of the solid second quarter results on July 25, the share price surged 8.1%. Moreover, the stock has been consistently trading above its 50-day and 200-day moving averages since July 25, 2012.
The one-year return for the stock is roughly 46.4% compared with the S&P 500's return of 23.8%. Volume is fairly strong, averaging about 492K daily.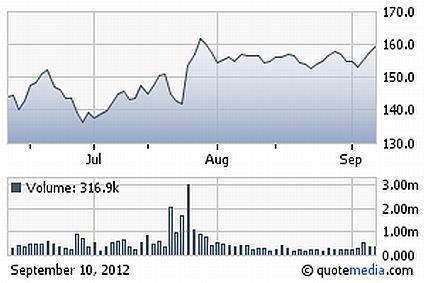 Based in Richmond Heights, Missouri and founded in 1981, Panera Bread is engaged in the ownership and franchising of bakery-cafes in the United States and Canada. As of June 26, 2012, the company operated 1,591 bakery cafes, of which 776 were company owned and the rest were franchised. With a market capitalization of $4.66 billion, Panera Bread primarily competes with Chipotle Mexican Grill, Inc. (NYSE:CMG) and Einstein Noah Restaurant Group, Inc. (NASDAQ:BAGL).