Another solid report from global infrastructure company Jacobs Engineering Group (JEC). This sector is always a risk going into earnings, even more so than the typical earnings risk, because despite great long term fundamentals they have very large contracts and the "lumpiness" between one quarter and another does not work well with Wall Street's infatuation with "must hit the number perfectly or we will destroy your stock to the tune of 20% down".

Technically this is quite a clear chart (see below), both the 200 day and 50 day moving average are very close in the low to mid $80s and we want to see the stock break above $84 to move into a stronger position. The stock is up 2% this morning to $85; in a bull market this would be a place to add to a position; but in this market I don't have any urgency as our stocks do not trade in a vacuum.

Solid results
Construction services provider Jacobs Engineering Group Inc. said late Monday its fiscal third-quarter profit jumped 45 percent, crediting strong demand for its services.
For the quarter ended June 30, Jacobs earned $108.7 million, or 87 cents per share, compared with $74.8 million, or 61 cents per share, for the same quarter last year.
Revenue rose 40 percent to $2.92 billion from $2.08 billion in the year-ago period.
The results beat Wall Street predictions. Analysts polled by Thomson Financial expected, on average, a profit of 82 cents per share on $2.75 billion in revenue.
Backlog continues to explode (which is a key indicator in this sector for me)
The company's backlog at the end of the quarter rose $7.3 billion, or 65.8 percent, to $18.3 billion. About $1 billion of the increase was related to a significant jump in scope of services for a North American upstream oil and gas project, the company said.
This is up from $11.0 billion and $5.9 billion, respectively, a year earlier.
Boost in guidance
Boosted its fiscal-year profit guidance, citing strong third-quarter results and a backlog increase.
Jacobs forecast a 2008 profit of $3.15 to $3.40 per share, up from its previous prediction of $3 to $3.30 per share. Analysts polled by Thomson Financial expect a profit of $3.25 per share.
I keep saying I believe we have the right companies; we are just in a terrible market. While "smart money" chase in the "technology is safe" trade (and I am glad to see those people being blown up) or "healthcare is safe" (and those people are also being blown up) we'll continue to buy the quality merchandise
and although hedge funds run away from these stocks if oil drops $10 or $15 or $25 or $45 - the story is not changing. Just the hedge fund computers algorithms who have no rhyme or reason other than "sell ABC when crude oil drops X%" (or vice versa). Remember where the money is. [Jul 12: Where is Your Gas Money Going?] [Jan 21: A Tour through the Middle East]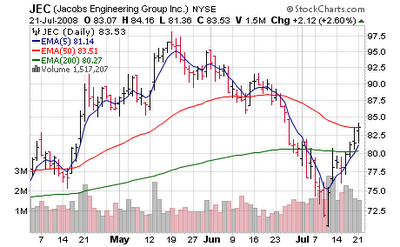 Disclosure: Long Jacobs Engineering Group in fund; no personal position