It was a mix of news Tuesday. The featured story was Moody's stating they'll be cutting the U.S. rating one notch if politicians can't agree on debt reduction plans. Germany's Schauble piled on stating U.S. debt to GDP ratio was much too high. This sent the dollar (NYSEARCA:UUP) lower and gold (NYSEARCA:GLD) higher once again. Gold is also being buffeted as South African miners continue violence marred strike and have ignored orders to return to work. The trouble here has thus far been ignored by the MSM domestically. Extraction costs for miners are rising due to increased depths they must go yet strikers want more pay. As this continues available gold supply is reduced.
Elsewhere the U.S. trade deficit remains high on poor exports but MacDonald (NYSE:MCD) reported better sales that still missed expectations.
A riot developed at the U.S. embassy in Egypt as Islamic protestors scaled the embassy's wall, tore down the U.S. flag and flew an Islamic flag in its place. They were supposedly protesting a film that was negative in some way toward Islam. The odd thing was no one could identify the film in question. Perhaps it was just a 9/11 stunt.
All eyes will be glued to the German court Thursday which will decide the constitutionality of bond buying and the ESM (European Stability Mechanism). Most pundits think it will be approved but one never knows. What takes place in California with Apple (NASDAQ:AAPL) Wednesday may be just as important as they unveil another "I got to have it" gizmos. Some have even gone so far as to speculate that the new products will boost U.S. GDP all by themselves. Seriously! This idea must not take into account that these gizmos are manufactured overseas.
Then of course there is Ben & Co which is part of the early September waiting game. This means most investors are on the sidelines playing the waiting game until Thursday afternoon. For us it makes posting short and uninformative so why stretch it out.
Stocks recovered Tuesday, well, because they did. It isn't unusual for a weak dollar to boost stocks particularly as overseas investors see the U.S. on sale. Volume dried-up once again and is hardly worth mentioning except for setting contemporary light volume records. Breadth per the WSJ was positive.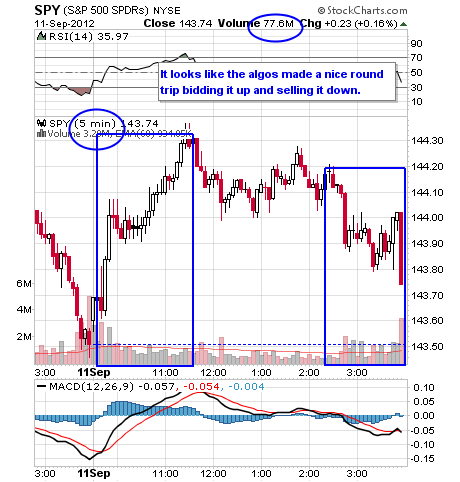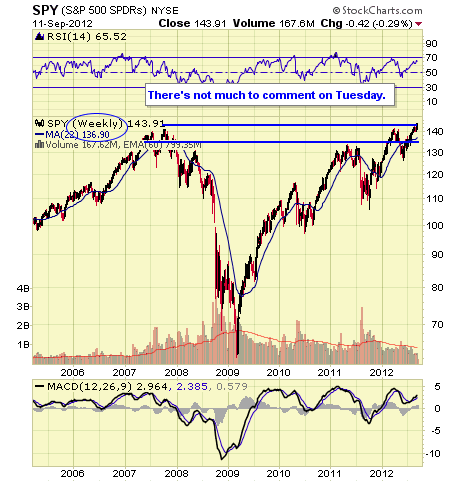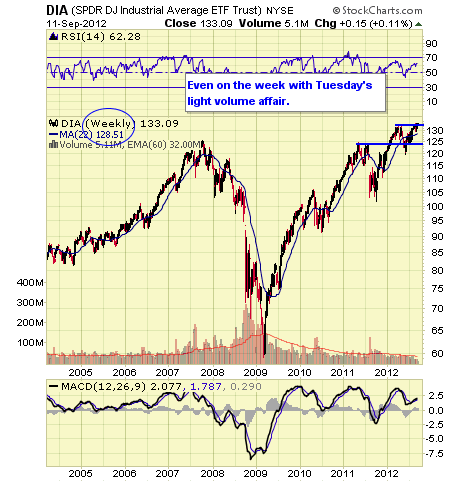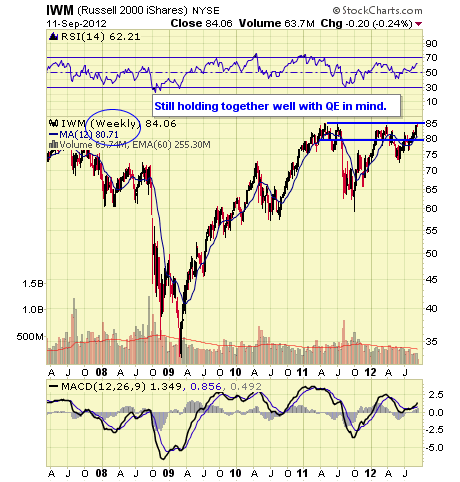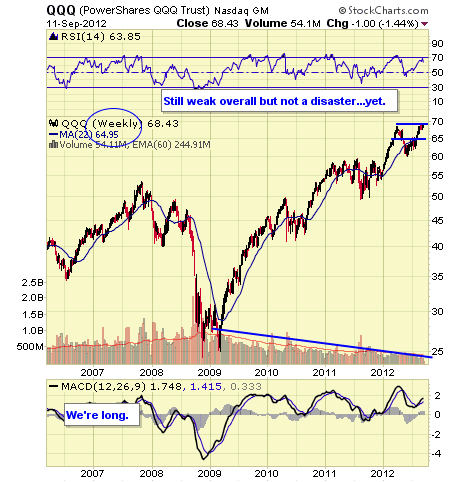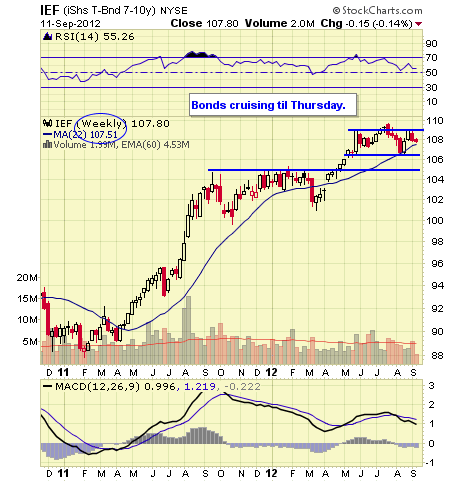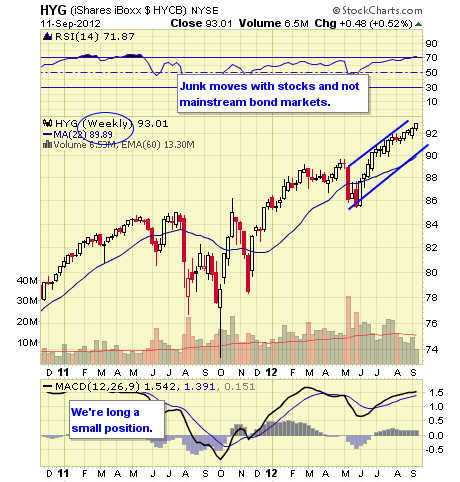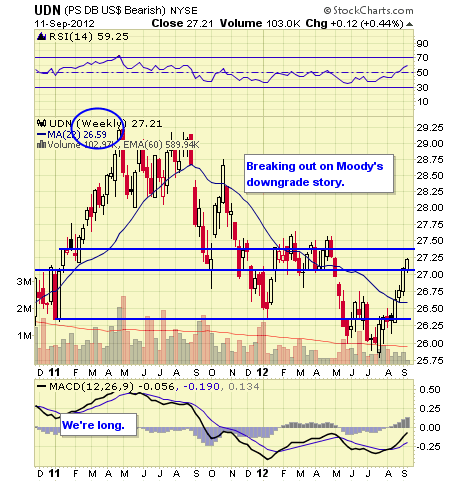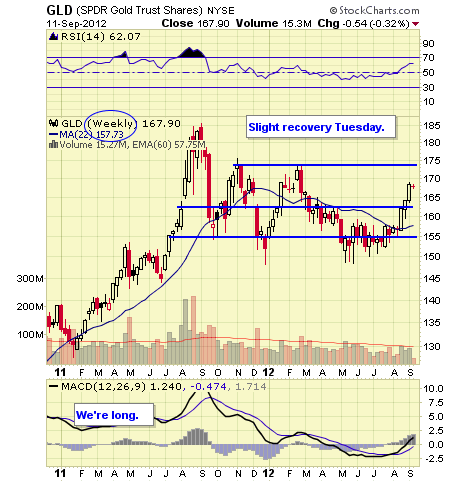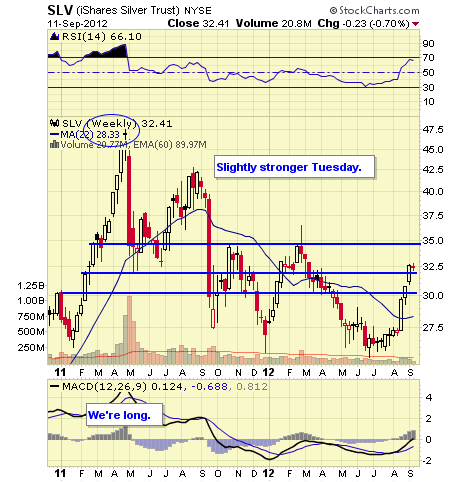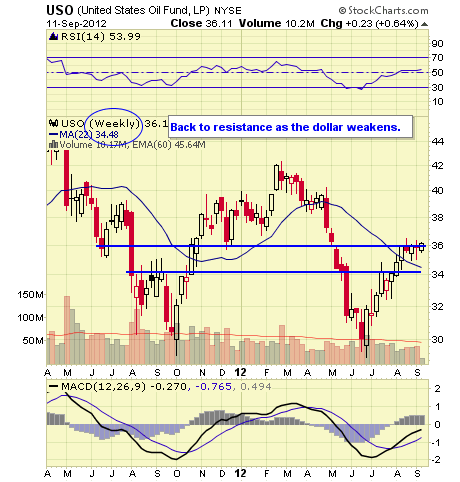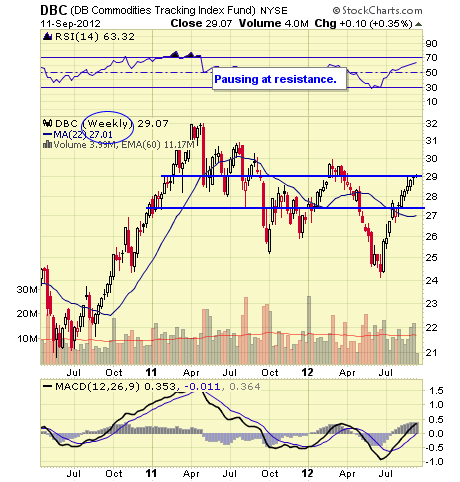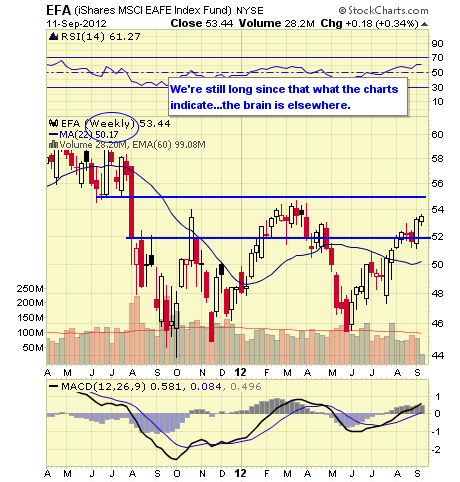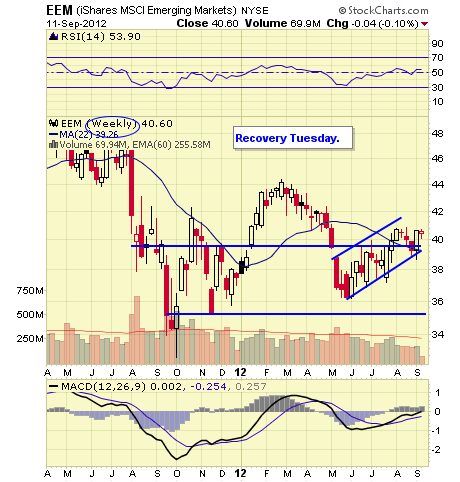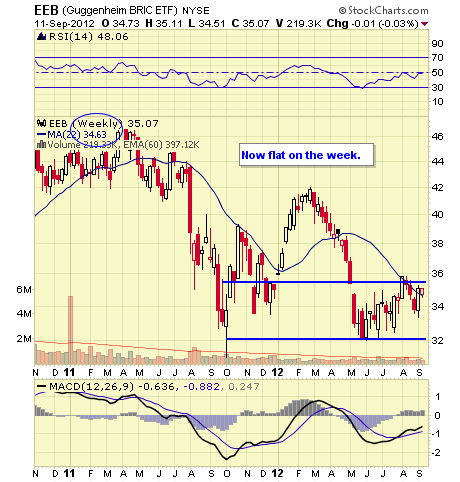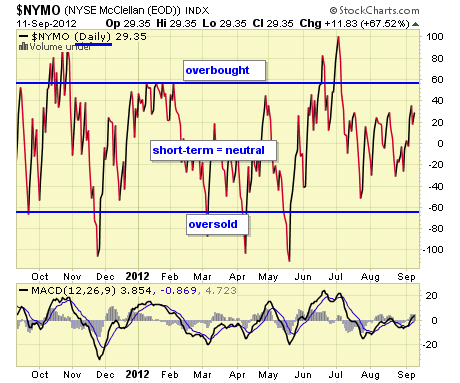 The NYMO is a market breadth indicator that is based on the difference between the number of advancing and declining issues on the NYSE. When readings are +60/-60 markets are extended short-term.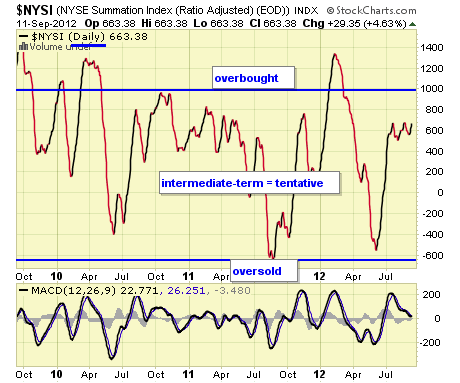 The McClellan Summation Index is a long-term version of the McClellan Oscillator. It is a market breadth indicator, and interpretation is similar to that of the McClellan Oscillator, except that it is more suited to major trends. I believe readings of +1000/-1000 reveal markets as much extended.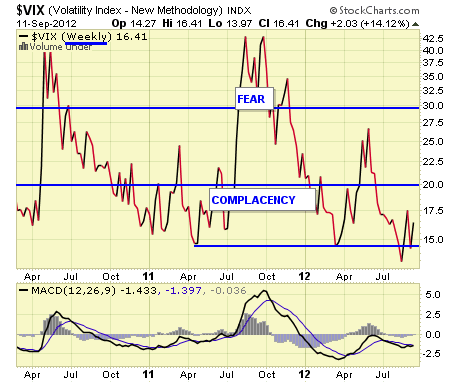 The VIX is a widely used measure of market risk and is often referred to as the "investor fear gauge". Our own interpretation is highlighted in the chart above. The VIX measures the level of put option activity over a 30-day period. Greater buying of put options (protection) causes the index to rise.
Another light volume day means another short posting. The news will start to pick up Wednesday with the German court decision and the Apple show.
There will be more meat on the bone by Wednesday, Thursday and Friday making commentary more meaningful. Hopefully we'll see more volume.
Late breaking news has it that Islamic extremists have now attacked the U.S. consulate in Benghazi, Libya in another show of thanks for help. With Egypt and Libya these may be coordinated 9/11 celebrations.
Disclaimer: The charts and comments are only the author's view of market activity and aren't recommendations to buy or sell any security. Market sectors and related ETFs are selected based on his opinion as to their importance in providing the viewer a comprehensive summary of market conditions for the featured period. Chart annotations aren't predictive of any future market action rather they only demonstrate the author's opinion as to a range of possibilities going forward. More detailed information, including actionable alerts, are available to subscribers at www.etfdigest.com.
Disclosure: The ETF Digest maintains active ETF trading portfolio and a wide selection of ETFs away from portfolios in an independent listing. Current "trading" positions in active portfolios if any are embedded within charts: Lazy & Hedged Lazy Portfolios maintain the follow positions: VT, MGV, BND, BSV, VGT, VWO, VNO, IAU, DJCI, DJP, VMBS, VIG, ILF, EWA, IEV, EWC, EWJ, EWG, & EWU.