This Wednesday, September 12th, is one of the most eagerly anticipated days in the mobile tech sector in recent memory: Apple (NASDAQ:AAPL) will release the new iPhone 5. Or at least that's what everyone in the world thinks. Apple refuses to confirm or deny anything other than that they do have a big announcement to make on the 12th, but their media invitations to the event had a big "5" on them, apparently referring to the new version of their best-selling product. So, like everyone else, I have virtually 100% confidence that the new iPhone is being introduced on Wednesday.
A lot of people around the world will be cheering on this announcement, and it won't be just the hundreds of millions of consumers who are fans (some might even say "cult members") of Apple products. The many retailers, peripheral manufacturers, and wireless companies that deal in the world of Apple are joyously anticipating the effect that the release of a new iPhone will have on their sales. But perhaps the biggest cheerleaders of them all will be about five hundred miles south of Apple's headquarters, at the home offices of Qualcomm (NASDAQ:QCOM) in San Diego, California. It is widely believed - almost to the point of metaphysical certainty - that the iPhone 5 will use several Qualcomm-produced chips. That will, without doubt, have very, very good implications for Qualcomm and its stockholders.
The bottom line is actually very simple: Qualcomm was the exclusive supplier of baseband processor chips to the most recent iteration of the iPhone, the iPhone 4S, and it is expected to be so again. Qualcomm has dominated the cellular baseband processor chip market in recent years, and it has had a very good working relationship with Apple. Tech watchers believe that Qualcomm's new processor chips for the iPhone 5 will open the phone up to use virtually any wireless standard imaginable (including LTE) and will make big strides in reducing power consumption and increasing efficiency. The issue of battery efficiency and life is particularly important to Apple, because its customers for previous iPhones have often reported that they found the phone's battery life to be very disappointing when compared with other smartphones. In conjunction with other steps that Apple is taking to improve battery life, it is apparently expected that Qualcomm's chips will help make the iPhone 5 even more attractive to consumers.
Most importantly for Qualcomm, of course, is the fact that big iPhone 5 sales also mean big processor chip sales for them. Wireless market analysts have estimated that about 12.4% of all cell phone users in the United States use one of the versions of the iPhone as their primary, if not only, phone. As the iPhone is popular throughout the world, as it is in the U.S., it means big sales figures for Apple and its suppliers. The generally-accepted figure among analysts of the cell phone industry seems to be that Apple anticipates selling 250 million iPhone 5s during the product's life cycle-that means that approximately 1 out of every 28 people on Earth is expected to buy an iPhone 5!
And all of those phones will have Qualcomm's chips in them.
Qualcomm investors should watch the details of the announcement to make sure that the phone will exclusively have Qualcomm processor chips and note how soon Apple plans to release the product. If Qualcomm is, indeed, the only processor chip supplier, investors may want to look into quickly taking a position in Qualcomm stock as I believe there will be a significant positive impact on both Qualcomm's value and expected future earnings. Apple is expected to announce on Wednesday the date that the iPhone 5 will be available to the general public.
Sales of the iPhone 5 are also to have a very positive impact on several other traditional suppliers to Apple. Semiconductor and embedded software manufacturer Broadcom Corporation (NASDAQ: BRCM) has been working with Apple since the introduction of the iPhone 3GS, and audio processor and audio converter maker Cirrus Logic, Inc. (NASDAQ:CRUS) and optoelectronic component developer Avago Technologies, Inc. (NASDAQ:AVGO) are both trusted component suppliers. All three of these firms, like Qualcomm, should expect to directly, immediately and substantially benefit from the introduction of the iPhone 5, provided that, as expected, they maintain their relationship with Apple.
As can be noted in the chart below, Qualcomm stock suffered a steady decline from approximately six months ago until a more sustained rebound kicked in during mid-July and continued through mid-August. However, another dip began in mid-August, but that may have begun to reverse at the end of last week as rumors of the new iPhone became more substantial.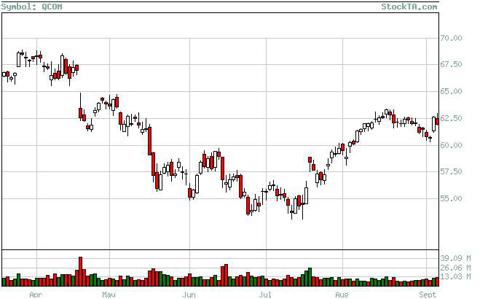 Investors have numerous tastes, preferences and strategies, and the release of the new iPhone gives investors several ways to invest without directly investing in Apple. Qualcomm is one excellent opportunity, provided that the company maintains its relationship with Apple for version 5 of the iPhone. Qualcomm has provided processors to Apple before, and it is now apparently introducing a new processor that will address the biggest criticism of the device by consumers. Qualcomm's anticipated success with this new, more power efficient processor will only solidify the Qualcomm/Apple relationship and this - given the fantastic sales anticipated for the phone - could be very lucrative for investors.
Disclosure: I have no positions in any stocks mentioned, and no plans to initiate any positions within the next 72 hours. I wrote this article myself, and it expresses my own opinions. I am not receiving compensation for it (other than from Seeking Alpha). I have no business relationship with any company whose stock is mentioned in this article.