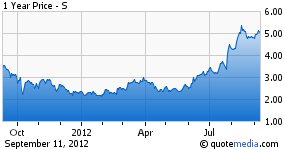 Lately, rumors have been floating around about the potential acquisition of T-Mobile by Sprint Nextel Corp. (NYSE:S). Sprint's shares have almost doubled in value since the start of the year and a possible merger between T-Mobile and Sprint would certainly create a much stronger competitor for telecom giants like Verizon (NYSE:VZ) and AT&T (NYSE:T). Goldman Sachs (NYSE:GS) recently said in a report that even though combining the third and fourth largest telecom companies had its appeal, it would also come with its set of challenges. It also said that the Sprint and Metro PCS (PCS) combination would be a better option, and we agree, since it would give Sprint enhanced access to PCS' young and urban prepaid market. Shares of both Sprint and PCS have gained on a YTD basis. Sprint also discussed the T-Mobile acquisition a year ago, as it suffered at the hands of subscribers leaving its network for other bigger rivals; at that time the company didn't even have Apple (NASDAQ:AAPL) products in its portfolio. But we believe that Sprint is now better positioned compared to a year ago, and the deal with T-Mobile is unlikely.
Looking at the advantages of the possible combination, it would certainly mean that the post-merger entity would gain a significant market share in the U.S. telecoms arena. Currently, the two biggest telecom carriers in the U.S. hold the majority of the postpaid market share. Following is a summary of their postpaid numbers as of June 30, 2012.
AT&T: 69.666 million subscribers.
Verizon: 88.838 million subscribers.
Sprint: 32.775 million subscribers.
T-Mobile: 21.3 million subscribers.
AT&T and Verizon, together, account for over 80% of the U.S. postpaid market, and with Sprint and T-Mobile combining, they would become a much bigger force with an almost 30% market share. In such a case, the two companies would probably get a "thumbs up" for the merger from various regulatory authorities, as the merger would lessen the concentration of power in the wireless market. Previously, the proposed merger between AT&T and T-Mobile had failed because the Department of Justice had concluded that such a transaction would leave power with only a few carriers. However, debt remains a problem, in that Sprint has a total debt of $21 billion on its balance sheet; this figure combined with T-Mobile's would equal $36 billion in debt. With that much debt, the company will come under a significant debt burden in terms of increased financial costs.
We agree with Goldman Sachs that Sprint acquiring MetroPCS is a better alternative; even though PCS has a high debt-to-equity ratio, the principal amount of its debt is much less than T-Mobile's. Moreover, acquiring PCS would give Sprint access to the prepaid market. As of the quarter ended June 2012, PCS had over 9 million customers; with those customers, it can increase its market share in the prepaid segment.
As far as infrastructure is concerned, it will be more of a problem with Sprint and T-Mobile, as their platforms will not be compatible. Sprint is running on its CDMA platform, whereas T-Mobile runs on GSM. However, it wouldn't be a mismatch with PCS, as it also operates its wireless networks on CDMA, EVDO and LTE.
Disclosure: I have no positions in any stocks mentioned, and no plans to initiate any positions within the next 72 hours.
Business relationship disclosure: The article has been written by Qineqt's Telecom Analyst. Qineqt is not receiving compensation for it (other than from Seeking Alpha). Qineqt has no business relationship with any company whose stock is mentioned in this article.