Home Depot (NYSE:HD) and Lowe's (NYSE:LOW) are home improvement retailers that will benefit from the housing recovery. Improving demand and financial strength make them attractive. Both companies pay handsome dividends of 2% and 2.2% , and have a significant upside potential in light of the housing recovery.
Housing Recovery Indicators
The following data points toward a housing rebound. Privately owned building permits of houses came in at 812,000 in July 2012, which is 6.8% above June's rate and 29% above the rate for July 2011. Housing starts in July 2012 were 746,000. This is 21% above July 2011 housing starts of 614,000. Similarly, housing completions in July were 668,000, which mean an increase of 7.1% over June 2012 and 5.4% more than the July 2011 rate of 634,000. Thirty-year mortgage rates are also cheaper than ever.
The table below shows the forecasts for housing starts for the rest of 2012. In August, September and October 2011, housing starts were 581,000, 647,000 and 630,000 respectively.
Home Depot
Home Depot is a retailer with 2,255 stores (as at the end of Q2) that sells everything from building materials to paints and hardware, which are used to maintain or improve houses, and is therefore closely tied to the housing recovery.
HD had raised its year-end forecasts due to an earlier start of spring clean up by customers given the warm weather and lighter snowfall, and because of favorable demand expectations. HD's 2Q2012 results justify expectations of a housing recovery impact. EPS of $1.01 beat analyst estimates of $0.97. This means a year-over-year increase of around 17%. Sales were up 1.7% as well.
The company raised its full-year outlook. It now expects sales to increase by 4.6% (53-week period) as compared with last year's increase of 3.5%. EPS guidance is $2.95 up from $2.9, while analysts expect $2.97. This is 19% more than last year's $2.47. The company intends to buy back shares for $1.4 billion over the remainder of the year, according to an agreement with a financial institution. This repurchase effect is included in the guidance issued.
The debt-to-equity ratio is 61%, while the interest coverage ratio is a safe 12x. The company also has a dividend yield of 2%, while free cash flow yield is 4%. It uses its cash flow from operations to fund capital expenditure, share repurchases and dividend payments. The cash flow from operations is $6.42 billion (trailing twelve months.)
The next 5-year growth rate for HD is 15%. At forward and 5-year average P/E of 17x, and analyst consensus EPS estimates, the valuations come out to be:
*2015 EPS is calculated by applying 15% long-term growth rate on 2014 EPS.
Lowe's
Lowe's is a smaller home improvement retailer compared with HD, with 1,748 stores, which offers the same services and products as its larger counterpart.
LOW missed its 2Q2012 analyst EPS estimates of $0.7 by posting EPS of $0.65. During Q1, the company had beaten the Street's expectations, mainly because of warmer winters leading to an earlier start of spring renovations. It cut its full-year forecast to $1.64/share. Analysts expect $1.65/share. The cut was due to a cautious view of the housing recovery. We think the new guidance is a bit conservative. LOW is set to benefit from the improving housing environment like its bigger peer, Home Depot.
LOW had undertaken expansion on the West Coast over the past years. Lower sales and lower margins at present can be attributed to re-merchandising those stores.
The dividend yield for Lowe's is 2.2%, supported by a free cash flow yield of 4.5%. The growth rate for dividends over the past 3 years is 16%. The company repurchases shares as well. The guidance given above assumes additional share repurchases of $1.5 billion this fiscal year.
The total debt-to-equity ratio is 64%, and the interest coverage ratio is 10. The cash flow from operations (trailing twelve months) is $3.85 billion, while CAPEX is expected to be $1.3 billion this year. $550 million of debt matures this month, which will be paid from cash flow from operations. The next debt maturity is in 2017.
The next 5-year growth rate for LOW is 15%. The forward P/E is 14x, while the last 5-year average P/E is 16. At these multiple and analyst consensus estimates, the valuations come out to be:

*2015 EPS is calculated by applying 15% long term growth rate on 2014 EPS.
Recommendation
To reiterate, we recommend buying HD and LOW to play the housing recovery. The graphs below clearly shows that the net incomes and P/E multiples of Home Depot and Lowe's were higher before the housing sector began to decline, and are on their road to a recovery, as housing improves. Another thing to note is that both tend to move together as well as with the market, as HD has a beta of 0.83 and LOW has a beta of 1.05.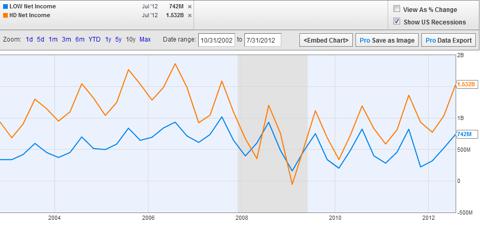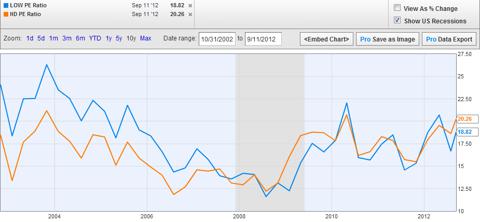 Disclosure: I have no positions in any stocks mentioned, and no plans to initiate any positions within the next 72 hours.
Business relationship disclosure: The article has been written by Qineqt's Retail Analyst. Qineqt is not receiving compensation for it (other than from Seeking Alpha). Qineqt has no business relationship with any company whose stock is mentioned in this article.