Many Seeking Alpha readers are well aware of my approach toward mREITs in general, Annaly Capital Management (NYSE:NLY) and American Agency (NASDAQ:AGNC) in particular. I issued very specific warnings about these two companies in February and March of 2012.
The main concern I indicated back then was the probable squeeze in the spreads as a result of a refinancing trend. As the crowd asks for new mortgages, bankers issue new MBSs. Those MBSs will bear a higher price and a lower yield. This, in turn, spells trouble for mortgage REITs because their "interest rate environment" is being squeezed.
The implied consequence of the trend mentioned above is an imminent cut in the dividend distribution of those companies. Add to that the fact that the majority of the public holds mREITs purely for their dividend yield and you have a perfect setup for an emergency bolt. Once the share prices start plunging, more people will sell, which will only increase the rate of the decrease.
What's Changed Over the Course of Six Months?
There are a couple of events worth taking note of.
1. Refinancing Trend: The trend of decreasing interest has resumed, and its pace has even picked up. Take a look at the graph below that illustrates various types of mortgages.
Click to enlarge image.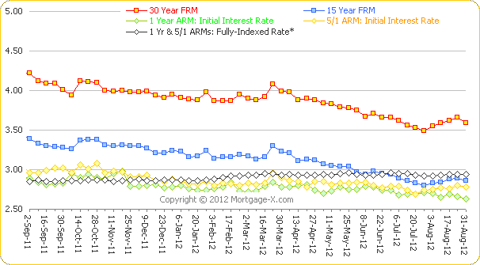 All you really have to do is compare the interest rate environment that prevailed at or around March 2012 (middle of graph) to the one prevailing now. We have witnessed a swift and furious decline, the results of which have yet to be absorbed into the share prices of REITs.
While you would have expected this decline in rates to weigh on share prices, the opposite has actually occurred. The share prices of many REITs have outperformed the general market. Take Annaly Capital, for example: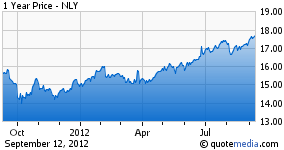 2. Sustainability of Dividend Payouts: In its Q2 earnings release on Aug. 1, 2012, Annaly Capital reported that net cash from continuing operations equaled $461.9 million. The total dividends paid in the quarter were $526 million -- $64 million greater than the net cash from continuing operations.
As Seeking Alpha contributor Tim Plaehn indicated, that $64 million was made up by cashing on capital gains from bond sales, taking advantage of a spike in bond prices. This course of operation is, obviously, unsustainable. It is extremely difficult to pull a rabbit out of a hat every consecutive quarter just to maintain the current dividend yield.
My Outlook for the Future
mREITS will have to face reality sooner rather than later. I strongly suspect that what keeps the share prices floating for the time being is a desperate clinging on to anything that resembles yield, together with adages such as "the share price has risen and is likely to keep rising."
I believe that dividend cuts in the mREITs sector are imminent. These, in turn, will lead to a strong wave of selling by unsuspecting shareholders.
I also strongly believe that the trend of share price depreciation along with dividend cuts will not only affect companies like Annaly Capital and American Agency, as discussed above. This trend is not likely to skip any of the other major players in the industry, such as Invesco Mortgage Capital (NYSE:IVR), Chimera Investment Corporation (NYSE:CIM), and American Capital Mortgage (NASDAQ:MTGE).
If you own any shares of mREITS, I'd suggest selling them. If you were planning on accumulating any shares of mREITS in the near future, I recommend you hold off.
Disclosure: I have no positions in any stocks mentioned, and no plans to initiate any positions within the next 72 hours. I wrote this article myself, and it expresses my own opinions. I am not receiving compensation for it (other than from Seeking Alpha). I have no business relationship with any company whose stock is mentioned in this article.