Is the internet rumor mill right? Is Oracle (NASDAQ:ORCL) a good value buy as some hedge fund geniuses seem to think or not? Forbes has reported that hedge fund managers with a reputation as value investors are buying up Oracle stock. Those value investors seem to think that Oracle is a good buy.
The market seems to be responding to the demand for Oracle as well. The company's shares have gone up in value by nearly $6 since June. Oracle has not only recovered all the share value it lost in June, it has actually exceeded its April price in August and September trading.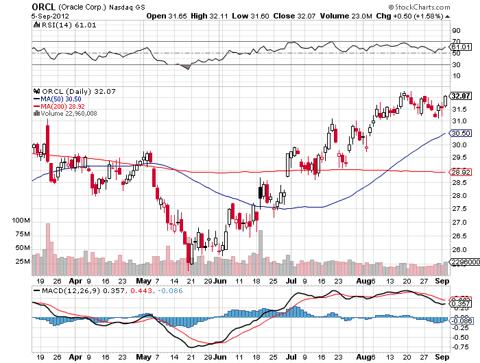 So why is there so much enthusiasm for Oracle, a company that makes old-fashioned business software for old-fashioned networks in a cloud-centric age? After all, Oracle has not brought out any big new products lately. The biggest headlines that it has generated in recent months have been news of lawsuits.
The company is appealing a California federal judge's decision to throw out a $1.2 billion lawsuit settlement that Oracle won from SAP AG (NYSE:SAP). This kind of settlement will have little effect on a company with $37.12 billion in sales, and income of $9.98 billion, and a market capitalization of $156.58 billion. Oracle will also appeal another court ruling that will require it to continue supporting Hewlett-Packard's (NYSE:HPQ) Itanium based servers. Oracle had claimed it is no longer obligated to support the servers.
It is hard to see how these lawsuits will affect a company with sales growth of 4.2%, an income growth of 16.80%, and a net profit margin growth of 26.89%. This translated into an earnings-per-share ratio of $1.96, so it is easy to see why the hedge fund managers might like Oracle.
So what's behind these numbers anyway? How well is Oracle's database business doing, and what sort of future does it have anyway? The financial software segment is growing with or without the cloud.
New Competitors and Opportunity in Human Capital Management
The cloud pushes Oracle's business because many of its solutions can be delivered through the cloud. Yet the cloud is also creating competition that might have an effect on Oracle's future profits. Workday, which specializes in cloud-based human capital management solutions, is preparing for an IPO.
Articles written by reporters that have seen the IPO documents indicate that Workday considers Oracle and SAP as its biggest competitors. Workday is also ramping up its operations for what appears to be an all-out assault on Oracle's HR management solution business. The company has increased its workforce to 1,450 employees, and it has rented space on data centers in Amsterdam, Dublin, Portland, Oregon, Ashburn, Virginia, and Lithia Springs, Georgia.
Workday has also rounded up some allies for its expansion campaign. It has formed strong partnerships with Salesforce.com (NYSE:CRM), IBM (NYSE:IBM), Deloitte Consulting, Zuora, Omnipoint, Collaborative Solutions, Accenture PLC (CAN), and others to expand its reach. The idea is apparently to package Workday solutions with the products and services of those companies to create an alternative to Oracle's. It is simply too early to see if this will work, but it proves the fundamental value of Oracle's enterprise management solutions business. If Oracle's business were not profitable, Workday and friends would not be trying so hard to get into it.
A Document that Larry Ellison Doesn't Want you to Read, or Does He?
So how is Oracle planning to meet this challenge? Is what's supposed to be a confidential sales document "accidently leaked" through Oracle's website outlines one possible strategy for dealing with the potential challenge from Workday? The document was apparently placed on Oracle's website, then yanked, but it was there long enough for it to be posted all over the internet.
The document, called the Fusion HCM and Taleo GTM Strategy and Partner Playbook, tells Oracle sales people to discount services from Taleo, the human resources cloud company Oracle bought for $1.9 billion back in February. It also encourages sales people to push Oracle's homegrown home capital cloud solution, Fusion Human Capital Management (NASDAQ:HCM).
The document claims that Oracle is now offering the No. 1 cloud-based HCM solution. It also claims that Oracle can deliver the most complete HCM solution available in the cloud today. Among other things it claims that Taleo's customer base includes:
47 of the Fortune 100
1/3 of the Fortune 500
Over 5,000 customers
30%, or 300 of the Global 1000
Four of the top five healthcare companies
Four of the top five health insurance providers
Seven of the top 10 financial services companies.
Obviously, these kinds of claims must be viewed with a lot of skepticism. There is no way to know whether this kind of "leaked information" is real or not. The document apparently looks real, but even if it is, it might be nothing more than a salesman's pep talk.
Yet if these claims are true, it gives a good indication of why Oracle's sales have been growing so quickly. The company seems to have succeeded in repositioning itself as a provider of cloud-based enterprise solutions and capturing a large share of the HCM market.
Oracle has demonstrated that it is a value buy because it has shown it can successfully adapt to a changing market. More importantly, Larry Ellison and his crew have shown that they can rise to new opportunities and challenges. The recent jump in Oracle's share price certainly seems justified.
Disclosure: I have no positions in any stocks mentioned, and no plans to initiate any positions within the next 72 hours. I wrote this article myself, and it expresses my own opinions. I am not receiving compensation for it (other than from Seeking Alpha). I have no business relationship with any company whose stock is mentioned in this article.