One of the most anticipated dividend increases of recent times has just arrived. Philip Morris International (NYSE:PM) just announced its 5th consecutive dividend increase in September since the 2008 spin offs. The new dividend is 85 cents a share, about 10% higher than the 77 cents the company paid the last 4 quarters.
This article, written back in April, looked at the dividend growth potential of Philip Morris. We now reevaluate the numbers, with the most recent dividend increase in mind.
With this, the average increase over the past 5 years is 13.16%, which is slightly lower than the 14% in the original article
The current yield works out to almost 4% as shown in the table below
The payout ratio is at 67% right now and while this number has edged up since the last writing,

it's

still lesser than other tobacco stocks like Altria's (NYSE:MO) and Lorillard's (NYSE:LO)
The table shown below assumes a "meager"

8%

dividend increase over the next 10 years.
The original article linked above assumed a much higher dividend increase rate but Mr. Robert Allan Schwartz pointed out that not many companies have managed to increase their dividend by 10% for 10 years. So, taking that message in a positive light, this article assumes a lower dividend increase rate.
Since PM is on the verge of a nice pullback, you are looking at a current yield of 4% easily and one that is sure to grow well into the future as the table extrapolates.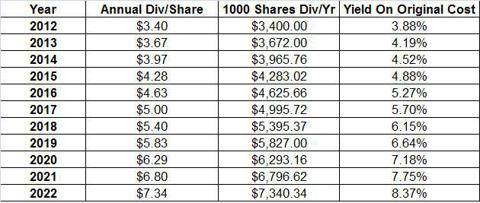 Click to enlarge
Concerns:
Not to sound like a cheerleader, we point out a few concerns that are starting to worry Philip Morris investors in particular.
Debt: A lot of investors have expressed concerns over PM's high debt but as this article elaborates, there cannot be a better time to borrow. Also, a lot of the tobacco companies are well known for operating with high loads of debt but they still produce good returns for investors over the long term.
Plain Packaging: A recent Australian law limits the packaging and designing on cigarettes packages, which clearly levels the playing field. Companies like Philip Morris extracts a lot of value just based on its brand name. The bear case is if many more countries begin to follow the same. But the comforting thought for bulls is that Canada has recently announced it has no plans of doing so. So one would never know if this Australian law is going to be a one-off or the norm.
Conclusion: A simple message conveyed in the last article was how even average investors can predict the dividend increase with reasonable accuracy with companies like Altria and Philip Morris. Again, with no intention of blowing our horns, this article was prepared well in advance and we did not have to make any changes to the numbers after the dividend increase (except linking the sources). The anticipated 85 cents a share was spot on. Again, this speaks volumes about the companies we are dealing with if the retail investor is able to estimate income/returns with such precision.
Disclosure: I am long PM. I wrote this article myself, and it expresses my own opinions. I am not receiving compensation for it (other than from Seeking Alpha). I have no business relationship with any company whose stock is mentioned in this article.