The German judges in the bright red cloaks approved German participation in the ESM bailout fund, providing the Germans are responsible for no more than €190B. A number larger than the €190 would need to be approved by the Bundestag. Despite other pending worries, this was enough to keep the bulls happy in the equities and euro markets.
The risk events of the week are hardly over. The Dutch are holding an election today, and according to polls, the anti-euro parties are losing ground. In the U.S., the Fed is meeting, and tomorrow they will announce how soon they commence with QE 3. Anything less than more easing from Helicopter Ben would be bearish.
Yesterday, we mentioned the Greek leaders had failed to reach an austerity proposal that will please the troika. It is rumored that President Obama is leaning on the euro leaders to not take any drastic action until after his reelection in November. He came to power during a financial crises and fears another might send him packing. So the Greek threat may be deferred for another few months.
The Spanish debt problem, with the rate on 10 year notes soaring above 7%, has been a major concern for Draghi and the Central Bank. Efforts have been made to remove the euro "drop out risk" premium from interest on Spanish debt. This, Draghi claims, will reduce the risk of buying the Spanish sovereign debt, and with other measures, reduce borrowing rates.
For Spanish Prime Minister Rajoy, there is a problem with the ECB solution, namely the German austerity poison pill. For Spain to accept ECB help, they must accept further budget cutting as prescribed by the German influenced troika. The Spanish economy is suffering, with about 25% unemployment, and further austerity without a growth formula would send Spain on the same depression route that has been the Greek fate. Further, austerity will cause another problem.
Yesterday in Barcelona, an estimated crowd of 1.5 million people demonstrated in favor of Independence for Catalonia, a group they call the National Catalan Assembly. Catalonia has been autonomous in the past, but when Franco consolidated power in Spain after the Civil War in the 1930s, that autonomy was halted. After Franco's death in 1975, a new Constitution was written in 1978.
Democracy in Spain is relatively new, only 34 years old. This is probably their biggest crisis, and the resolution is yet to unfold. Catalonia, with a population of 7.5 million -- 16% of Spain -- and a big manufacturing economy, has been especially hurt by the recession. They have requested in early September €5B from Madrid from an €18B euro fund for troubled regions.
Catalonia, which is responsible for 20% of the country's total GDP, claims they pay into Madrid far more than their share, and they deserve a refund. Should they fail to get money returned to them, this may hasten their move for independence.
Before getting enthusiastically friendly to the euro, it may be best to consider George Soros' remarks in Berlin this week. From Market Watch:
"The recession in Europe will spread to Germany, the eurozone's largest economy, within six months, said George Soros, chairman of Soros Fund Management. "The policy of fiscal retrenchment in the midst of rising unemployment is pro-cyclical and pushing Europe into a deeper and longer depression," Soros said in prepared remarks for a speech in Berlin Monday. "That is no longer a forecast; it is an observation. The German public doesn't yet feel it and doesn't quite believe it. But it is all too real in the periphery and it will reach Germany in the next six months or so."

Germany needs to abandon its demands for austerity in other countries, and embrace the continued fiscal unification of the region, or leave the eurozone itself, he said. Soros also said it would be better for Germany stay in the eurozone and work to boost growth, activate a debt reduction fund and guarantee common bonds.
The EURUSD (NYSEARCA:UUP), (NYSEARCA:UDN) have had a nice run, but we suspect there are some more issues that will bedevil the euro in the near future. We remain hopeful the rally will carry back above the 1.30 handle, where we wish to try the short side. As always, use appropriate money management.
(click image to enlarge)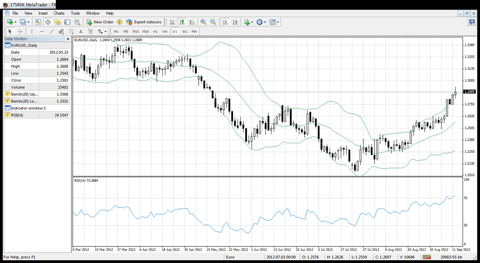 Click to enlarge
Disclosure: I have no positions in any stocks mentioned, and no plans to initiate any positions within the next 72 hours. I wrote this article myself, and it expresses my own opinions. I am not receiving compensation for it. I have no business relationship with any company whose stock is mentioned in this article.