Dividend-focused exchange traded funds have been all the rage as concern over market volatility and low yields in the bond markets pushed investors to the equities side for income.
For instance, the iShares High Dividend Equity Fund (NYSEARCA:HDV) has gathered almost $2.1 billion in assets since it began trading on March 29, 2011. HDV has a 0.40% expense ratio and a 3.54% 30-day SEC yield.
The iShares HDV ETF tries to reflect the performance of the Morningstar Dividend Yield Focus Index, which emphasizes low-volatility, qualified dividend-producing stocks. It should be noted that the ETF does not include exposure to real estate investment trusts or master limited partnerships.
"HDV is fundamentally a bet that tortoises beat hares," according to Morningstar analyst Samuel Lee. "The evidence is supportive: low-volatility stocks have had better risk-adjusted returns than high-volatility stocks in most markets studied."
Consequently, the ETF has a heavy weighting toward non-cyclical, defensive sectors. For instance, health care is 29.1%, consumer goods is 21.4%, telecom is 18.4% and utilities is 16.2%.
"The fund's chief competitors are PowerShares S&P 500 Low Volatility (NYSEARCA:SPLV) and iShares MSCI USA Minimum Volatility (NYSEARCA:USMV), strangely enough," Lee added.
SPLV has a 0.25% expense ratio and a 3.01% 30-day SEC yield, and USMV has a 0.15% expense ratio and a 2.66% 30-day SEC yield.
In comparing performance, HDV has gained 11.8% year-to-date, SPLV is up 10.3% year-to-date and USMV increased 12.3% year-to-date.
Meanwhile, the S&P 500 rose 16.1% year-to-date and offers a 2.11% yield.
(click image to enlarge)
iShares High Dividend Equity Fund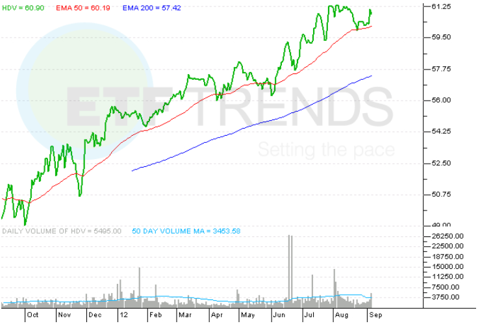 Max Chen contributed to this article.
Disclosure: I have no positions in any stocks mentioned, and no plans to initiate any positions within the next 72 hours. I wrote this article myself, and it expresses my own opinions. I am not receiving compensation for it. I have no business relationship with any company whose stock is mentioned in this article.