Gold is continuously moving along its upward trajectory, as a top German court extended its support for the new 700 billion Euro bailout fund today. Meanwhile, the Federal Reserve's two day policy meeting is starting from today, and speculators are looking forward to another round of quantitative easing (QE3), which has further uplifted gold's demand as an inflation hedge. Furthermore, the U.S. Dollar has recently hit four-month lows, fuelling gold's demand as a safe haven.
In our previous article, we recommended investors to take long positions in Yamana Gold Inc. (NYSE:AUY), Barrick Gold Corporation (NYSE:ABX) and Goldcorp Inc. (NYSE:GG) as a way to play rising gold prices, citing inexpensive valuations, reasonable dividend yields, and potentially large capital gains. Now, we also add Newmont Mining Corp. (NYSE:NEM) to our portfolio due to its highest dividend yield among gold miners, the dependence of its dividend yield on gold prices, and stable operations despite the fact that the company has recently faced high cost pressures and reduced production at some of its mines. All these long positions can be hedged by taking a short position in Market Vectors Gold Miners ETF (NYSEARCA:GDX). Meanwhile, we also continue recommending investors to invest in SPDR Gold Trust ETF (NYSEARCA:GLD) and physical bullion, even though they offer lesser upside potential than gold equities, as we expect gold to continue its upward rally.
About NEM
Colorado-based Newmont Mining Corp. is the world's second-biggest gold producer, behind Barrick Gold Corp. , and has reasonable exposure in copper as well.
Denver Gold Forum
Yesterday, NEM CEO Richard O' Brien provided an update on the company's projects and operations at the Denver Gold Forum, the most prestigious precious metal equities investment forum in the world. According to him, "If the price goes up, I think you will see us outperform the entire sector," as the company has linked its dividend policy to gold prices from the last year onwards. This was done so as to attract investors who seem to avoid gold mining companies' equities in favor of physical metal to avoid the volatilities generally associated with stocks. O'Brien thinks the upsurge in gold prices is good for the company, as its dividend yield will keep on increasing simultaneously. He didn't rule out the possibility of gold prices touching $2,000 per ounce, considering the fact that they touched an all-time high of $1,920.3 on September 6 last year. The following table summarizes what Mr. O'Brien said about the dividend yield under various scenarios for gold prices:
| | | |
| --- | --- | --- |
| Gold Price | Annualized dividend per share | Dividend Yield |
| $1700, Current | $1.40 | 3% |
| $1,800 | $2 | 4% |
| $2,000 | $2.70 | 5.40% |
The following chart is an excerpt from the company's recent presentation on the Denver Gold Forum, which shows how its dividend is linked to gold prices.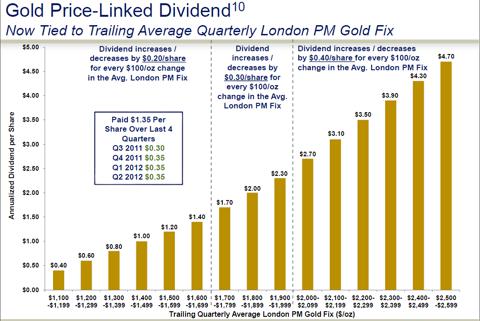 Click to enlarge
Source: Company documents
The company has reiterated its production guidance for fiscal year 2012, according to which its attributable gold and copper production ranges are 5.0-5.1 million ounces and 145-165 million pounds, while its consolidated cash costs are $625-675 per ounce and $1.8-2.2 per pound. The company's balance sheet strength is splendid, and operating cash flows have increased continuously, as is evident from the following graph. The company has $5.7 billion of available liquidity, as its cash and cash equivalents, investments, and credit facility amount to $1.9 billion, $1.3 billion, and $2.5 billion respectively. It is continuously trying to focus on cost reduction strategies and wants to bolster its gold production through exploration instead of acquisitions. We like this strategy, considering that the large acquisitions made by other major gold miners have either been too expensive or failed to produce the desired outcomes.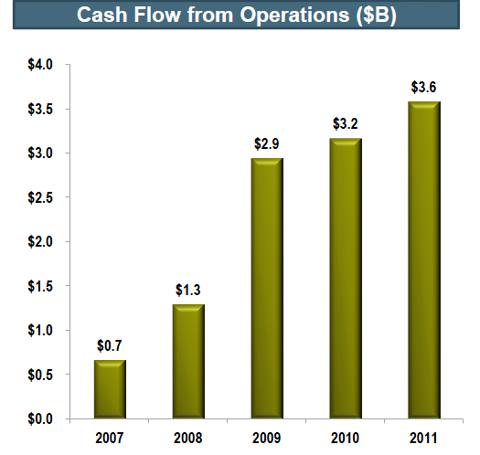 Click to enlarge Source: Company documents
Future Growth Projects
The company's 2Q2012 earnings saw a 28% YoY decline, as the company saw a reduction in its gold and copper output in addition to facing higher operating costs. It had been facing severe protests against its $5 billion Minas Conga copper and gold project in northern Peru, as activists claimed that the project threatens water supplies. However, the company is focused on building four water reservoirs in that region to move on with its exploration. Still, Mr. O'Brien reiterated that the company could only proceed with this project if it obtains regional and national support, and if it delivers an acceptable rate of return. The company's executives eye other areas of expansion as well, even if the Conga project is not successful, like projects in Australia, Indonesia, Nevada and its Ghanian expansion.
Newmont plans to grow to approximately 6-7 million ounces by 2017, but has to deal with the declining production at its existing operations and cost pressures in its APAC region, in order to do just that.
Valuation
The following table shows the updated valuation table from our last update on gold equities, incorporating numbers for Newmont as well.
| | | | | |
| --- | --- | --- | --- | --- |
| | NEM | ABX | AUY | GG |
| Forward P/E (1 year) | 10.63 | 8.07 | 12.22 | 15.1 |
| P/OCFa (FY2012) | 17.0x | 11.9x | 14.1x | 21.0x |
| Share price performance | -13.34% | -12.80% | 16.46% | -4.42% |
| Dividend Yield (%) | 2.70% | 2.0% | 1.5% | 1.3% |
Source: Google Finance, Yahoo Finance, Credit Suisse
In addition, the following table reflects the weighted average target price for each of these four companies (as calculated by Credit Suisse). Please bear in mind that adjusted operating cash flows (OCFa)-based valuation is showing near-term prospects, while the NAV-based approach is a measure of long-run growth potentials.
| | | | | |
| --- | --- | --- | --- | --- |
| | NEM | ABX | AUY | GG |
| OCFa-based TP (NYSE:A) | 62 | 56 | 26 | 47 |
| NAV-based TP (NYSE:B) | 54 | 35 | 21 | 46 |
| Weighted Average TP (50% of A + 50% of B) | 58 | 45.5 | 23.5 | 46.5 |
| Current share price | 52 | 39.46 | 17.11 | 42.29 |
| Expected Upside | 12% | 15% | 37% | 10% |
Source: Qineqt's calculations, Credit Suisse
Disclosure: I have no positions in any stocks mentioned, and no plans to initiate any positions within the next 72 hours.
Business relationship disclosure: The article has been written by Qineqt's Basic Materials Analyst. Qineqt is not receiving compensation for it (other than from Seeking Alpha). Qineqt has no business relationship with any company whose stock is mentioned in this article.