Investing in fallen angels (stocks that have been out of favor for a long time) is always a high-risk proposition suitable for aggressive investors. Here we look at two fallen angels in the Internet, networking, and telecommunications space, Alcatel-Lucent (ALU) and Cisco (NASDAQ:CSCO).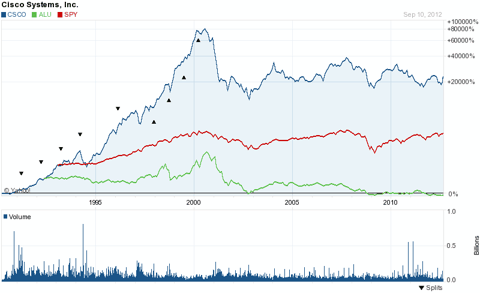 The two stocks have been under pressure by a number of factors: A momentum shift away from Internet and networking companies in the aftermath of the high-tech bubble of the late 1990s; the transition from emerging to mature companies (especially for Cisco); and growing competition from Hewlett-Packard (NYSE:HPQ), Juniper Networks (NYSE:JNPR), Huawei Technologies Co., and VMware (NYSE:VMW).
Lately, however, the two companies have been announcing a number of corporate restructuring initiatives to boost their top and bottom lines. Last month, for instance, Cisco announced the cutting of 10,000 jobs or 14 percent of its labor force. Today, Alcatel-Lucent announced the cutting of 5000 jobs, moving from a decentralized to a centralized business model. Does it mean that it is time for investors to buy the two stocks?
For Alcatel-Lucent, the answer is definitely not. Though the stock trades at a low PE, the company's financials are nothing to cheer about: razor thin margins; declining revenues, and negative cash flow. For Cisco, the answer is not yet. While Cisco's PE is low and its financials sound, the company has yet to rediscover its innovative trait, which takes a new leadership.
Cisco's innovation strategy is based on strategic acquisitions, the purchase of smaller companies with breakthrough products, a strategy that isn't sustainable. As owners of these smaller companies demand higher and higher premiums to compensate them for the risks they assume - Cisco ends up paying top prices for Net Speed and Growth Networks acquired at the peak of the high-tech bubble. Strategic acquisition further end up being dilutive to existing stockholders when paid with the issuing of new stock - that's how Cisco ended up with 5.5 billion shares.
| | | |
| --- | --- | --- |
| Company | ALU | CSCO |
| Forward PE (July 2014) | 14.75 | 9.18 |
| Operating Margin | 2.88% | 22.88% |
| Quarterly Revenue Growth | -7.10 | 4.40% |
| Quarterly Earnings Growth | -- | 55.6% |
| Total Debt/Equity | 114.15 | 31.83 |
| Operating Cash Flow | -102.45M | 11.49B |
Source: Yahoo.finance
Disclosure: I have no positions in any stocks mentioned, and no plans to initiate any positions within the next 72 hours. I wrote this article myself, and it expresses my own opinions. I am not receiving compensation for it (other than from Seeking Alpha). I have no business relationship with any company whose stock is mentioned in this article.