A vaccine is a biological preparation that improves immunity to a particular disease. A vaccine typically contains an agent that resembles a disease-causing microorganism, and is often made from weakened or killed forms of the microbe. The agent stimulates the body's immune system to recognize the agent as foreign, destroy it, and "remember" it, so that the immune system can more easily recognize and destroy any of these microorganisms that it later encounters.
Vaccines can be prophylactic (e.g. to prevent or ameliorate the effects of a future infection by any natural or "wild" pathogen), or therapeutic (e.g. vaccines against cancer). I wrote an article titled "3 Vaccine Companies With Upcoming Catalysts" on September 9. In this article, I will feature three additional vaccine companies with upcoming catalysts.
1. Agenus (NASDAQ:AGEN) is a biotechnology company working to develop treatments for cancers and infectious diseases. The company is focused on immunotherapeutic products based on strong platform technologies with multiple product candidates advancing through the clinic, including several product candidates that have advanced into late-stage clinical trials through corporate partners. Between Agenus and its partners, 18 programs are in clinical development.
(click images to enlarge)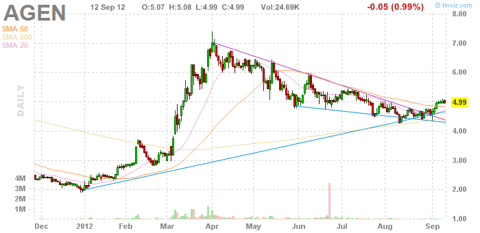 Upcoming milestones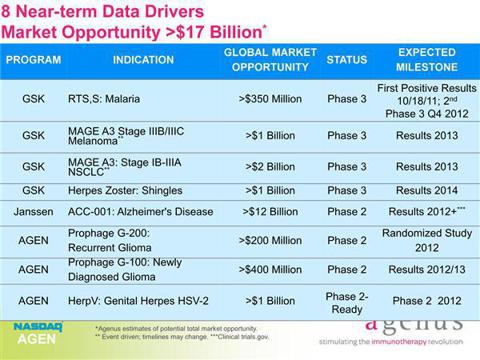 QS-21 Stimulon adjuvant has become a critical component in the development of investigational preventive vaccine formulations across a wide variety of infectious diseases, and appears to be essential for several investigational therapeutic vaccines intended to treat cancer and degenerative disorders. Currently, QS-21 is being studied in clinical trials in approximately 15 vaccine indications, of which four are in Phase 3 studies. These include RTS,S for malaria, MAGE-A3 for non-small cell lung cancer, MAGE-A3 for melanoma and Zoster Herpes for shingles. In addition, a QS-21-containing vaccine candidate is in Phase 2 trials for the treatment of Alzheimer's disease. Agenus' licensees include GlaxoSmithKline (NYSE:GSK), Janssen Alzheimer Immunotherapy, and Integrated Biotherapeutics. QS-21 represents the most advanced adjuvant that is not yet in an approved product.
It is anticipated that results from the second Phase 3 trial of IPSS for malaria in infants six weeks to 12 weeks old will be available in the fourth quarter of 2012. The two major Phase 3 programs for melanoma and non-small cell lung cancer are event driven trials, meaning that the trial will continue until a fixed number of events have occurred. Results from these trials should be available in 2013, according to the latest quarterly report by GlaxoSmithKline.
Financials
The company reported the second-quarter financial results on August 2 with the following highlights:
| | |
| --- | --- |
| Revenue | $0.6 million |
| Net loss | $7.1 million |
| Cash | $25.5 million |
The company expects to have sufficient financial resources to fund operations through 2013.
My analysis
The stock has a $17.25 price target from the Point and Figure chart. There has been insider buying by the CEO Garo Armen since 2011. The other insiders have been selling small amounts of the stock. If the malaria Phase III trial results due in Q4 2012 are positive, the stock could be trading at a $7-$8 range. If we get negative results, the stock could fall below $4.
2. iBio (NYSEMKT:IBIO) develops and offers product applications of its iBioLaunch platform, providing collaborators full support for turn‐key implementation of its technology for both proprietary and biosimilar products. The iBioLaunch platform is a proprietary, transformative technology for development and production of biologics using transient gene expression in unmodified green plants. Advantages over other systems include: success with proteins difficult or impossible to produce with other methods; broadly applicable to biologics, including monoclonal antibodies, other therapeutic proteins and vaccines; enables rapid development and validation of modular, scalable, and optionally robotic, multi‐product manufacturing facilities; production time measured in weeks instead of months or more. Additional benefits include a practically unlimited surge capacity for remedial action against bioterrorism and pandemic disease; product entry that is unconstrained by traditional process patents, and significantly lower capital and operating costs for comparable production. The iBioModulator platform is complementary to the iBioLaunch platform and enables significantly improved vaccine products with higher potency and greater duration of effect.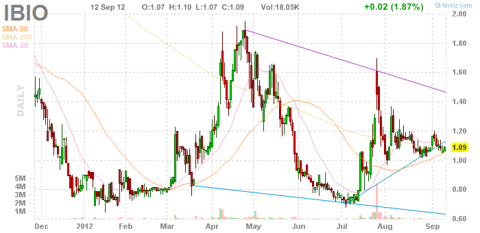 Upcoming milestones
Vaccine candidates that are presently being advanced on the company's proprietary platform are applicable to newly emerging strains of H1N1 swine-like influenza, and H5N1 avian influenza, yellow fever, malaria, and anthrax.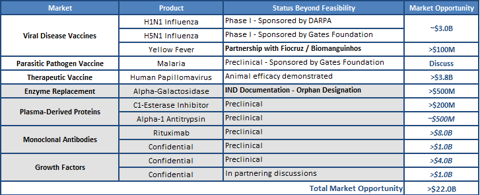 Financials
The company reported the first-quarter financial results on May 15 with the following highlights:
| | |
| --- | --- |
| Revenue | $0.4 million |
| Net loss | $3.1 million |
| Cash | $6.7 million |
Outlook
iBio believes it has the financial capabilities to meet its current obligations. In addition, the company estimates the cash on hand as of March 31, 2012 of approximately $6,724,000 will be adequate to fund its operations until the second calendar quarter of 2013. The company plans to fund its further development and commercialization through licensing and partnering arrangements, which may include milestone receipts and royalties, and/or the sale of equity securities or debt.
My analysis
The stock is currently resting at its 200 day moving average.It has seen steady insider selling this year, and there has been only one insider buy transaction this year. The company's pipeline is promising, but still in a early stage of development. I would recommend only a small position in the stock currently.
3. BioSante's (BPAX) corporate strategy is the development of high value medically-needed pharmaceutical products, as well as seeking to implement strategic alternatives with respect to its products and its company, including licenses, business collaborations and other business combinations or transactions with other pharmaceutical and biotechnology companies. BioSante´s products include LibiGel (transdermal testosterone gel) for the treatment of female sexual dysfunction [FSD], specifically hypoactive sexual desire disorder (HSDD), which is in Phase III clinical development. BioSante also is developing a portfolio of cancer vaccines, with 17 Phase I and Phase II clinical trials currently ongoing. Four of these vaccines have been granted Orphan Drug designation by the U.S. Food and Drug Administration (FDA). BioSante´s other products include an FDA-approved testosterone gel for male hypogonadism, which is licensed to Teva Pharmaceuticals (NYSE:TEVA), and the Pill-Plus, an oral contraceptive in Phase II clinical development by Pantarhei Bioscience B.V. BioSante's first FDA-approved product, Elestrin (estradiol gel) indicated for the treatment of hot flashes associated with menopause, is marketed in the U.S. by Jazz Pharmaceuticals (NASDAQ:JAZZ), BioSante's licensee.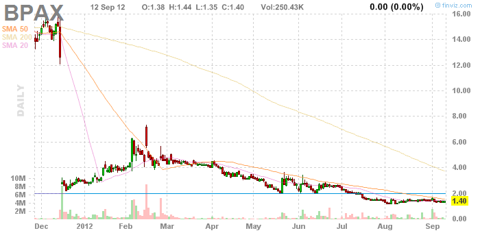 News
BioSante announced on September 4 that the independent Data Monitoring Committee [DMC] has completed the ninth unblinded review of the LibiGel Phase III cardiovascular events and breast cancer safety study. The independent DMC has recommended that the LibiGel safety study should continue as per the FDA-agreed protocol, without modifications.
The objective of the safety study is to show the relative safety of testosterone compared to placebo in the number of cardiovascular (CV) events, as well as the incidence of breast cancer. At the time of this DMC review, there have been 53 adjudicated CV events, with a lower than anticipated event rate of approximately 0.72 percent. In the same population of subjects, there have been 27 breast cancers reported, a rate of approximately 0.37 percent, which is in line with the expected rate based on the ages of the subjects enrolled in the study. At this time, BioSante remains blinded to all data.
Given this latest review, during which no specific or general safety issues were raised, and after extensive consideration, BioSante also announced the conclusion of the LibiGel Phase III safety study, effective immediately. Prior to the initiation of the LibiGel safety study in 2008, the FDA advised BioSante that subjects in the cardiovascular event and breast cancer safety study had to have a minimum average exposure in the safety study of 12 months prior to submitting a LibiGel new drug application (NDA), and prior to a potential FDA approval of LibiGel. At this time, subjects have been in this study for an average time of 24.5 months; more than 3,200 subjects have been in the study for more than one year, and over 1,700 subjects have been enrolled for more than two years. With this ninth positive unblinded review of the study by the DMC, and over 7,300 women-years of exposure, BioSante believes that adequate safety data for LibiGel use in menopausal women has been obtained.
Upcoming milestones
BioSante is continuing protocol development of the two new LibiGel Phase III efficacy trials, and intends to provide additional trial design information and timing of trial initiation as appropriate. BioSante intends to apply for an FDA Special Protocol Assessment [SPA] agreement prior to initiating the efficacy trials. It is expected that any new efficacy trial will include the same FDA-required efficacy endpoints as prior Phase III efficacy trials: an increase in the number of satisfying sexual events and sexual desire, and decreased distress associated with low desire. The company targets an FDA SPA agreement by first quarter 2013.
A Phase II open label study titled, "Allogeneic GM-CSF Vaccine and Lenalidomide in Treating Myeloma Patients With Near Complete Remission," is recruiting subjects for treatment with the combination of BioSante´s GVAX Myeloma vaccine and lenalidomide (Revlimid; Celgene). Estimated enrollment is 15 subjects. The primary endpoint of the study is improvement in the clinical response of subjects by adding GVAX Myeloma vaccine to subjects already receiving lenalidomide.
BioSante´s testosterone gel for male hypogonadism, which is licensed to Teva Pharmaceuticals, was approved by the FDA in the first quarter 2012. Teva is responsible for all regulatory and marketing activities. Patent litigation between Teva and Abbott Laboratories (NYSE:ABT), a marketer of a testosterone for men, was settled in December 2011; however, terms of the settlement agreement are confidential and have not been disclosed publicly. A launch date has not been announced. According to IMS, the current U.S. market for male testosterone products is estimated at over $1.6 billion.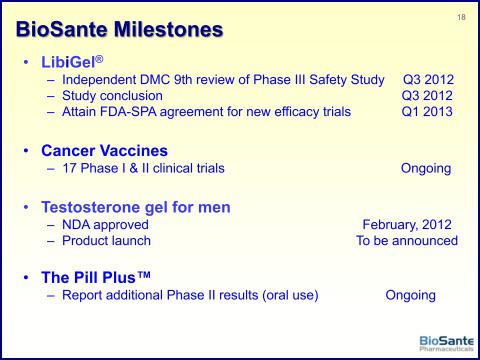 Financials
The company reported the second-quarter financial results on August 1 with the following highlights:
| | |
| --- | --- |
| Revenue | $0.1 million |
| Net loss | $7.3 million |
| Cash | $42.4 million |
| Shares outstanding | $20.2 million |
| Cash per share | $2.1 |
Outlook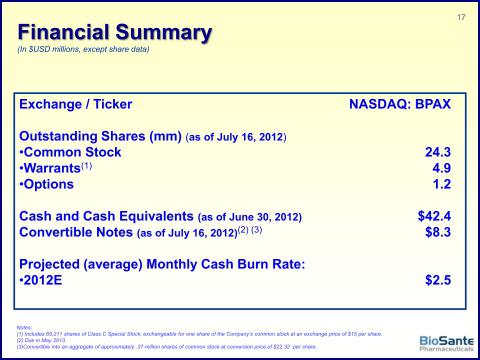 The company is projecting average monthly cash burn rate of $2.5 million. With this cash burn rate, the company should have enough cash to last 17 months from the end of June.
My analysis
There has not been any insider trading activity in the stock this year, however, it did see steady insider buying in the December 2007 to November 2011 time frame. In December 2011, BioSante announced results from its two pivotal Phase III LibiGel efficacy trials. Analysis of the data from these trials showed that they did not meet the co-primary or secondary endpoints. The stock fell from $16 to $2 after these results, and is currently trading below its net cash position of $2.1 per share. I believe the next major milestone for the stock will be the launch of the testosterone gel for male hypogonadism. A launch date has not yet been announced, however, the stock could potentially trade higher following the announcement. The stock traded as high as $7.38 after the FDA approval of the company's male testosterone gel on February 15, 2012.
Disclosure: I am long AGEN, BPAX, IBIO. I wrote this article myself, and it expresses my own opinions. I am not receiving compensation for it (other than from Seeking Alpha). I have no business relationship with any company whose stock is mentioned in this article.