In an article in Seeking Alpha on August 14, I projected that the semiconductor industry would stay in the red for all of CY 2012 (see "Semiconductor Industry Will Stay In The Red for All of 2012". Since then other market research companies such as IHS (ihs.com) have lowered forecasts in agreement with my analysis.
Today I want to address the semiconductor equipment market following a similar format, i.e., data published monthly by an industry association and utilize monthly Proprietary Leading Indicators from The Information Network (theinformationnet.com) to forecast the trend in the market for CY 2012.
To date, semiconductor equipment revenues are down 16.1% year-on-year through July of 2011 and 2012, as shown in the graph below, based on billings data compiled by the association SEMI (Semiconductor Equipment and Materials International (semi.org). This follows a wafer fab equipment market that saw spending increase by 13.3% in 2011.
Click to enlarge
In light of the severe drop in billings from August through November 2011 (blue line) according to the chart above, one could make the case that equipment manufacturers could make up some ground in the remainder of 2012, minimizing the damage for all of 2012. In fact, SEMI itself in its May 2012 forecast for wafer fab equipment called for 2% growth in 2012.
VLSI Research (vlsiresearch.com) recently raised its fab tool forecast in 2012, from minus 7.2% to minus 4%.
Gartner (gartner.com) forecasts the market to total $33 billion in 2012, which would register a 8.9% decline from 2011 spending
Applied Materials (NASDAQ:AMAT) recently announced that it believes spending will be in the range of $30 billion to $33 billion for the year. Since total semiconductor manufacturing equipment billings were $33.4 billion in 2011, that would equate to being flat for 2012 to decreasing 10.2%.
Lam Research (NASDAQ:LRCX) during its July earnings call stated it now expects 2012 wafer fabrication equipment spending to be at the low end of its previously communicated $30 billion to $32 billion range. By modeling IC unit supply and demand, Lam anticipates that spend would remain around the $30 billion level for a fourth straight year. That too would equate to a 10.2% drop in agreement with AMAT.
KLA-Tencor (NASDAQ:KLAC) reported that total revenue for its most recent quarter, Q4, was $892 million, but expectations for total revenue in Q1 is a range between $700 million and $760 million. While they did not project a CY 2012 overall industry growth, revenues for the next quarter could drop as much as 21.5%.
ASML (NASDAQ:ASML) so far has a better outlook, where the company executives estimate second half sales coming in between €2.2 billion ($2.8 billion) and €2.4 ($3.1 billion) billion with the third quarter estimate at €1.2 billion ($1.5 billion). Second quarter sales came in just about €1.2 billion ($1.5 billion), which is essentially the same as in the previous quarter.
The key determinant for determining 2012 growth is the shape of the curve for 2012 in the chart above, i.e., whether the red line increases to intersect the 2011 blue line or whether it continues to decrease.
According to The Information Network's Proprietary Leading Indicators, which we've developed over the past 17 years, the slight drop in SEMI's reported billings is the start of a downturn that will last over at least the next two months, and in light of increasingly dour macroeconomic forces, at least through 2012. Our PLIs (pink line) in the chart below peaked in the current cycle in March 2012, two months ahead of the peak in the SEMI numbers in May 2012.
While our PLIs have consistently predicted the direction of the semiconductor equipment industry by at least 3 months, this two-month lead is an anomaly but telling. One thing to note is the shape of the SEMI curve and the sharp drop for July billings. This suggests an upward revision in billings when SEMI announces August's book-to-bill ratio in September.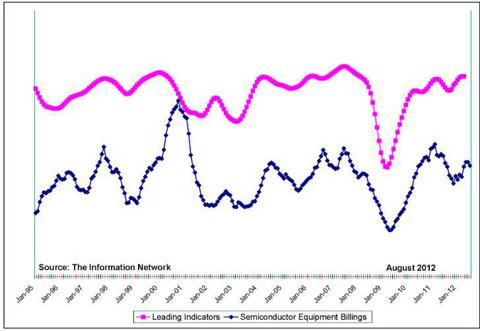 Click to enlarge
ASML's EVP & CFO Peter Wennink remarked that "the exact level of sales achieved in the second half will largely depend on the strength of NAND pick-up to be mostly fueled by new ultra book PCs and new smartphone ramps." Clearly the semiconductor and equipment markets are part of the supply chain for end-use applications, primarily consumer devices. Based on my analysis and PLIs, I believe that 2012 is a washout.
The resumption in growth levels will depend on the consumer and confidence in the economy. And since we live in a global economy, the consumer confidence of other nations must be considered. In the U.S. consumer confidence decreased to its lowest level since November 2011 in an August survey. South Korean consumer confidence dropped to the lowest level in seven months in August. Consumer confidence in the 17-nation euro-zone plummeted in August to its lowest level since June 2009.
That being said, The Information Network forecasts that 2012 should come in at $30 billion, a negative 10.3% year-on-year, and virtually identical to Applied Materials' low-end projection.
For 2013 The Information Network projects the bottom of the current downturn in wafer front end semiconductor equipment market occurring in Q4 2012, and a growth rate for the sector at 18% for 2013. A key factor is a resurgence of equipment purchases by foundries such as Taiwan Semiconfuctor (NASDAQ:TSMC), United Microelectronics (NYSE:UMC) and Globalfoundries, which make up 45% of equipment purchases, as they continue to increase capacity at the 28 nanometer node. The sharp growth in smartphone, tablets, and the anticipated growth in ultra notebooks will further require capacity builds of more than 150,000 wafer starts per month.
Disclosure: I have no positions in any stocks mentioned, and no plans to initiate any positions within the next 72 hours. I wrote this article myself, and it expresses my own opinions. I am not receiving compensation for it (other than from Seeking Alpha). I have no business relationship with any company whose stock is mentioned in this article.