The most recent growth of the telecom industry started in the beginning of June, igniting a bull market that shows no signs of slowing down. Telecom iShares ETF (NYSEARCA:IYZ) has grown by nearly 20% since June, and it's not too late to invest in the industry.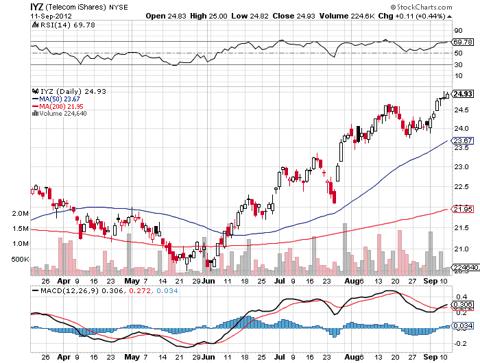 To note, 44.66% of IYZ's assets are invested in AT&T (NYSE:T), Verizon (NYSE:VZ), CenturyLink (NYSE:CTL), and Sprint (NYSE:S). As an ETF, the average Price/Sales ratio is .86. This is fundamental for comparing the Price/Sales ratios of all the companies in the ETF, so let's take a look at a few.
| | |
| --- | --- |
| Stock | Price/Sales |
| IYZ | .86 |
| T | 1.69 |
| VZ | 1.11 |
| CTL | 1.41 |
| S | .45 |
Maybe it is no surprise to some that Sprint would have the lowest Price/Sales ratio considering its low share price, but maybe this suggests something else. With the entire industry in a clear bull market and Apple introducing the iPhone 5 this week, this could be Sprint's chance to reclaim a chunk of the market share. I think this will play as the catalyst for the bullish telecom market. After all, economist Mike Feroli predicts the iPhone 5 could add as much as .5% to the overall annual GDP. Of course, this would be ideal for Sprint, considering the massive amount of money it spent on adding the iPhone to its portfolio last year. Also worth noting is that Sprint introduced plans to add 4G networks in over 100 cities.
With all that being said, I think Sprint is still a risk. With return on equity of -34%, it's hard to say it isn't a risk. Lets compare the return on equity of three big U.S. telecom companies.
| | |
| --- | --- |
| Stock | Return/Equity |
| T | 4.3% |
| VZ | 12.72% |
| S | -.34% |
This clearly demonstrates that Verizon is the best investment. I like Verizon as the stock to buy in this bull market because it is the market leader in the telecom industry, and has the most diverse portfolio including wireless services, landline services, and Verizon FiOS. You can bet Verizon predicts it will boost revenues in the near future as the telecom leader announced it would increase annual dividends by 3% or 51.5 cents per quarter.
So where does this leave AT&T? AT&T does have a larger market cap, but other than that, Verizon is the market leader in virtually every statistic. Verizon's EPS is 1.01, while AT&T's is .75, and we already know Verizon has a better return/equity and price/sales ratio.
Overall, the telecom industry is currently in a bull market, and market leader Verizon is definitely the best investment in both the short and long-term. Investing in the ETF is also a smart move for investors interested in the long-term growth of the industry. And while Sprint is showing signs of growth, we have yet to see any signs of it reclaiming market share.
Disclosure: I have no positions in any stocks mentioned, and no plans to initiate any positions within the next 72 hours. I wrote this article myself, and it expresses my own opinions. I am not receiving compensation for it (other than from Seeking Alpha). I have no business relationship with any company whose stock is mentioned in this article.