Market Recap
The market was fairly flat as the market got some nice upside from the German courts not blocking the bond buying program, but the market seemed to have "sold the news" on Apple's (NASDAQ:AAPL) iPhone release. Additionally, the market is waiting on news from the Fed tomorrow about whether or not it will take on a new round of quantitative easing. The market did not want to make too many bets before that announcement came out, and the market moved flat. Additionally, we got some economic data that was bearish with wholesale inventories jumping 0.7% as well as rising Export Prices that show imports getting cheaper and exports getting more expensive. All in all, the market seems to be putting all the market's move on QE tomorrow.
Here are some stocks we like moving into the rest of the week and beyond:
Stocks To Trade
Today, we are looking at an earnings trade in Visa (NYSE:V), longs in Monster Beverage (NASDAQ:MNST) and Schlumberger (NYSE:SLB), and shorts in J.C. Penney (NYSE:JCP) and Amgen (NASDAQ:AMGN).
For an earnings trade, we like the looks of Visa. We recommended Visa a couple weeks ago, and it has shot up since. Yet, we do not think the run is over. The company is now moving closer and closer to its next earnings release, which we believe is another catalyst. The company is expecting just under 20% growth in earnings while 12% growth in revenue, which are very strong growth numbers that we believe cause good upside into earnings reports. The company reports in late October, and we expect the stock to continue its breakout higher from here. The company broke out from 127.50 resistance and is an upward wedge that could squeeze for another higher breakout. We believe 5-10% at least upside in the stock and can add sold put for October20 expiration
Trade: Long, V and Oct20, $125 Put, Sold
Max Gain: 5-10% on Stock, 9% on Sold Put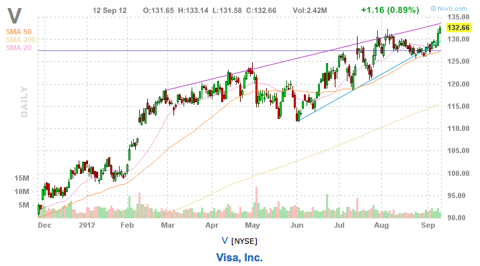 Click to enlarge
For longs, we like the looks of Monster Beverage and Schlumberger . Our opinion on MNST is less of a trade versus an investment. We have a $68 PT on MNST with a Buy-rating, and the drop today is based on what we see as political posturing that we believe will not amount to much. Additionally, drops like this for MNST allow the value to be more attractive for potential buyouts. Companies like Coca-Cola (NYSE:KO) and Pepsico (NYSE:PEP) would love to tap into the MNST line, and we believe buying here is a great place to get in on a quick drop that is not based on fundamentals but short-term rumors. Additionally, we like the looks of Schlumberger for an options play. Right now, we believe that energy is a compelling place to be. The prospects of QE, ECB bond buying, and Libya's mess all point to higher oil. Further, we believe the talks of energy policy in the election will be a nice tick up for energy companies as well. SLB has tough resistance at 75, but if the stock breaks above that level it will soar. The $70 line is now great support, and we like a bull put spread at 70/67.50 for potential 20%+ gain.
Stock Trade: Long, MNST
Breakout Point: N/A
Options Trade: SLB, Oct20, 70/67.50 Bull Put Spread
Max Gain: 20%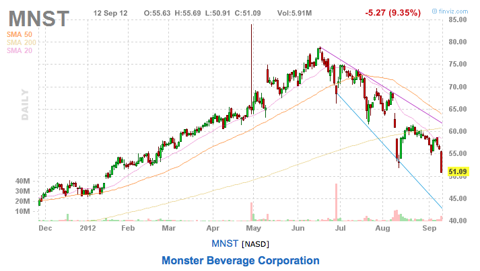 Click to enlarge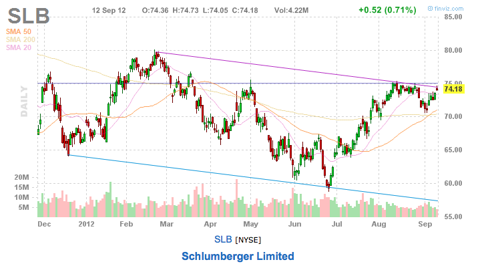 Click to enlarge
For shorts, we like the looks of Amgen and J.C. Penney . Both stocks have done quite well over the past couple months, but they are looking a bit toppy right now. AMGN broke a key 20-day MA it had held since June, and that move was definitely a potential short signal. We believe it will breakout to the downside if it fails 83. Fundamentally, the company's comments at a Morgan Stanley Healthcare Conference did not seem to be a catalyst. The company beat around the bush with its outlook and did not lock down anything concrete. The move seems to have been made. JCP looks great for an options play. After disappointing earnings, the company has completed a move to the gapdown. The stock has a strong 200-day MA sitting above it now, and earnings are still weak. Until we see something to change that, the stock should stay below that key MA, and we can use the $30 line for building bearish options.
Stock Trade: AMGN, Short
Breakout point: 83.00
Options Trade: JCP, Oct20, 30/31 Bear Call Spread
Max Gain: 54%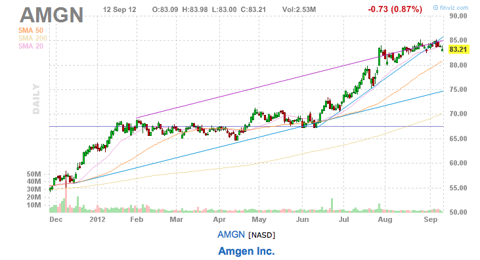 Click to enlarge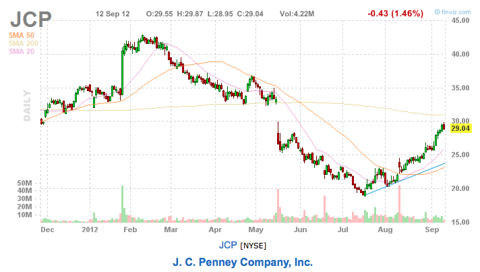 Click to enlarge
Tomorrow's Outlook
The market has QE3 tomorrow and that is really all that matters. Does it happen or not? Even if it does happen, the market is not guaranteed it will rise right away. Other announcements have not been positive right away, but they have worked into the equity market over time. A kick of the can potentially could be the best move for upside tomorrow. An announcement yes/no may both work against the market. We will just have to wait and see. We do have an important jobless claims report tomorrow to watch as recent jobs data has been weak. Those are really the only things we need to watch for tomorrow, and its anyone's guess as to exactly what the Fed will say. We are leaning toward it makes no move.
Our Moves/Holdings
We had a great day in the market. We hit our target on the IBM long, Baidu (NASDAQ:BIDU) short for the first half for a 2% gain. We also hit targets in Panera (NASDAQ:PNRA) and M/I Homes (NYSE:MHO) in our Extended Value Portfolio for gains of 13% and 10%, respectively. Both were held for less than a month so far. We added longs in Oceaneering (NYSE:OII) and Costco (NASDAQ:COST) as well as short in Perrigo (NASDAQ:PRGO).
We have the following positions:
In our Short-Term Equity Portfolio we are long Oceaneering , Watson Pharma (WPI), Polo Ralph Lauren (NYSE:RL), and IBM . We are short Perrigo , Baidu and Cardinal Health (NYSE:CAH).
In our Options Portfolio, we are long Visa , SPDR Energy (NYSEARCA:XLE), Whole Foods Market (NASDAQ:WFM), Priceline.com (NASDAQ:PCLN), Google (NASDAQ:GOOG), and Starbucks (NASDAQ:SBUX).
In our Earnings Alpha Portfolio, we are long Costco , Polaris (NYSE:PII), Crocs (NASDAQ:CROX), Discover Financial (NYSE:DFS), Lennar (NYSE:LEN), Francesca's (NASDAQ:FRAN). We are short RedHat (NYSE:RHT). We have a reverse iron condor in Abercrombie & Fitch (NYSE:ANF).
In our Goldman Sachs Up/Down Paper Portfolio, we are long Wells Fargo (NYSE:WFC), Manitowoc (NYSE:MTW) and Fiserv (NASDAQ:FISV).
Chart courtesy of finviz.com.
Disclosure: I have no positions in any stocks mentioned, and no plans to initiate any positions within the next 72 hours.
Business relationship disclosure: The Oxen Group is a team of analysts. This article was written by David Ristau, one of our writers. We did not receive compensation for this article (other than from Seeking Alpha), and we have no business relationship with any company whose stock is mentioned in this article.