Copper prices have increased significantly within the past week, reaching $8075, well above its 200-day moving average. Looking at the relationship between copper and stocks, it seems that copper and SP500 have bridged the gap they have held for the past few months. The same pattern is visible for the AUD/USD.
(click images to enlarge)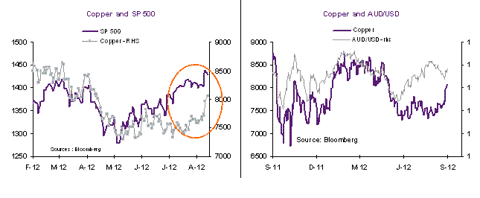 Click to enlarge
Does this mean that the soft patch for global economic growth is behind us? China's PMI and copper prices generally align on 3-month change basis. Copper is now pointing toward a much higher China PMI. Could this be a sign that the recent public spending is a game changer (especially since Iron Ore prices seem to be stabilizing)?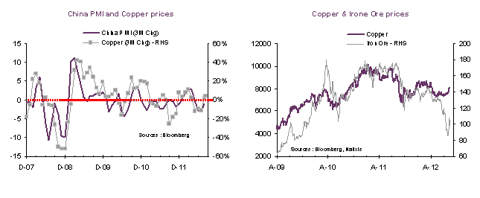 Click to enlarge
The outlook for China is still quite shaky. China's weaknesses include: income disparity, need for job creation, need for central/local government cooperation, need to improve business climate, and strong consumption of energy and natural resources. Clearly, the cons outweigh the pros.
However, the government has reported that they are taking active measures to improve their infrastructure, which should inspire further copper use. The infrastructure plans include: bolstering 25 new rail projects in 19 cities worth 800bn yuan ($127 bn) over the next three to eight years; 20 investment projects, including 13 road projects; and land plot sales to increase land supply while curbing home prices.
Yet the scale of the program is much smaller this time. The plan makes up 2% of GDP vs. 10% phased in over the two years following Lehman. This is clear proof that Chinese authorities want to avoid a sharp increase in the investment share of GDP (around 46.5% of GDP).
These plans deal more directly with the potential housing bubble and infrastructural issues in China.
China's copper supply is rising at the expense of imports, as both charts below show. It is well documented that domestic capacities have risen significantly, and domestic inventories are quite high (right chart, beige bars). This domestic supply goes against imports of unwrought copper product, not concentrates.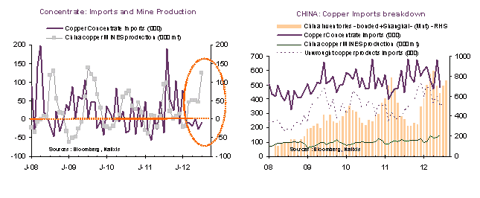 Click to enlarge
So the real question is whether or not we should focus solely on China. The left chart below shows that global copper inventories stand at their lowest level in several years. In addition (right chart), the stock-to-use ratio (measured as weeks of consumption) is very low. A lower level means a higher price sensitivity to demand shock. Given the level of stock to consumption, there is potential for a 20% increase in copper prices. With U.S. housing and car production continuing to recover, pent up demand remains decent for copper.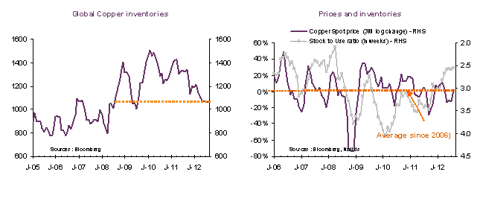 Click to enlarge
In such a backdrop, any kind of improvement in the demand side is likely to cause stress somewhere in the market.
Of course, some emerging countries are showing signs of weakness (India and Brazil, notably). However, global supply may limit prices (cash cost): ore grade decline, labor strikes, resource nationalism, and environmental issues. The widely expected increase in mining production capacity is will likely not occur before mid-2013.
China may no longer be the main driver of copper prices. Even if the stimulus plan disappoints, there is still some room for higher copper prices:
1. Demand is picking up in other areas, and global inventories stand at a very low level.
2. In addition, any QE-driven weakness in the USD would spur prices of copper. The upside potential is real in spite of the recent rally.
As suggested by the first charts, a target of 8300 is clearly a first target in the short run (JJC at 50).
Disclosure: I have no positions in any stocks mentioned, and no plans to initiate any positions within the next 72 hours. I wrote this article myself, and it expresses my own opinions. I am not receiving compensation for it (other than from Seeking Alpha). I have no business relationship with any company whose stock is mentioned in this article.