Even with the recent supply issues of competitor OCZ Technology (NASDAQ:OCZ), Fusion-io (NYSE:FIO) remains a market leader so far unaffected by the supposed supply issues in the solid state drive (SSD) sector. The stock is generally considered expensive, but once compared to other tech stocks, the relative valuation in the sector and the stock appears clearer.
The company is a leader in delivering storage solutions that accelerate virtualization, databases, cloud computing, and big data. The sector is one of the fastest growing around, with the two leading companies reporting revenue growth in the 80% range recently. But why are the companies trading at lower valuations than other hot tech stocks?
Q4 2012 Highlights
The company reported the following highlights for fiscal year 2012:
Revenue: $359.3 million in fiscal 2012 (an increase of 82% over fiscal 2011)
GAAP Net Loss per Diluted Share: 6 cents in fiscal 2012 (compared to earnings of 6 cents in fiscal 2011)
Non-GAAP Net Earnings per Diluted Share: 35 cents in fiscal 2012 (compared to 20 cents in fiscal 2011)
Operating Cash Flow: $34.8 million in fiscal 2012 (compared to a use of $9.9 million in fiscal 2011)
GAAP gross margin of 57.5% and non-GAAP gross margin of 57.6% for the fiscal fourth quarter 2012
The company reported 82% revenue growth yet only trades at roughly 7.5 times last years sales. With guidance for roughly 50% revenue growth in fiscal year 2013, Fusion only trades at 5.0 times revenue for the next year.
Solid State Storage
The sector remains hot, as customers demand the higher performance of storage devices over hard disk drives (HDDs).
iSuppli estimates that SSD shipments will grow 165% in 2012 due in large part to the growth of Ultrabooks. In fact, the market research firm expects shipments to grow at a annual compounded rate of 63% from 2011 through 2016. Total shipments will exceed 200 million in 2016 from only 17.3 million last year.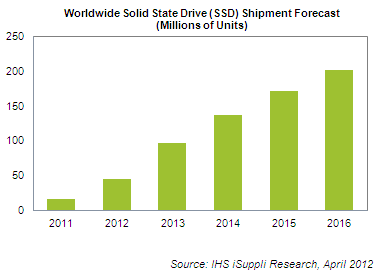 On top of the general demand in the sector, IBM (NYSE:IBM) recently bought Texas Memory for an undisclosed sum. Although this hasn't led to any other deals, the rumor mill has constantly been swirling around the market leaders.
Fusion-io Stock
Shares of Fusion-io have traded in a wild range since the company went public in June last year. However, the stock has gone nowhere during that time period. Considering the stock was a hot subject at the time of its IPO and revenue grew 82% during this time period, it is a huge warning for investors in the hot IPOs of 2012.
Fusion-io 16-Month Chart

Click to enlarge image.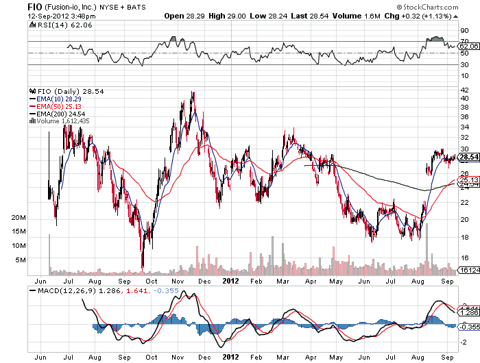 Relative Comparison
The most compelling part of an investment in Fusion-io is that the company is a leader in a fast-growing sector and has a much better relative value than other stocks. Recent IPOs in big data, such as Splunk (NASDAQ:SPLK), in network computer security, such as Palo Alto Networks (NYSE:PANW), and in the hot 3D printing sector, such as Stratysys (NASDAQ:SSYS), have much higher valuations.
Below is comparison of the relative value of Fusion-io over the hot tech stocks.
| Company | Forward P/E | Forward P/S |
| --- | --- | --- |
| Fusion-io | 48 | 3.9 |
| Splunk | N/A | 14.3 |
| Palo Alto Networks | 154 | 8.1 |
| Stratysys | 40 | 6.2 |
Conclusion
While OCZ Technology remains the favorite bet in the SSD sector, Fusion-io offers a compelling valuation compared to the other hot tech sectors. In fact, anybody looking to buy a tech sector with high growth somewhat ignored by the market might want to spread their investments over the two leaders.
Disclosure: I am long OCZ. I wrote this article myself, and it expresses my own opinions. I am not receiving compensation for it (other than from Seeking Alpha). I have no business relationship with any company whose stock is mentioned in this article.
Disclaimer: Please consult your financial advisor before making any investment decisions.