On Wednesday, there were reports that Ford Motor Company's (NYSE:F) directors were meeting on Thursday to discuss a potential successor to Chief Executive Officer Alan Mulally. GASP! I know, try to hide your surprise. Alan Mulally is 67 and hasn't hidden that retirement is around the corner. It is about time that Ford steps up and gives some guidance or at least a direction that the Company is considering going. Management has been mute about what the future will hold for Ford's top spot; however, there is one name that all the rumors are naming as the heir apparent. Mark Fields, the president of operations in North America and South America, is thought to be on the short list for next in line for the top job, and is expected to be given additional responsibilities over the coming months to prepare.
Mulally has done a phenomenal job turning around the Dearborn, Michigan-based automaker. He successfully avoided a government-backed bailout and a run through bankruptcy which its two cross town rivals (General Motors (NYSE:GM) and Chrysler) were forced to experience. Another feather in Mulally's hat should be the barriers that he broke down and efficiency that he brought to Ford. Automakers had an extremely bureaucratic system, but Mulally has removed layers and gotten management on the same page (for the most part). Fields has been a big part of the smooth operations.
So the appointment would make sense. The board is rumored to be meeting this Thursday. However, aside from the CEO job, there are still bigger problems out there for Ford and that is the reason that stock has stalled. Ford has performed relatively well in the United States and North America during 2012, but Europe continues to be the problem. The following table shows Ford's monthly auto sales since the beginning of 2012.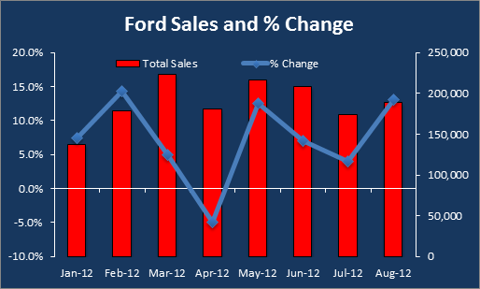 Europe remains a problem for just about every company in the world, so why would Ford be any different? However, it is acting like an anchor for the stock that has been relatively range bound for most of the year. It is the worst performer of the automakers in our coverage universe, falling 5% year to date, while GM and Toyota (NYSE:TM) have gained 14% and 24% respectively. Toyota has almost completely rebounded from its problems following the earthquake and tsunami, but still Ford is the second largest automaker in the US.
Ford has lost more than $550 million in Europe during 2012, and prospects are for not much improvement before the end of the year. The hope is that by this time next year, things will have turned the corner in Europe, but I feel that even that is a bit optimistic. Germany is carrying the weight in Europe right now, and the new bond purchasing program from the European Central Bank (ECB) will hopefully stir up some momentum for the European economies, but I am not holding my breath.
I like Ford for the long term, but feel that this is a good opportunity to build a position in the stock. Add in the 2.0% dividend yield and strong cash flow position and Ford's share price should be higher. The auto market uncertainty in the U.S., Europe and China are combining to pressure the stock. Ford is trading with a PE ratio (TTM) of just 2.30, and a forward PE ratio of 6.81. The PEG ratio, an important ratio in our valuation process, is just 0.31 (the lower the PEG the more undervalued the stock is), compared to a 0.74 PEG ratio for GM and a 0.40 PEG ratio for TM.
Disclosure: I am long F. I wrote this article myself, and it expresses my own opinions. I am not receiving compensation for it (other than from Seeking Alpha). I have no business relationship with any company whose stock is mentioned in this article.