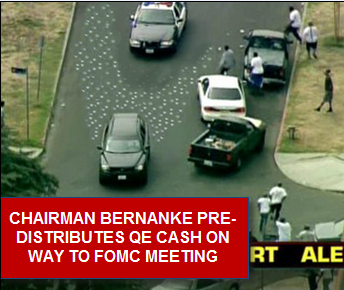 You might say what the Fed does Thursday with QE is as hyped as the new iPhone 5 or a good police chase. For Apple (NASDAQ:AAPL) bulls the ollout news was sold early and bought late. Will QE3, should it occur, create more two-way volatility like Apple?
The much awaited German court news was released, and as expected the court went along with the "current" ESM proposals. However, should more funds be needed beyond what's allotted already another parliamentary review would be necessary. Spain has its own problems. The country's seven provinces are autonomous in fiscal matters and comprise 50% of all spending. They have no interest in reform or austerity. Therefore the Spanish government is in a box since it can't ask for a bailout with the current mandated conditions. Breezily Prime Minister Rajoy has merely stated borrowing costs have dropped so they don't need relief "now." Forgotten little Greece is still declining to accept the terms dictated by the troika so check the stalemate box. Not sweating the details for "now" bulls bid up eurozone stocks just because…well, because they did.
The hot potato has been passed to the Bernank clearly. That said, just about everything ground to a halt Wednesday as we await Thursday afternoon's announcement.
Geopolitical events still pose risks. Horrible events spun out of control in MENA as Islamic extremists went on the attack. The movie played to an empty audience "once" in Hollywood early this year. The supposed offensive film resulted in the attack on the U.S. embassy in Egypt, the assassinations of the U.S. ambassador and three others in Libya and more unrest in Tunisia. It seems likely this is the work of Al Qaeda with Iran for 9/11.
All markets tensed up in advance of the FOMC. This renders Wednesday's commentary a waste of time which is nice for me but not too informative for you. But the Fed's oracle, the WSJ's Hilsenrath, has suggested what the FOMC will do per this nugget.
Volume was once again ultra-light as investors showed their tentative approach. Breadth per the WSJ was positive.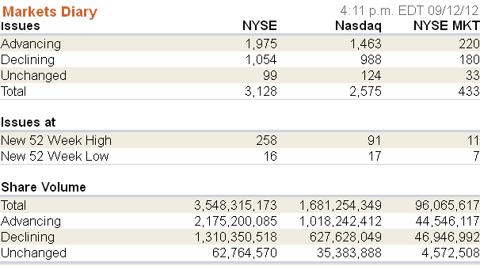 Click to enlarge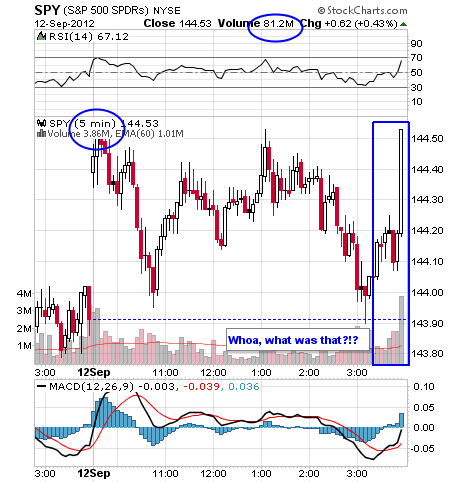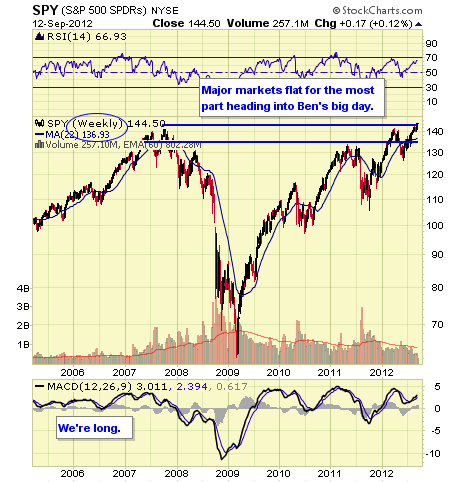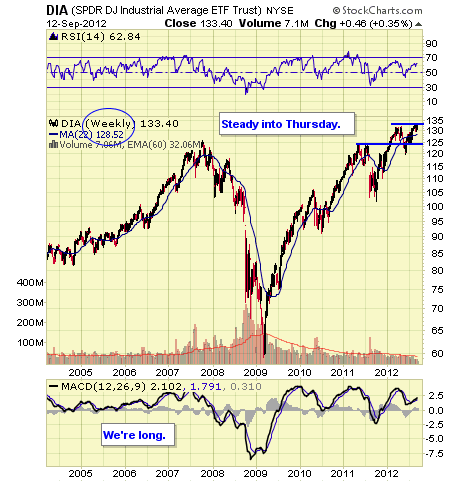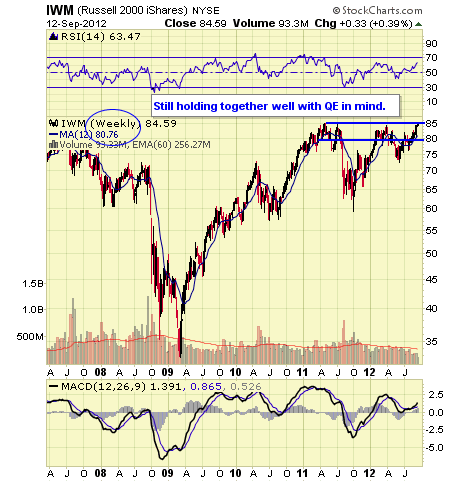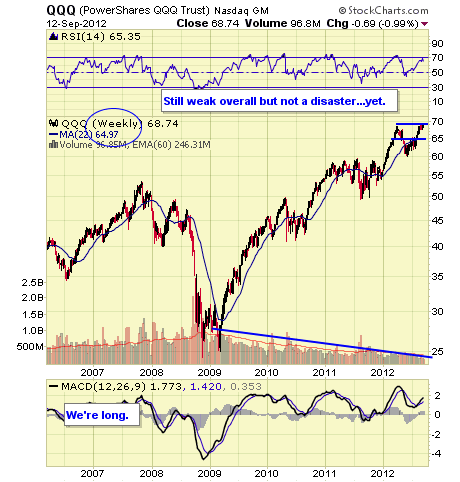 Continue to U.S. Sector, Stocks & Bond ETFs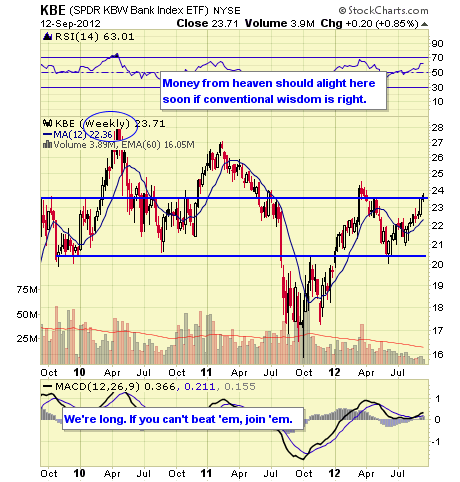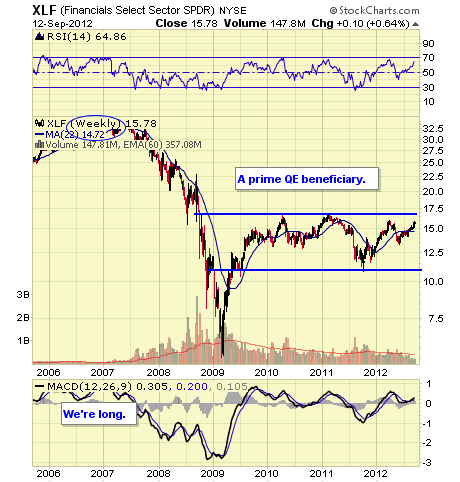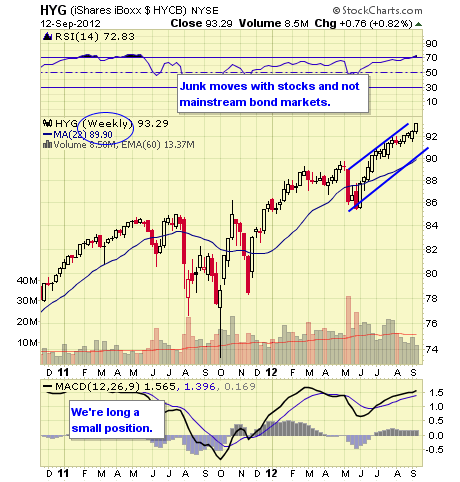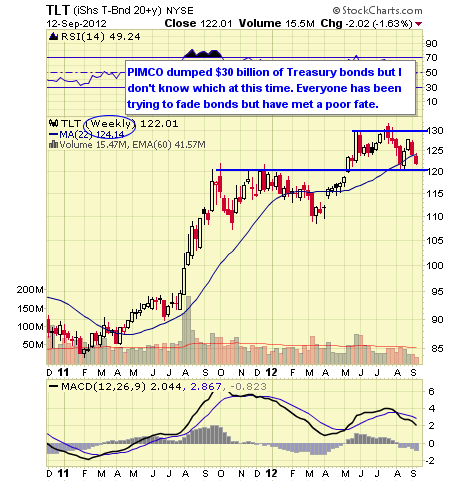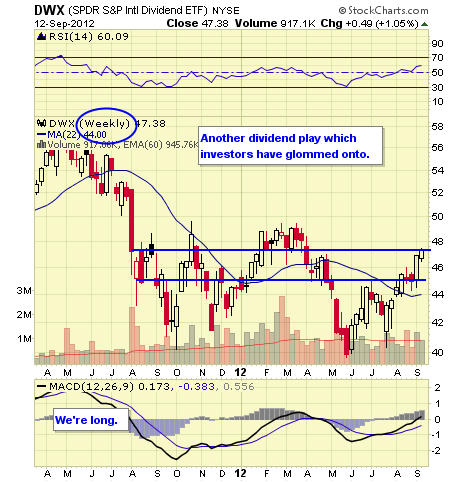 Continue to Currency & Commodity Market ETFs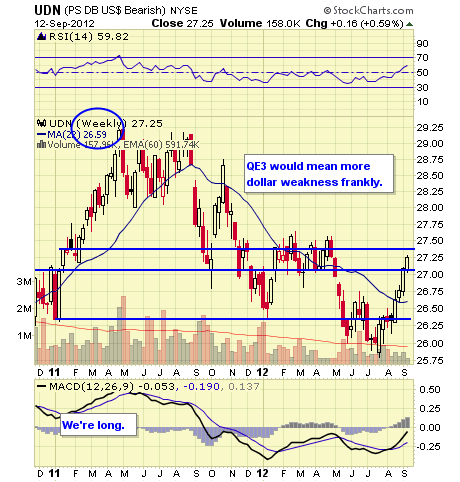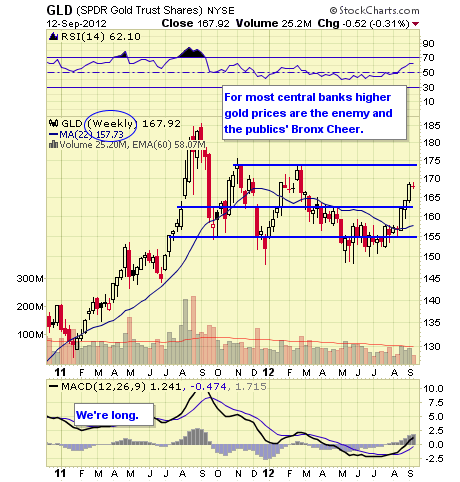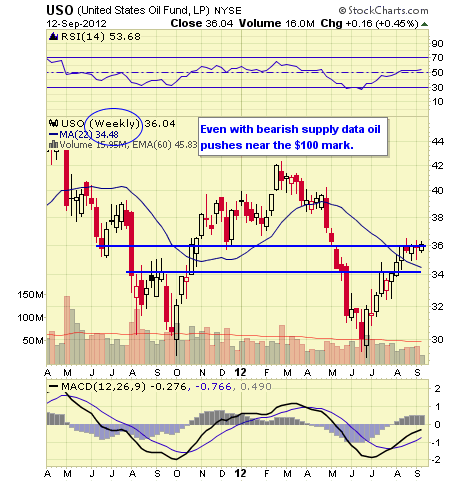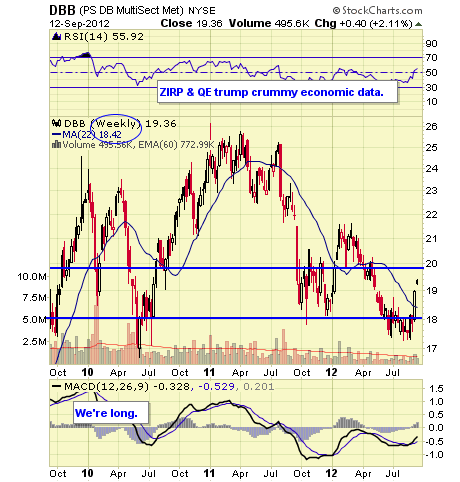 Continue to Overseas Sectors & ETFs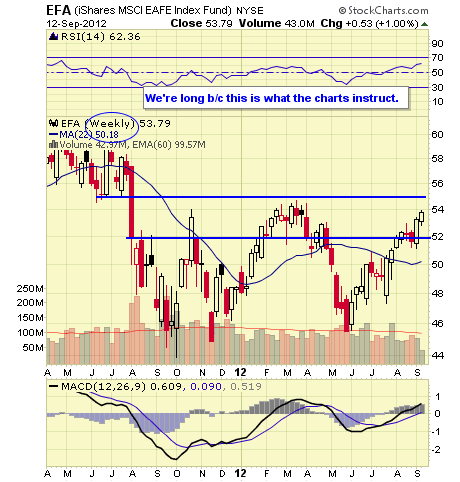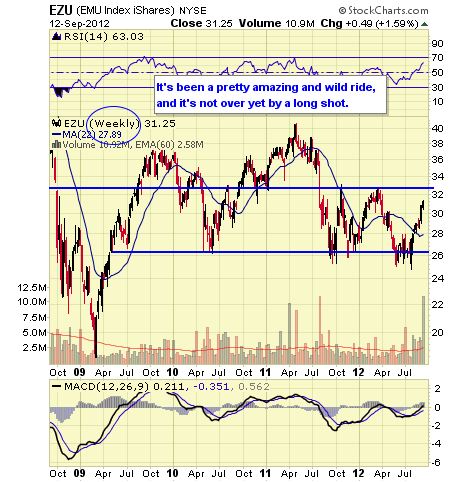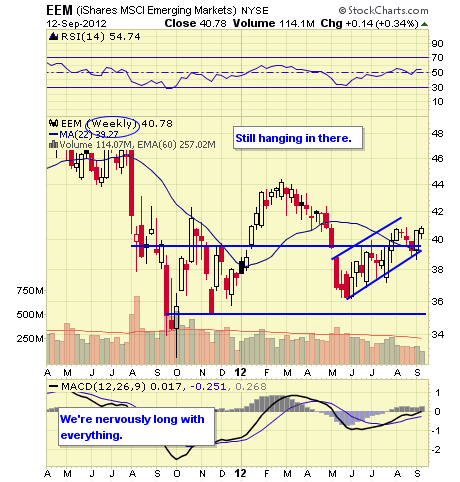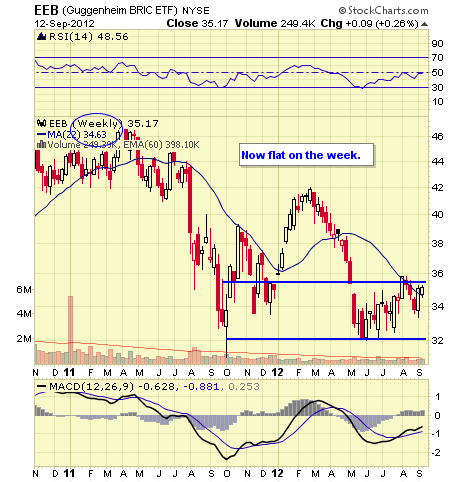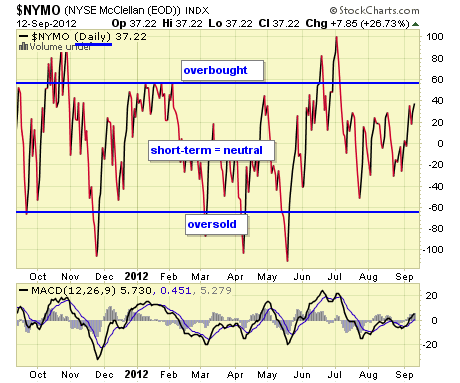 The NYMO is a market breadth indicator that is based on the difference between the number of advancing and declining issues on the NYSE. When readings are +60/-60 markets are extended short-term.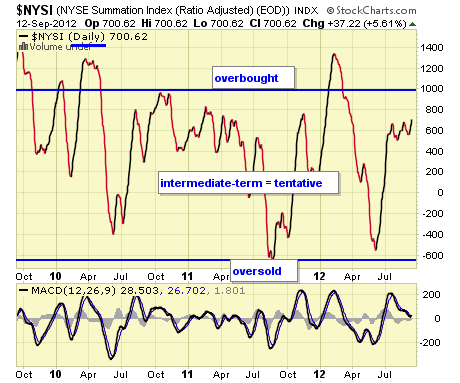 The McClellan Summation Index is a long-term version of the McClellan Oscillator. It is a market breadth indicator, and interpretation is similar to that of the McClellan Oscillator, except that it is more suited to major trends. I believe readings of +1000/-1000 reveal markets as much extended.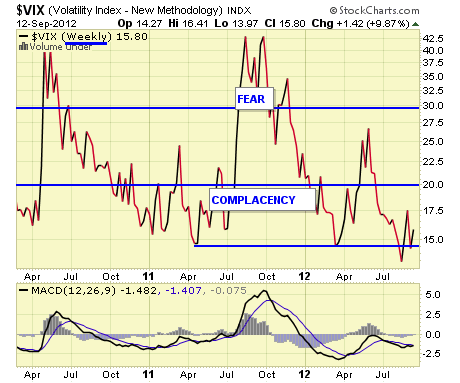 The VIX is a widely used measure of market risk and is often referred to as the "investor fear gauge." Our own interpretation is highlighted in the chart above. The VIX measures the level of put option activity over a 30-day period. Greater buying of put options (protection) causes the index to rise.
It's odd our postings have been reduced in length but there isn't much of anything to remark about until Thursday and Friday. So we're just letting you know we're around.
Disclaimer: The ETF Digest maintains active ETF trading portfolio and a wide selection of ETFs away from portfolios in an independent listing. Current "trading" positions in active portfolios if any are embedded within charts: Lazy & Hedged Lazy Portfolios maintain the follow positions: VT, MGV, BND, BSV, VGT, VWO, VNO, IAU, DJCI, DJP, VMBS, VIG, ILF, EWA, IEV, EWC, EWJ, EWG, and EWU.
The charts and comments are only the author's view of market activity and aren't recommendations to buy or sell any security. Market sectors and related ETFs are selected based on his opinion as to their importance in providing the viewer a comprehensive summary of market conditions for the featured period. Chart annotations aren't predictive of any future market action rather they only demonstrate the author's opinion as to a range of possibilities going forward. More detailed information, including actionable alerts, are available to subscribers at www.etfdigest.com.
Disclosure: I have no positions in any stocks mentioned, and no plans to initiate any positions within the next 72 hours. I wrote this article myself, and it expresses my own opinions. I am not receiving compensation for it. I have no business relationship with any company whose stock is mentioned in this article.