After last night's earnings catastrophes among Apple (NASDAQ:AAPL), Sandisk (SNDK), Texas Instruments (NYSE:TXN), American Express (NYSE:AXP) and others, all seemed lost in the market. It started an after hours chain reaction, stock after stock breaking down. What would become of all the good work leading up to this point? I mean we had good market internals, Oil was tanking for the fourth straight session, and the S&P 500 was on the precipice of overtaking critical resistance? We would need some might powerful mojo to right things the following morning.
Here's a recap from the Apple camp: Right after the market close, Apple releases the Quarterly Earnings Report, the market looks right past another stellar record quarter and can't reconcile the dismal guidance. The street number was $1.24, but investors gagged when they saw $1 flat. Apple's stock took an immediate nose dive, down in after hours trading 5% in a matter of minutes.
Then the dismal wait for the webcast conference call. It starts with a reiteration of the report, then it's Q&A time. What about Jobs health?, Ben Reitzes of Lehman Brothers asks. Then Peter "The Masochist" Oppenheimer replies bluntly, "Steve's health is a private matter." Jaws drop, and so does the stock nearly $18 (11.5%) down from the close! Apparently PR is not Peter's strong suit.
So, here we are the next morning, futures down big. Bracing for the impending doom about to be bestowed upon the market. Of course if you're a long time Apple investor, you know the drill, always protect your positions going into earnings. But what of the market, how would it cope with this setback? What will lift us from this chasm?
The answer. First up, Treasury Secretary Paulson forcefully calling on law makers to pass legislation to boost financial markets, that produced a spark. Then Philadelphia Fed President Charles Prosser threw gasoline on that spark, saying that the Fed would raise rates sooner than later.
That pumped up the lagging dollar big time, pulling down a big lever, tipping a vulnerable barrel of Oil. That spurred a rally in the commodities markets but petered out, but spilled over to Oil, which just continued to deteriorate. The markets opened, it and wasn't long before all those massive gaps from the night before were filled and then into the green. Apple also had a stellar recovery, opening at $148.90 and climbing all the way to $162.02 -4.27 (-2.57%). Sure we're still down from the previous close, but this was an extremely bullish event with volume nearly 70 million shares!
Click to enlarge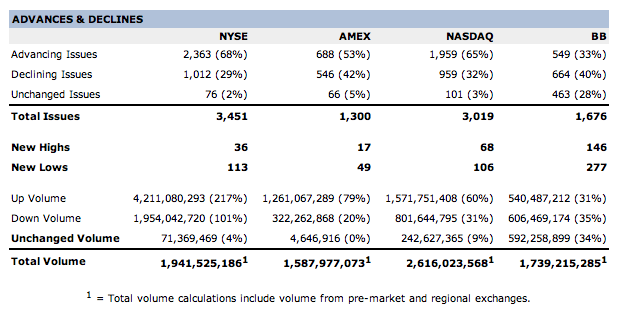 A telling feature of this rally was the market internals. They were strong with broad participation across all sectors. Advancers beat decliners 2 to 1 on the NYSE and by a bigger margine on the Nasdaq with huge volume. Another important milestone was that the S&P retook 1260, and it closed over critical resistance of 1275 near the end of the session with a huge surge!
Click to enlarge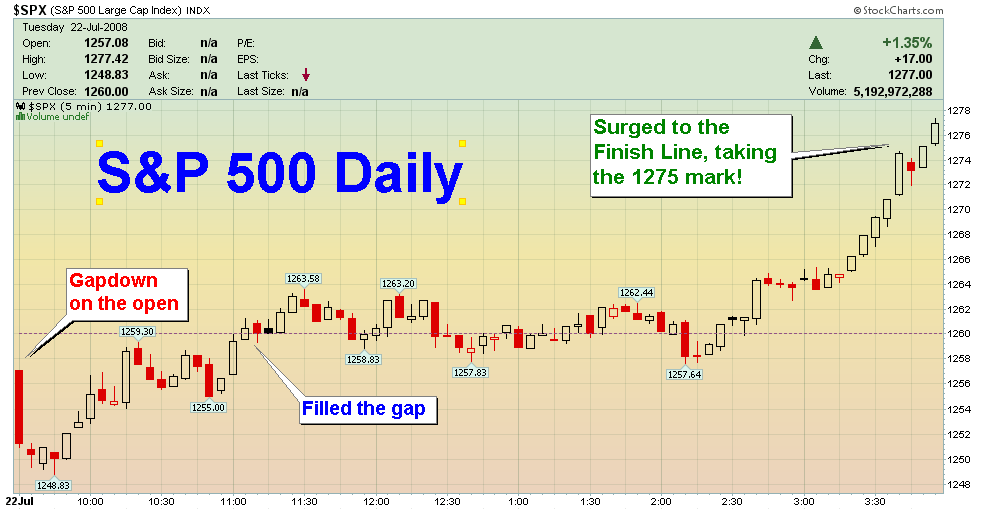 While it's good to see this kind of spirit booster right after such a downer, this doesn't mean that we've reached nirvana. Far from it. We're still in a market where the Bear rules. So we must not let this roller coaster ride get the better of us. In the near term things look strong. The S&P and the Naz both have strong positive divergences with the MACD setting up on the weekly charts, pointing to higher prices around the corner.
Does a move like today indicate a bottom to this bear? Hard to say. Consumer sentiment is still lower than dirt, so the contrarian has got like the prospects, and the $VIX is free falling from what appears to be capitulation last week (Tuesday?). One thing is for sure, we're probably going to see more ups and downs, hopefully not this dramatic, but they will come.
Click to enlarge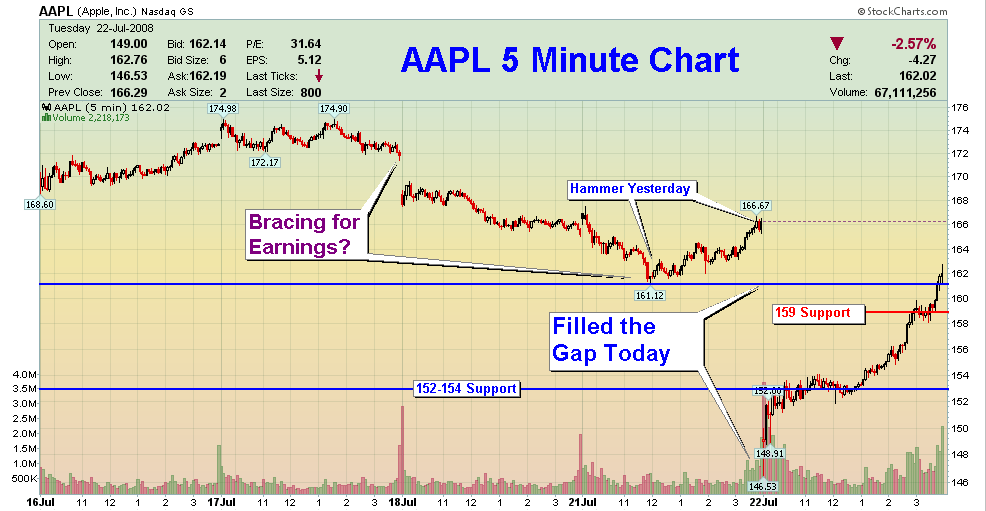 So, where do Apple investors go from here? We could use another up day or two in order to get away from the S&P 1275 mark, and backtest it for good measure. Once we do that, the prospects for long positions get better. In the mean time it makes good sense to tighten up the stops and secure this level. The 159 level should provide some good support, if we fall below that then 152-154 appear to be good support judging by todays intraday action.
Disclosure: Long AAPL