The momentum fiasco that is Abercrombie & Fitch (NYSE:ANF) just keeps getting worse. The momentum/HFT traders just keep short squeezing it up on news that in no way can be considered "good", much less "great". Yesterday's news said that ANF had hired Goldman Sachs to fend off activist investors such as Relational Investors, which reported a 3.8% stake at the end of June 2012. ANF has been consistently losing revenues and earnings for many years now. The five year net income CAGR is worse than -20%. The five year diluted EPS CAGR is worse than -20%. The operating margin over those same five years has been falling, although it did blip up from a heart of the recession nadir in 2009. ANF has 13.90% short interest as a percentage of the float. It is headed downward, and there is nothing Goldman Sachs can do to change that in the near term. Stores, including ANF, have already contracted for their fall and Christmas sales items. Goldman Sachs cannot change that now. Whatever was wrong with ANF will continue to be wrong with it for the next 6+ months at least. There has been no evidence of a near term turn around.
Looking back at recent history, ANF was at $36.75 on July 27, 2012. On August 2, 2012 it announced that it was cutting its FY2012 EPS guidance by about $1 from $3.50 to $3.75 per share to $2.50 to $275 per share. It said same store sales in its international stores dropped 26% in the quarter ended July 28, 2012. Domestic store sales fell 5%. This gave the company a 10% overall drop in sales in Q2. It further said it would cut its international Hollister openings for 2012 from 40 to 30. It said it would freeze its flagship store openings after a planned opening of a Shanghai shop. As a result analysts dropped their average EPS estimate for Q2 to $0.17.
On August 15, 2012 ANF beat this estimate by +$0.02. The stock quickly rose to $35.23. Soon afterwards it ran up higher to $36.76. This is the price ANF was at before it cut its FY2012 EPS estimate by -$1. Today on news that it had hired Goldman Sachs, it closed at $37.92. Does a cut in the EPS estimate of more than 25% mean nothing in terms of stock price? Apparently to the HFT/momentum traders that is the case. Those folks love to short squeeze. They make more money that way. However, such short squeezes are inevitably short lived, especially when they have no fundamental basis. I don't see how hiring Goldman Sachs to fend off an activist investor is likely to help sales or earnings.
ANF trades at a P/E of 36.64 and an FPE of 12.23. The latter will likely turn out to be highly in error. The company is complaining about cannibalization (loss of sales revenues and market share) effects, especially in Europe. It is complaining that excess inventories kept it from chasing trends as it should have. Additionally ANF's tax rate rose from 30.7% in the year ago quarter to 38.9% in Q2 2012.
ANF claims to have ameliorated the inventory problems in Q2, and it expects to further drop inventory levels in Q3. It will try in the future to keep inventory levels leaner. It believes this will allow it to chase trends more effectively. One problem with this rationale is that the top stores are trend setters, not trend followers. Since ANF is planning to be a chaser, it will always be behind the trends. ANF's color scheme is too gloomy. No one wants to be further depressed, when the economy is already depressing enough. It does have some bright colors, but most of its more colorful offerings give one a "nerdy" impression. Teens want to be "cool".
ANF's online catalog contains huge numbers of clothes items that are displayed without any body inside them. This is not the way people want to see clothes. They want to see them on some idealized version of themselves. Tall thin teens want to see them on tall, thin, athletic, handsome guys or girls with an understated look of intelligence. Curvy women want to see the clothes on buxom beauties that they believe every man would desire. Part of what a store sells is the dream. Savile Row in Mayfair is famous for its bespoke tailoring. Many men have bought clothes there over the years because they were known to be expensive and only for the truly successful man. Some men buy Armani suits now for the same reason. It is the same with teens, you have to sell them the dream or the image, not just the clothes. ANF is not doing this. Goldman Sachs will not correct this flaw overnight, if at all.
ANF's revenues and EPS problems have been going on for more than five years. Anyone who believes a few words about a turn around from the ANF CEO will turn ANF around is a fool. Teens have notoriously long memories. Once a store becomes unpopular, it has trouble becoming popular again. It often takes several years to get teens to grudgingly accept any store they had started to bad mouth. ANF's reputation is close to mud among teens. Teens are just big kids. Once they say no, you are likely to hear no again and again. Teens are also like adults. They want to be sold an "image". ANF is facing huge headwinds on both fronts.
Further unemployment figures among the 16-24 age group in Europe are huge -- approximately 22.5% in July 2012 according to Eurostat. With close to 25% of its target demographic unemployed in Europe, ANF will not do well there for the next year or several. The bad reputation it gains during that time will likely prevent many teens from going back to ANF stores after the slowdown or recession corrects itself. The lies teens make up to excuse their lack of money to buy ANF goods this year and next will keep ANF in the dumps for many years to come. In other words many teens will soon be saying there is something wrong with ANF even if they do not believe it. The stigma will remain once they get jobs. This negativity may even spread to the US; or the US young may find their own negativity, if they haven't already. Of course, some teens will legitimately not like ANF. I don't particularly. Plus the younger brothers and sisters of the current young adults will acquire some of their elders' negativity about ANF.
The bottom line is that the CAGR figures for net income and diluted EPS speak volumes. The consistent losses by -20%+ per year in these areas is a more than five year trend. It won't be easily corrected. Even momentum traders and HFT will not be able to help in the longer term. Most people think earnings will be weak in Q3 2012 for the overall S&P 500. The CBO, an overly optimistic group, is saying that the US will go into recession in 2013 if the country is allowed to go off the fiscal cliff. This may occur in any case. It is likely that Congress will allow so much negative impact from the fiscal cliff and tax-maggedon that the actuality of the happening may not even be necessary. There will be slowing. It will hurt ANF and many others. Goldman Sachs will not change this, and it will not be able to sell ANF for a premium in the current market. There are too many negatives about the ANF situation.
In sum Goldman Sachs should have little to no appreciable positive effect on ANF. ANF is a sell. The $1 cut in FY2012 EPS estimates was huge, and the HFT/momentum traders along with some overly enthusiastic analysts have made the stock price loss due to the -$1 guidance cut disappear. It is at a time like this that I tend to think those analysts must work for brokerages that have big HFT machines. A stock with a -$1 lower FY2012 EPS estimate than it had at a lower stock price is a sell. A company that is not overly popular with its target demographic is a sell. A stock that has a target demographic that is hugely unemployed is a sell. Hiring Goldman Sachs does not change that. Hiring Goldman Sachs does not change the likelihood of further guidance cuts, especially for 2013.
ANF's P/E of 36.64 and very iffy FPE make it a very bad comparison to Macy's (NYSE:M) with a P/E of 12.40, Phillips Van-Heusen (NYSE:PVH) with a P/E of 18.17, Wal-Mart Stores (NYSE:WMT) with a P/E of 15.62, or even American Eagle Outfitters (NYSE:AEO) with a P/E of 28.51. AEO has been growing quickly, unlike ANF. You can legitimately argue that it deserves to trade at a premium. ANF has been shrinking -- for years. It is a sell.
The two year chart of ANF lends some technical direction to the trade (click to enlarge image):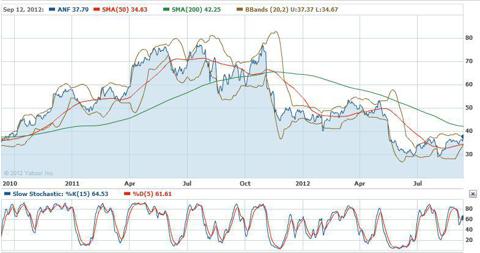 Click to enlarge
The slow stochastic shows that ANF is near overbought levels. The main chart shows that ANF is in a strong downtrend. Both the price line and the 50-day SMA are significantly below the 200-day SMA. It could get played with by the HFT/momentum traders, but it is almost certain to continue its downward path in the 6-12 month time frame. It does pay a 1.90% dividend, which may stop some shorts. However, the fact that it is 13.90% short even with a decent dividend makes its short interest much more negative with respect to the outlook for ANF. If you own ANF, sell into this minor rally. If you are an aggressive trader, you may wish to short ANF. With the CBO voicing the likelihood of a US recession, it makes little sense to believe in a comeback from this stock, especially with its 5+ year record of decreasing revenues and EPS. ANF is a sell.
Note: Some of the fundamental fiscal data above is from Yahoo Finance.
Disclosure: I have no positions in any stocks mentioned, but may initiate a short position in ANF over the next 72 hours. I wrote this article myself, and it expresses my own opinions. I am not receiving compensation for it (other than from Seeking Alpha). I have no business relationship with any company whose stock is mentioned in this article.