The fear of deflation is one of the biggest fears in the minds of policymakers around the world and the prospect of deflation has always been countered with quantitative easing. As the global economy slows down meaningfully, it seems an appropriate time to talk about deflation.
This article looks into the reasons for believing that we are headed for a period of quantitative easing in several countries in order to prevent recession and deflation. In line with this expectation, a few investment options are also discussed.
The chart below gives the global purchasing managers index as of August 2012.
click to enlarge images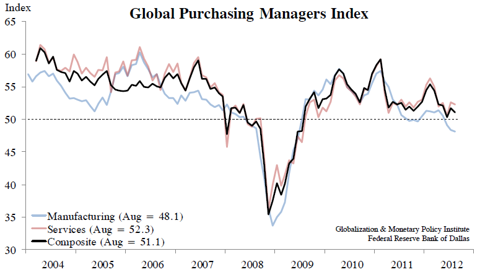 Click to enlarge
It is clear that the world is already in a manufacturing contraction and the contraction has been pretty steep in the last few months. Contraction in the manufacturing sector has been offset by some resilience in the services sector.
As a result, the global composite PMI is still above the critical level of 50. However, it would not be surprising to see the composite PMI slipping below 50 in the foreseeable future (confirming a global recession).
This is the first reason to believe that investors might witness QE from several countries over the next 3-6 months. The ECB's OMT program might just be the beginning of a series of bond purchase and other easing measures.
Investors are eagerly waiting for the Fed to hint on more QE this week. In the next few months, China and India might also be looking for ways to prop up growth as these emerging giants slowdown sharply.
The extent of the slowdown in the global economy is reflected in the inflation numbers for the advanced as well as emerging economies.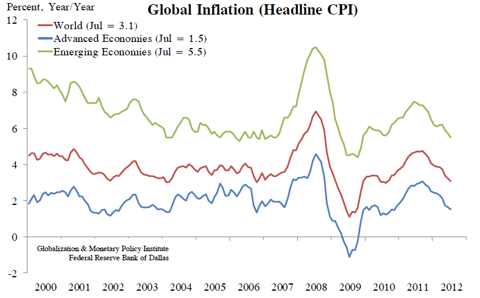 Click to enlarge
It is clear that inflation has been falling steeply. Surely, this will be a matter of discomfort for policymakers and a globally synchronized action to counter the fears of deflation is entirely possible. Therefore, deflation fear is the second most important reason to believe that a global easing is on the cards.
A good indicator of the possibility of global easing is the trend in prices of precious metals in the recent past.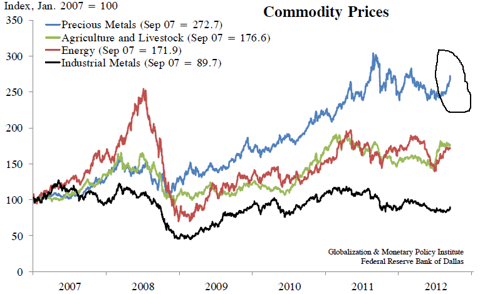 Click to enlarge
As the chart shows, precious metals index has surged meaningfully in the recent past discounting further quantitative easing by policymakers. I am not entirely sure if the policymakers in the US will announce any easing measures in the current meet. However, more QE will come relatively soon.
I would also like to emphasize here that I am not personally in favor of more quantitative easing and I am just thinking from a policymaker's perspective.
Looking at things from an investment perspective, it is a good idea to consider exposure to precious metals for the medium to long-term. I suggest long-term exposure as the advanced economies will witness a prolonged period of sluggish economic growth. In such a scenario, precious metals will continue to trend higher. The SPDR Gold Shares (NYSEARCA:GLD) can be considered for exposure to gold and the iShares Silver Trust (NYSEARCA:SLV) ETF can be considered for exposure to silver.
I also consider the equities to be a good investment option in an environment of global quantitative easing. It is very likely that equities might continue to do well with the economy worsening further. Market participants are confident that policymakers will resort to further quantitative easing, which will benefit equities.
Instead of looking at specific stocks to buy on market correction, I would rather consider index investing. The SPDR S&P 500 (NYSEARCA:SPY) ETF, which provides investment results that, before expenses, generally correspond to the price and yield performance of the S&P 500 index, is a good investment option.
Disclosure: I have no positions in any stocks mentioned, and no plans to initiate any positions within the next 72 hours. I wrote this article myself, and it expresses my own opinions. I am not receiving compensation for it (other than from Seeking Alpha). I have no business relationship with any company whose stock is mentioned in this article.