Hard to imagine, I know!
Since Apple (NASDAQ:AAPL) is now the biggest company in the world by market capitalization, buying a tech stock that isn't Apple means it is, at least compared to AAPL, a small cap. And Ingram Micro (NYSE:IM) definitely qualifies as a small cap, with only a $2.2 billion market cap (a piker by AAPL standards!). Yet, it is also the world's biggest wholesale distributor of computer products and related services. Its revenues were a tad over $36 billion in 2011. Not exactly a bite of the old Apple, but if forced to take, say, 1/100 of 1% of that, I'd do it.
I think of IM as a proxy for worldwide consumer and business electronics consumption. The company distributes through some 170,000 resellers in more than 100 countries. Over the past decade, it has increased revenues by 65%, cash flow by 94%, and earnings per share by 253%. Its book value went from $10.85 to $21.89 (more than $5 above its current price.)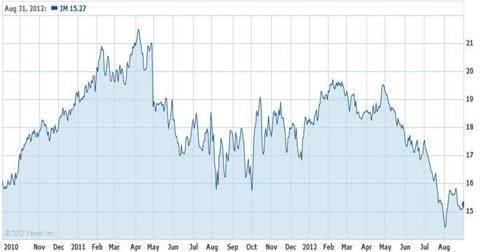 However, when the roll call is taken among tech stocks these days, it goes something like this: "If your name is Apple, please move over here to the Unbridled Accolades Section. Everyone else, pay homage." That takes nothing away from Apple, whose products I love, but come on -- Ingram Micro's earnings shot up by roughly the same amount its P/E contracted (from just under 30 to just over 10).
Even in a market I don't much care for, I have to say that a company selling for a P/E of 11 at a 25% discount to book value, and one that is still growing with a nice moat due to its size and existing relationships, is definitely worth a look.
The company's financial strength doesn't rate high on the Altman Z-Score scale. Still, it resides in the "gray" area like so many other, much larger firms, and it is net debt free. At these prices, the company is selling below its low for 2011, hardly a banner year from a stock price or scintillating market perspective. The consensus estimates for 2012 hover around $1.84, at which level the company would be trading at 8.3x earnings.
If you think consumer and business computing and electronics might continue to increase our productivity and therefore might still be a growing industry, I think Ingram Micro is a nice "denims and pick-axe" way to play that otherwise volatile sector.
The Fine Print: As Registered Investment Advisors, we see it as our responsibility to advise the following: we do not know your personal financial situation, so the information contained in this communiqué represents the opinions of the staff of Stanford Wealth Management, and should not be construed as personalized investment advice.
Past performance is no guarantee of future results, rather an obvious statement but clearly too often unheeded judging by the number of investors who buy the current #1 mutual fund only to watch it plummet next month.
We encourage you to do your own research on individual issues we recommend for your analysis to see if they might be of value in your own investing. We take our responsibility to proffer intelligent commentary seriously, but it should not be assumed that investing in any securities we are investing in will always be profitable. We do our best to get it right, and we "eat our own cooking," but we could be wrong, hence our full disclosure as to whether we own or are buying the investments we write about.
Disclosure: I am long IM. I wrote this article myself, and it expresses my own opinions. I am not receiving compensation for it. I have no business relationship with any company whose stock is mentioned in this article.