Several firms are commenting on Zimmer Holdings (ZMH) after the orthopedic device maker lowered its 2008 profit and sales forecast and suspended U.S. sales of one of its hip products on Tuesday, sending its shares nearly 10 percent lower:
- Piper Jaffray is downgrading the stock to Neutral from Buy due to: 1) concerns raised by their ortho survey and field checks, and 2) product- and DOJ-related issues facing the company.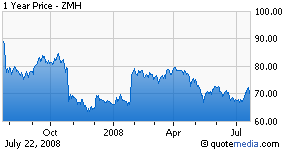 The firm notes they are big believers of orthopedics, but there are several near-term issues making them more selective - and more cautious on ZMH specifically. They would view any near term strength as an opportunity to rotate into other names in their universe with fewer near-term challenges.
The results of their survey of 50 orthopedic surgeons and our anecdotal industry checks indicate that the post-DOJ orthopedic market will benefit small- to mid-sized players at the expense of larger players like ZMH, at least for now. In addition, 32% of the respondents to the survey indicated that they noticed an increase in patients deferring surgery, and 64% expect to see deferrals increase over the next year. ZMH is the market leader and most affected by a slowdown in procedures – a scenario that the Street appears to have written off at the moment. Thus far, Q2 is showing a bounce-back from Q1, but the firm worries about unexpected share and volume trends over the next few quarters.
The firm's 12-month price target is $79, which is based on a 15x PE multiple on projected 2010 EPS of $5.29. The previous analyst's price target was $88, based on 18x CY09E EPS of $4.88.
- Cowen notes the quarter was actually decent, with revenue beating, and EPS hitting, consensus expectations -- the latter is notable given that most recent Street adjustments had a $0.01/share negative bias due to ongoing Durom concerns.
However, the pre-announcement was necessitated due to: 1) AMH's decision to temporarily voluntarily suspend marketing and distribution of Durom in the U.S.; 2) weakness in U.S. dental revenues; and 3) slower- than-anticipated uptake on certain new products. Consequently, despite what was essentially an in-line Q2 performance, management reduced their expectations for FY sales growth from 10.0-11.0% (6.0-7.0% excluding FX) to 8.5%-9.0% (4.5%-5.0%) and EPS was guided down from $4.20-4.25 to $4.05-4.10. The more pessimistic H2 outlook appears to go beyond Durom -- pending additional details on the conference call, we note that broader implications for the group are possible
Applying a 16x multiple to the low-end revised FY08 guidance suggests shares are likely to open in the mid-$60s.
Maintains Neutral rating.
- Baird notes ZMH is temporarily halting U.S. Durom sales and lowering 2008 revenue/EPS guidance (guidance cut related to Durom issues, slow new product uptake, sluggish U.S. dental market). Estimates/price target under review pending today's call, but believe upward bias to its Street-low '09 projections exists given significant share repurchases and lack of worldwide Durom recall (which their model had assumed). Despite this, they would not recommend buying on weakness unless shares fall to low $60s.
Neutral, $74 target.
- Morgan Stanley is the most positive of the bunch noting Q2 sales and EPS were generally in-line with expectations and support its view that orthopedic implant market fundamentals are intact, and market share remains sticky. A reduction in 2008 EPS guidance, however, will more than overshadow Q2 results. While they believe that investors had expected a cut in guidance due to Durom (and they had already lowered numbers), the reduction was more significant than expected .Assuming a similar cut to 2009 numbers and applying a trough one-year forward multiple puts the stock at $66.
The firm awaits clarity on several issues on the conference call (namely on SG&A spending and the non-Durom cuts to guidance) to revise their model. On the Durom issues alone, the after market sell-off appears to be an overreaction, and they think the key to the stock recovering will be confirmation that the Durom issues and slower ramp of new products will be transient.
Maintains Overweight rating and $85 target.
Notablecalls: I'm very much inclined to pick up some ZMH in the low $60s as:
- Durom is not being recalled but rather temporarily halted. The $40 million product will likely return to the US market in Q3. As I understand it, the problems with Durom are related to surgeons not knowing how to use the product rather than the product itself. ZMH will take a quarter or two to educate the doctors.
- Problems around dental demand should not come as a surprise. Dental represents less than 10% of ZMH revenue and is tied closely to the consumer. Just take a look at what PDCO, HSIC and XRAY have been saying. No surprises there.
- ZMH is a high quality name being pushed down on transitional problems. Around the low-to-mid $60s, one has the opportunity to pick up a 15% net grower at around 15x this year's EPS and 13x CY09's. That's cheap, especially in med-tech.