Earlier this week, I shared the background and overall asset allocation for my recently introduced "Conservative Growth/Balanced Model Portfolio".  You can refer back to the article or visit my website to learn more.  As I stated in the previous article, the equity component of the portfolio is overweight relative to the S&P 500 (NYSEARCA:SPY)  in the Industrial, Consumer Discretionary and Financial Sectors.  I previously shared my basis for taking these exposures.  In this article, I would like to begin to address the security selection process.
I have been rather leery of the Energy sector, an area that has been rallying and showing leadership for quite some time.  There has been a little bit too much euphoria and attention these days, so I have been totally uninvested since I sold out three positions earlier this year.  For this portfolio, though, I recognize that over the long-term energy stocks are likely to be a source of dividend growth and perhaps an inflation hedge.  While the model is underweight the sector, I did select Chevron (NYSE:CVX), one of the largest integrated oil companies in the world.
Why CVX?  While the company isn't likely to provide the highest returns in the sector, it should provide among the most stable returns.  The stock has enjoyed dividend-per-share growth of 7% for the past 30 years as well as shorter time-periods.  As you can see in the chart below, EPS growth too has been relatively close to DPS growth, though faster in recent years.  The payout ratio is only 21%, so the company should be able to increase its dividend even if it endures a downturn in earnings. 
There are several downside protections:  Price to Book is just 2.4X, close to the lowest level in 13 years.  With the recent run-up in energy prices, one would suspect that the book value is perhaps understated.  The conservative balance sheet offers additional protection.  The company's $8 billion cash reserves outweigh its total debt of $7 billion. Despite Capex significantly higher than D&A in recent years, the company has grown Free Cash Flow to about $11 billion (>6% yield). Finally, the PE is extremely low.  While this is a harbinger of lower profits ahead, perhaps they don't materialize.  The point is that investors can get exposure to the sector without chasing performance.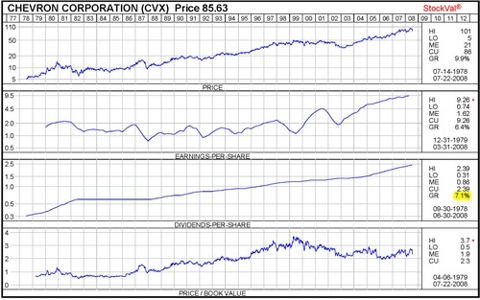 CVX, then, offers exposure to Energy (a potential inflation hedge) with attractive valuation relative to book value, earnings (6PE), dividend yield (>3%) and FCF yield (>6%).  The balance sheet is extremely strong.  While it isn't even close to being the sexiest company in the sector, it definitely has many of the attributes that a conservative growth investor seeks.
Disclosure:  Author has no position.