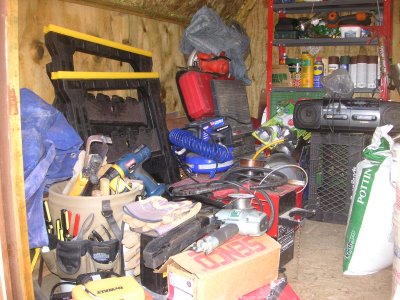 This is a shot of our tool shed, a long way from Norm Abram. You might notice a nail gun and compressor, a couple of cordless drills, a welder, somewhere in there is a chop saw and, well you get the idea.

All that stuff allows us to take care of most of what we need to do or any of Joellyn's projects but there have been times where circular saw wasn't big enough or the drill did not have enough torque or we needed a different type of blade for the sawz-all.

So a lot of tools, but always room and need for more.

That notion of room for more I think applies to a new line of foreign sector ETFs that just listed from StateStreet. The ten as follows;
SPDR S&P International Utilities Sector ETF (NYSEARCA:IPU)
SPDR S&P International Consumer Discretionary Sector ETF (NYSEARCA:IPD)
SPDR S&P International Consumer Staples Sector ETF (NYSEARCA:IPS)
SPDR S&P International Energy Sector ETF (NYSEARCA:IPW)
SPDR S&P International Financial Sector ETF (NYSEARCA:IPF)
SPDR S&P International Health Care Sector ETF (NYSEARCA:IRY)
SPDR S&P International Industrial Sector ETF (NYSEARCA:IPN)
SPDR S&P International Materials Sector ETF (IRN)
SPDR S&P International Technology Sector ETF (NYSEARCA:IPK)
SPDR S&P International Telecom Sector ETF (NYSEARCA:IST)
They will be a little different than product lines from WisdomTree and iShares. The WisdomTree sector funds are dividend weighted and so many of them seem to be heavy in Australia (not a bad thing as far as I am concerned) and light in Japan (again not a bad thing).
The iShares funds include the US, and in some funds the US weight is very heavy and in some others there is not a lot of US exposure. For example the iShares Global Telecom (NYSEARCA:IXP) is 31% US and iShares Global Healthcare (NYSEARCA:IXJ), which I own for a few clients, is 67% US.
These new SPDR funds appear to be cap weighted and so most of them are heavy in Western Europe and Japan. One observation about all of them is that the yields of the underlying indexes look pretty good. That may or may not translate into a high yield for the fund.
No one family of global sector funds can be the best. There are three methodologies and it makes sense to think that WT would be best for certain sectors, iShares some others and SPDR for some others still. Over time that could change such that if iShares is the best today for something it may not be a year from now.
For example if Japan ever truly emerges from its almost two-decade-long funk it will likely be led by just a few of the sectors. Anyone who assesses that correctly can exploit their work, probably, with one of the SPDR funds. Some of the Japanese industrial companies are involved with some interesting global themes and IPN is 26% weighted to Japan. If an investment renaissance ever came about and it emanated from the industrial sector then IPN would probably be a great hold (not a prediction just an example).
People willing to build a portfolio at the sector level would need to first decide overweight, underweight or equalweight then decide on foreign or domestic or both and then seek out the best products to build out each sector.
For one sector maybe the best mix is a WT fund combined with a narrower product, for another sector maybe just one of the iShares funds for its presumably broader coverage or maybe another sector the SPDR and a domestic stock or two. And a year from now the mix could need to be completely different.
There are a lot of possibilities here which I think is a good thing and makes for interesting work.