Intel Corporation (NASDAQ:INTC) caught the market's attention last Friday, on September 7, when it dropped Q3 guidance significantly, blaming weak demand from emerging markets and a nasty drop in business demand for PCs. The news has been bounced around quite a bit, and has probably had adverse effects on shares of Microsoft Corporation (NASDAQ:MSFT), which is preparing for a release of Windows 8.
This has led to a huge amount of speculation that this is the "real" death of the PC industry taking shape as we enter Q4 2012. They often use the momentum behind Apple's (NASDAQ:AAPL) financial data to prove that the "Wintel" era is dead, and that PC makers like Dell (NASDAQ:DELL) and Hewlett-Packard (NYSE:HPQ) are Eastman Kodak-like situations in the early stages.
There is one thing I will agree with there - Apple's momentum is undeniably strong. The company's last quarterly report revealed 22.6% top-line growth and 20.7% on the bottom-line. The iPad sales growth was freakishly large (stated to be 84%), and iPhone sales performed admirably. The runt of the litter was Macintosh, which only grew sales at 2%.
The takeaway from Apple is that the recent momentum is coming exclusively from Apple's mobile devices, which is just a confirmation of what we have all heard already. Yes, this means that Macs are actually dragging Apple's momentum down due to Wall Street's obsession with percentage sales growth, but this can't be used to argue that the computer is dead.
For the sake of simplification, in this article I will consolidate the naming Macs and PCs into "computers", since they serve the exact same purpose (in the same way that Coke and Pepsi do).
The market's big argument against the computer has been that the theoretical electronics consumer will purchase a tablet or smartphone because they are very nifty/trendy improvements in technology. In doing so, their purchasing power for consumer electronics decreases, leaving less money that would've been spent on computers.
My argument in favor of the survival of the computer adds a little detail that help explains why Mac and PC sales have been so resilient to their impending death: What if everyone's consumer electronics budget became a larger fraction of their income?
The world economy is in a tough spot, and there are a huge number of unemployed adults struggling to find a full-time job (whether they are unemployed, part-time, or under-employed for their skills). It seems counter-intuitive that a company like Apple, which sells products that aren't actually necessary for survival, could be doing so well in every major region of the world. For instance, how can the tens of millions of Americans on food stamps afford iPads?
I don't personally have enough data (or a complicated enough model) to figure out exactly what happens, but I do know that overall tech spending has apparently dodged the economic slowdown. As the world becomes more ingrained in high technology, it's only natural that the world cuts a larger slice of it's pie for companies that produce the devices that are being used more often.
Computers are less wanted these days, but they are still necessary enough to warrant a purchase in most cases. Despite the rise of apps, mobile video chat, mobile banking, and heck - even mobile trading, people still require laptops and desktops for a good number of important tasks. When you also factor company demand, computers no longer look obsolete.
The "dinosaur" computer giants Microsoft, Dell, and Hewlett-Packard have one additional layer of worry relative to Intel, and that is the big return of the Macintosh. In 2004, Macs had less than 1% of the computer market, although the tables are turning again. The "PC sold to Mac sold" ratio, as depicted in the chart below (by Asymco) shows that things haven't been this good for the Mac since the mid 90s.
Click to enlarge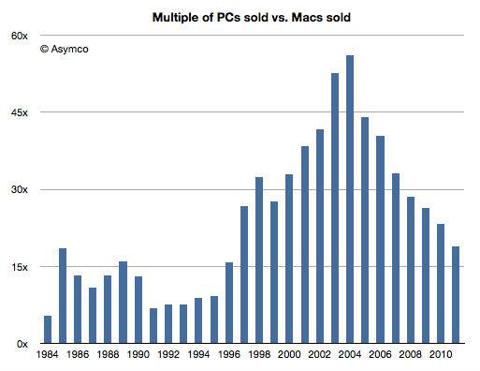 Click to enlarge
I'm sure Microsoft (and Dell, and HP) are worried about the huge threat posed by Apple on their home turf. Luckily, Intel instead gets to focus on making better chips at higher profit margins. Having said all that, I want to state that no company is infallible. Not Intel, and not even Apple (we'll see if iPhone 5 holds up to the hype).
To add one more note before moving on to the actual list, I want to point out that computers have the capacity to evolve too. Apple's newest line of MacBooks are sleeker, slimmer, and lighter than ever (and they run on Intel's great new line of "IvyBridge" processors). The Apple iPad's advantage of lightness and portability is, in a sense, under attack by the parent company (Apple). "Reverse cannibalization."
Now that we've made a case for the survival of computers, here are my seven reasons to pick INTC:
1.) Demand for computers isn't truly dying, and as long as this is the case, Intel will have its top-line growth (which was about 4.7% last quarter, but will be less for the upcoming quarter). In addition, INTC doesn't have to worry about the PC/Mac battle much.
2.) Intel already has enormous profit margins of about 64%, and manages to retain this advantage with appreciable bottom-line growth.
3.) The company can afford to spend $10 billion each year on R&D, which ensures that it can be ultra competitive as processor technology gets increasingly complex.
4.) The same applies to the marketing budget, which is around $8.5 billion annually. Intel's trusted brand is already extremely valuable, and this money will just take it further. Intel wasn't able to move into smartphone/tablet fast enough, but this may change later.
5.) Intel has $5.2 billion in cash, $25.8 billion in current assets, and a total of $72.4 billion in assets. A total current liability balance of $10.5 billion (that seems to decrease every quarter by approximately $1 billion), and total liabilities adding up to only $23.6 billion implies that the company is financially comfortable. Intel has a net worth of about $48.8 billion.
6.) The dividend yield of $.90/share every year equates to a 3.9% yield. If recent history is any indicator, that yield is set to grow around 12-24% each year.
7.) Analysts aren't big fans of Intel right now. S&P, for instance, has a "hold" rating. This actually makes INTC more attractive, in my opinion.
As a note to investors, I don't necessarily think that MSFT, DELL, and HPQ are poor investments. I included them in the analysis to point out that Intel does not have to worry about the increasing popularity of the Mac, while the others do.
Disclosure: I am long INTC. I wrote this article myself, and it expresses my own opinions. I am not receiving compensation for it (other than from Seeking Alpha). I have no business relationship with any company whose stock is mentioned in this article.