We recommend buying Exelon Corp. (NYSE:EXC) because of its high dividend yield of 6%, expected synergies from mergers, diversified business structure, higher ROE, and low debt-to-equity as compared to its competitors. The stock price has been falling in recent months, offering an attractive opportunity to enjoy high yield. Now seems like a good entry opportunity for investors.
Exelon is a utility services company engaged in energy generation and distribution in the U.S. through its subsidiaries. Its subsidiaries include Exolen Generation Company (Generation), which is involved in the energy generation process, as well as Commonwealth Edison Company (ComEd), BGE and PECO Energy Company (PECO), which are all involved in the energy delivery business. The company serves over 6.6 million customers, including commercial, residential, industrial and wholesale customers. The company owns over 34,500MW of generation assets. Exelon has been aggressively involved in mergers and acquisitions in recent times in a bid to improve on its operations. In August 2011, it acquired Wolf Hollow, a natural gas-fired power plant in North Texas. In March this year, the company merged with Constellation Energy. In August, it sold its interests in five California power plants (two coal and three biomass), with a generation capacity of 70MW, to IHI Corp.
Operating revenues for the company were $5,954 million in Q2 2012. The reported (non-GAAP) EPS was $0.61 for Q2 2012. The recent quarter's earnings include merger-related charges and other items, and therefore the results of Q2 2012 are not comparable with Q2 2011. Other factors that depressed the recent quarter's earnings include a rate reduction of $169 million by Illinois Commerce Commission (ICC) and higher operating and maintenance expenses, including increased labor and contracting costs. As reported for Q2 2012, Generation had the highest contribution to total revenues followed by ComEd, PECO and BEG, respectively. Exelon achieved 93.4% capacity factor for its nuclear plants in Q2 2012 as compared to 89.6% in Q2 2011. Operating EPS for Q3 2012 is expected to be in a range of $0.65 to $0.75. The company is on track to achieve its EPS target of $2.55 to $2.85 for fiscal year 2012.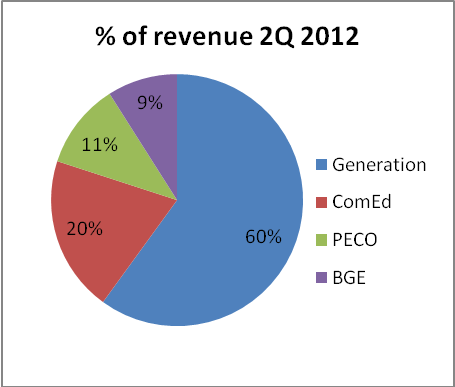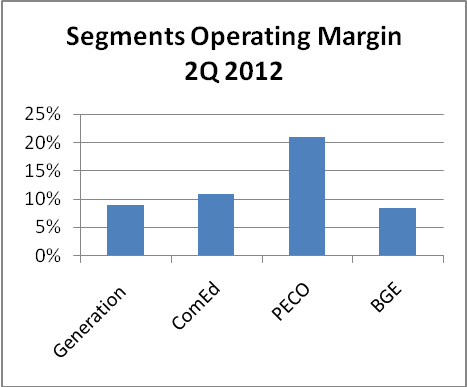 Source: Q2 2012 earnings release and Qineqt estimates.
BGE is engaged in electricity transmission and distribution operations in central Maryland. BGE filed an application with the Maryland Public Service Commission in July 2012, for an increase of $53 million to its gas base rates and $151 million to electric base rates. The proceedings are expected to last for seven months and new base rates are expected to take effect in early 2013. This would help the company improve its margins.
The company is expected to enjoy synergies in future from the recent mergers; gross margins are expected to expand. It will help the company diversify regionally as well as on the technology front, along with more competitive product offerings. O&M synergies from the mergers are expected to be $500 million by 2014, out of which $170 million are expected to be achieved by 2012. O&M synergies include labor savings from commercial and corporate consolidation, IT system consolidation, supply chain savings, and other non-labor corporate synergies. Capex synergies of ~$75 million are expected to be achieved by 2014.
Click to enlarge images.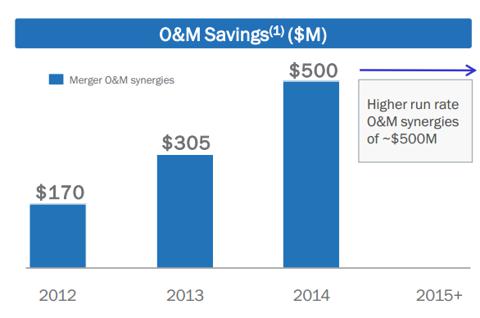 Click to enlarge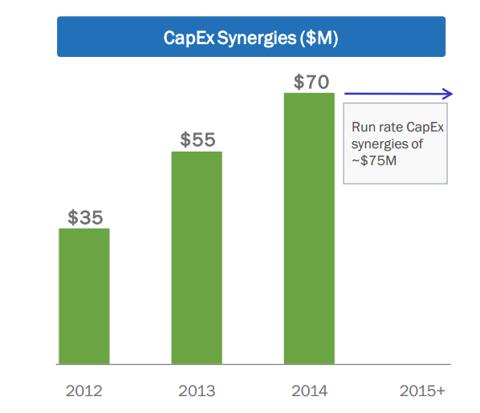 Click to enlarge
Source: ExelonCorp.com.
| | | | | | | |
| --- | --- | --- | --- | --- | --- | --- |
| | Exelon Corporation | Ameren Corporation (NYSE:AEE) | Northeast Utilities (NU) | Duke Energy Corporation (NYSE:DUK) | PPL Corporation (NYSE:PPL) | Average |
| Dividend Yield | 6% | 4.9% | 3.6% | 4.7% | 4.9% | 4.5% |
| Total Debt to Equity | 87% | 92% | 97% | 96% | 179% | 115% |
Source: Yahoo Finance.
Dividends
Exelon has maintained its dividend per share of ~$2.1 per annum over the last five years. In the last fiscal year, it generated cash flows from operations of $4.85 billion and paid dividends amounting to $1.39 billion, which means a dividend coverage of 3.5 times. This indicates that its dividends are secured and are expected to be maintained in the future as well. The company has a low debt-to-equity ratio as compared to its competitors; it can raise debt if it runs short of cash to pay dividends. It has a decent interest coverage of 6.3 times.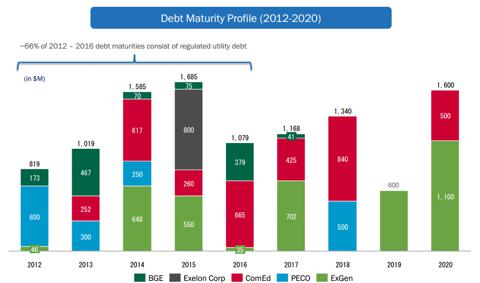 Click to enlarge
Source: ExelonCorp.com.
There are certain factors that can adversely impact the stock performance. These include changes in regulations by state and federal authorities, which can affect revenues and margins. Also, changes in fuel prices can affect Exelon's cost structure and bottom line.
| | | | | | | |
| --- | --- | --- | --- | --- | --- | --- |
| | EXC | AEE | NU | DUK | PPL | Average |
| P/E forward | 13.15x | 16.8x | 15x | 14.5x | 12x | 14.6x |
| ROE | 9.3% | 0.65% | 5.3% | 6.6% | 15% | 7% |
| Beta | 0.5 | 0.3 | 0.5 | 0.33 | 0.2 | 0.35 |
Source: Yahoo Finance.
Its ROE of 9.3% is above its competitors. Exelon is currently trading at 13.15 times its forward P/E, below its competitors' average of 14.6 times. Using the competitors' average forward P/E multiple and a mean EPS estimate of $2.66 for the year ending 2013, we calculated a price target of $39, providing an upside potential of 10%.
Disclosure: I have no positions in any stocks mentioned, and no plans to initiate any positions within the next 72 hours.
Business relationship disclosure: The article has been written by Qineqt's Utilities Analyst. Qineqt is not receiving compensation for it (other than from Seeking Alpha). Qineqt has no business relationship with any company whose stock is mentioned in this article.