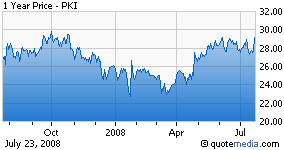 PerkinElmer (NYSE:PKI) is expected to report Q2 earnings after market close Thursday, July 24, with a conference call scheduled July 24 for 5:00 p.m. ET.
Guidance
Analysts are looking for a profit of 34c on revenue of $506.33M. The consensus range is 31c to 35c for EPS, and revenue of 486.80M to $517.26M, according to First Call .For Q1 the company reported EPS of 29c vs. consensus of 25c and revenue of $482M vs. consensus of $459.6M. The company gave Q2 EPS guidance of 33c to 35c. Possible positive drivers for this quarter include the Viacell acquisition and PerkinElmer's growing global market share. Possible risks to this earnings period could include slower growth in its bio-pharmaceuticals business and costs involved with recent acquisitions.
Analyst Views
In May, Thomas Weisel noted that PerkinElmer's results might have an upside bias due to the Viacell acquisition which the firm believes could result in EPS being higher than expected by 10c. The firm maintained its Overweight rating on the stock. On July 7, Baird noted the Life Sciences/Diagnostics sector as having solid end markets with favorable demand.