Software and hardware company Oracle (NASDAQ:ORCL) noted it had not been negatively affected by a slowdown in Europe or China, according to the company's Q4 2012 earnings call held on June 19, 2012. But with Oracle's next earnings release just over the horizon, the situation may not be as rosy for this quarter.
Oracle receives about 50% of its revenues outside of the Americas, so a slowdown in either Europe or China could result in some negativity with respect to the company's forthcoming earnings release. Oracle did note some currency headwinds when presenting its Q4 results, but this is to be expected with the appreciation of the U.S. dollar with respect to other currencies.
Safra Catz, President, CFO and Director, noted Oracle's software business surpassed IBM's (NYSE:IBM) last year and has grown at more than twice the rate of IBM over the last five years. Revenue for Oracle's new software licenses was $4 billion, representing a 12% increase over the previous year. The company noted broad-based geographic and product momentum in the fourth quarter.
The company's applications segment performed well with revenue of $1.3 billion, a whopping 27% growth rate over the previous year. All regions reported double-digit growth in applications with North America turning in a phenomenal 38% increase. Software was not alone, as the hardware side of Oracle's business produced $11 billion in revenue, representing an increase of 10% over the prior year.
Oracle noted it completed integration of human resources software company Taleo and cloud-based customer service company RightNow in the fourth quarter. With the addition of RightNow and Taleo, Oracle claims to be the second largest SaaS (Software as a Service) company.
Oracle added 500 sales and presales people in the fourth quarter, bringing the total net increase of employees to 3300 for the year.
Oracle indicated it had a great SaaS quarter with wins over financial, human capital and payroll management company Workday at UBS (NYSE:UBS), Societe Generale and Vivende. The company's customer relationship management offering also performed well during the quarter with wins at Green Mountain Coffee Roasters (NASDAQ:GMCR), Swiss Light and Graco (NYSE:GGG).
Oracle's database machine company Exadata and its elastic cloud company Exalogic experienced triple-digit booking growth and turned in wins at eBay's (NASDAQ:EBAY) PayPal, Deutche Bank, Telefonica and Facebook (NASDAQ:FB). Oracle also turned in a win with one of SAP's (NYSE:SAP) largest European oil and gas customers.
Oracle's business intelligence company Exalytics had product wins at Toshiba, Sodexo and Thomson Reuters (NYSE:TRI). Exalytics constructs its products using commodity x86 machines or Xeon server components which provides for very high peak performance, but also competitive cost performance. Oracle noted a difference in its hardware business between last year and this year is a result of having had a large commodity hardware business in the previous year which was getting smaller and smaller in addition to a small Exalytics business which was getting larger and larger. In contrast, the company now has a small commodity hardware business getting smaller and smaller, but a much larger Exalytics business which is getting larger and larger.
Oracle claimed it received an increase in business following the announcement of Oracle's Cloud offering, at the expense of Salesforce.com (NYSE:CRM) and Workday.
For the coming year, Oracle expects to gain the most market share from high-end providers such as high-end server provider IBM and database software company Teradata (NYSE:TDC).
Oracle's stock price has been in a trading range between $25 and $33 over the last year as shown below: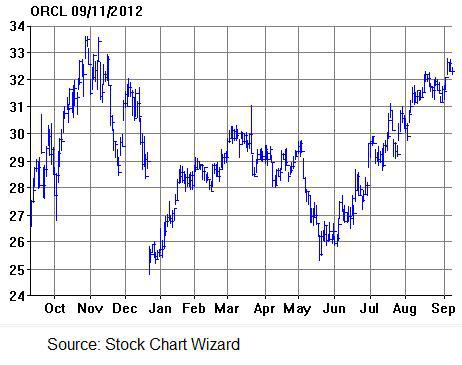 Oracle's stock price is currently near the top of the trading range, so with Oracle's upcoming earnings release scheduled for September, 20, 2012 and with the slowing in China and Europe, an investor might consider protecting a long position in the company with a protected covered call, just in case the company has any bad news to report. The protected covered call strategy positions for a potential return, even if the price of the stock is unchanged at expiration, and also provides protection in case the stock price plummets. A protected covered call may be entered by selling a call option against a stock and using some of the proceeds from selling the call option to purchase a put option for protection.
Using PowerOptions, a variety of protected covered call positions are available for Oracle as shown below:

The potential returns for the positions in the table above do not include expected dividends received during the holding time. With the inclusion of expected dividend payments, the third position in the table above has a potential return of 2.3% (22% annualized) and a maximum potential loss of 7.3%. So even if the price of the stock goes to zero, the maxim loss which can be sustained is 7.3%. The specific call option to sell is the 2012 Oct 32 at $1.11 and the put option to purchase is the 2012 Oct 29 at $0.20.
Oracle Protected Covered Call Trade
ORCL stock (existing or purchased)
Sell 2012 Oct 32 Call at $1.11
Buy 2012 Oct 29 Put at $0.20
A profit/loss graph for one contract of the protected covered call is shown below: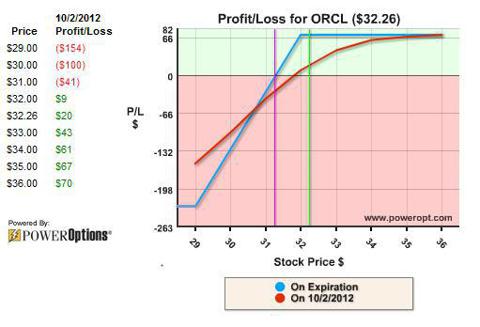 For a stock price at expiration below the $29 strike price of the put option, the value of the protected covered call remains unchanged. If the price of the stock increases to $35 or above, the position can most likely be rolled for additional potential return.
Look forward to hearing your comments below!
Disclosure: I have no positions in any stocks mentioned, and no plans to initiate any positions within the next 72 hours. I wrote this article myself, and it expresses my own opinions. I am not receiving compensation for it (other than from Seeking Alpha). I have no business relationship with any company whose stock is mentioned in this article.